You Lika The Juice? An Elder Outsider's Perspective On The Commander Ban List

My original plan was to talk about my continuing adventures with Glissa, the Traitor in Standard. Unfortunately, I wasn't able to make it up to Richmond Comix in time for their Standard FNM last week, so I didn't get a chance to test out my latest version, now with a gang of Phyrexian Revokers. For those who are curious, here's the current list:
Creatures (34)
Lands (25) A few notes on the update… first up, Llanowar Emissary has been profoundly disappointing, proving – to me at least – to be just as unreliable as feared. Unless you're playing against an aggro deck attacking on the ground, it's pretty easy for your opponent to play around it, denying you the ramp you need when you need it most. There are opening hands that are risky to keep with Emissary that are simply awesome with a Sylvan Ranger, so I'm back in the Sylvan Ranger camp.
I've also upped the maindeck Acidic Slimes and maxed out the Tectonic Edges to help with the Valakut matchup, and both cards are perfectly fine against most of the metagame. Just two copies of Vengevine may look weird, but this deck doesn't really need to go nuts with Vengevine. Besides, I've often found that I rarely have time for Fauna Shaman to try and load up the graveyard with three or four Vengevines, so I think two might be correct. I might want to have another in the sideboard, but at this point, I'm not sure what to cut for it.
The Revokers are untested, but I have high hopes. One of the reasons I've removed the Swords of Feast and Famine from my deck is anticipating needing to turn them off with a Revoker against a lot of decks. They should also be helpful in shutting down problematic planeswalkers, turning off Khalni Heart Expeditions and Overgrown Battlements. They also beat down for two and come back with Glissa.
Regionals is coming up fast, just a couple more weeks, and I'm not quite sure I've got the right formula for a Glissa, the Traitor winning strategy for that weekend. I may need to wait for a shift in the metagame or for the last Mirrodin set to be released to have just the right element I need. As backup, I want to get familiar with Michael Rooks' Furnace Celebration deck, which attacks from an angle that most people are unprepared to fight. Plus, it just looks like a lot of fun!
Being late for the Standard tournament meant more time for Commander, and I was fortunate enough to sit down and play some epic games against Jay and Mulli, two long-time multiplayer Magic friends. Jay had a R/B/U Demon deck, and Mulli had a mono-red Norin the Wary deck, which I instantly approved of having rocked a Norin deck myself a while back. I wanted to give my Glissa Sunseeker deck a couple runs and played her each game.
Each of us won one game, and then for the final game, I managed to get a Seedborn Muse to stick, and the ridiculous advantage it gave me quickly set up a ridiculous board position and put the game away in my favor. Diamond Valley + Eternal Witness + Nim Deathmantle meant I could stock my hand with the best of my graveyard during their turns and quickly assemble a Greater Good-fueled Psychosis Crawler kill. It wasn't "infinite" damage, but the game had gone very long, and everyone was down into their low 20s on life points.
The Epic Play of the Night goes to Jay, who played Rite of Replication kicked, targeting my Terastodon, with Mulli's Confusion in the Ranks in play. Tons of non-creature permanents were nuked, and Elephants were traded around the board. Resolving the stack was awesome.
Since I don't have a lot of Standard to talk about, this week will be a Commander topic. Many thanks to all of you who took the time to fill out my Google poll last week asking what sort of Commander topics you'd like to see covered in this column. While I certainly enjoy talking about my various Commander decks, it's always fun to dig deeper into community issues and deeper strategies regarding this awesome, ever-more-popular format. You've given me some really good topics that I plan on covering in the months ahead, but if you think of other ideas, feel free to go back and hit up the poll or drop me an email.
One popular suggestion was addressing the Commander Banned List and why some cards should or should not be on it. Now, I'm not on the Commander/EDH Rules Committee, but I have been writing about EDH and Commander longer than just about anyone outside of Sheldon and maybe a couple other judges (I started in August, 2007). I've also been playing multiplayer Magic for seventeen years, so I hope to lend some perspective that might be useful to the conversation. I also want this column to provide a helpful touchstone for newer Commander players who might not be familiar with the banned list or why certain cards were put on it.
The official Commander banned list is maintained here (click the link that says "Social"), but for easy reference, here's the current list as of March, 2011:
To organize discussion of the list, I thought I'd work backwards through the various banned list announcements, each recorded in the Elder Dragon Highlander forums (and provide handy links); give a brief description of the reason given by the RC for the ban; and weigh in with my own thoughts.
The announcement that there was no announcement (basically) struck a lot of us as amusing, but the subtext I got from it was that the Rules Committee had come under some pressure of late regarding possible bannings and rules changes but had ultimately decided against any of them. Sheldon wrote about the things they were considering this week and why they ultimately decided against any changes; he also delved a little deeper into the Rules Committee's philosophy on banning cards in the format and included an awesome speech by RC member Toby Elliot that he wrote for PAX but apparently never gave. Definitely check it out if you haven't already, good stuff!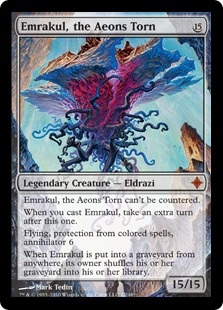 "…nearly without exception, everyone hates Emrakul. It's a card that makes the game devolve into a war over a single card whenever it hits the table. Add to that the fact that its combination of abilities made it seriously unfun to play against."
Richmond Comix house-banned Emrakul a few months before it was officially banned, but before it was banned, there was some discussion first on whether it should be banned. The expectation was that everyone would be for banning Emrakul, but in fine gadfly tradition, I decided to vote against banning Emrakul in order to make a point about Time Walk effects in general being bad for the format (and Time Stretch in particular). People complain that the annihilator and semi-shroud abilities are the problem, but the biggest issue I think is clearly the Time Walk attached to Emrakul and how easy it is to set up a recursion loop with a creature that has an ability attached to it (Crystal Shard, Erratic Portal). Sixteen mana is not all that difficult to attain in Commander if you set your mind to it. Regardless of the true reasons for its issues, Emrakul is obviously a very problematic card, and Commander is healthier for not having to worry about it.
"It's clear that especially in the post-Eldrazi world, super-fast, super-reliable, early mana production is dangerous to the format. Rofellos, Channel, and Tolarian Academy have all demonstrated they can do this with quite a bit of ease… We'd like to foster an environment where ridiculous things happen, but that everyone playing has a chance to do them. Early, reliable hyper-production of mana often leads to a single player playing by himself and others watching, and that's not what we want for EDH."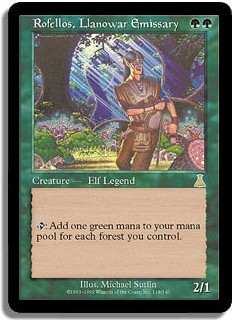 I had a Rofellos deck prior to Rise of the Eldrazi, and it was capable of spectacular plays. It was also interesting to design a deck with a mana curve that basically started at six. At the time, I felt that the deck was definitely Tier 1, but I didn't think it was broken because of the inherent limitations that come with being mono-green. Yes, green is a fantastic color in Commander, but it's still often limited from being able to do the most powerful things in the game outside of what you can find among artifacts.
Rise of the Eldrazi changed all that and gave green some awesome colorless things to do with all that mana. The set also proved a tipping point for the mana engines that were already pushing the line like the other three cards on the ban list. No arguments here, though I'm a little sad I won't ever get to pull off one of my favorite old-school multiplayer Magic combos in Commander: Channel + Squallmonger + Armadillo Cloak!
"Painter's Servant has been the fuel for unpleasant combos, most notably with Grindstone and Iona, Shield of Emeria. The latter two cards occupy some interesting design/deckbuilding space, so we'd like to see them in the format. Swapping Grindstone/Painter's Servant seemed like a natural fit to bring back a decent card and get rid of the true offender."
Originally, the Grindstone half of the combo with Painter's Servant was on the banned list, since turning everyone's permanents a particular color allowed for some cool interactions with cards you hardly ever see, things like Reap or Pygmy Kavu, whereas milling someone out was much less satisfying on most people's fun meter.
Then Zendikar was released, and Iona, Shield of Emeria was available for Commander, as a Commander herself even. Locking one monocolor player out of ever playing colored spells again is rude enough, but locking all opponents out of ever playing spells again is fun-crushing to the nth degree.
Personally, I think a strong case could be made for giving Iona the boot, since she can lock players out of playing the game, which would let Painter's Servant come back if we rebooted Grindstone, but I doubt that argument would have much traction with most players.
"Gifts Ungiven… The ability to tutor for two combo pieces and two ways to recur them generally makes this a one-card game-ender, which we feel is completely contrary to the EDH vision… The overwhelming reason Fastbond gets played is to fuel a degenerate combo. The EDH life total makes Fastbond easy and safe to use for an inconsiderable cost… Braids, Cabal Minion… if you're not absolutely prepared for it and capable of doing something about it on the first few turns, a Braids lock is nearly inevitable."
Fastbond and Braids seem like no-brainers. I can't imagine anyone really arguing against their banning. Gifts Ungiven is a different matter. Any blue mage worth his salt loves Gifts Ungiven with the same sort of irrationality with which we defend our first love despite all the glaringly obvious personality flaws and bad habits. They're so used to winning after resolving Gifts Ungiven that their dopamine receptors are shot, and they're just incapable of thinking clearly when it comes to this broken card. Whenever someone presents an argument for the unbanning of Gifts Ungiven, just smile, nod, and give them the love and support they need to one day come to their senses.
"…the low cost ability of Tinker to get high cost artifacts (such as Sundering Titan, Mindslaver, or Darksteel Colossus) into play early in games and significantly impact their outcome easily warranted its banning… Cards that easily and cheaply produce great deals of mana are inherently dangerous to the health of the format. Metalworker is clearly one of those cards."
With the recent printing of Blightsteel Colossus, it's clear that Tinker continues to deserve banning in the format, since it's super-easy to cast Tinker on turn 2 in this format. Metalworker, I'm not so sure about. While I can see the danger in a card like Metalworker, which is capable of producing some serious mana, there are some limitations that I think are significant. First, you need to have a handful of artifacts in your hand to generate the mana, but then you typically use that mana to cast those artifacts, which makes Metalworker less powerful afterwards. In a way, it's like a Ritual that gives you an initial burst of mana. Second, it's a pretty small creature. Third, it's an artifact. Players should be ready and able to handle problem creatures and artifacts.
Now, I'm not so naïve that I can't see that there are innumerable ways to push your deck into abusing Metalworker, and sometimes opponents aren't going to have the right answer before it's too late. Sure, there's the nut draw of turn 1 Sol Ring, Metalworker. That's going to lead to some game wins—but that's okay; sometimes, crazy things happen. Compare Metalworker to Rofellos, who's banned as a Commander but not as one of your other 99 cards. Turn 2 Rofellos isn't quite turn 1 Metalworker good, but six mana on turn 3 and eight mana on turn 4 is pretty insane.
"When Time Vault was unerrata'd to be Twiddle-effect friendly, it became one of the most ridiculous cards in the format."
I've made it pretty clear my stance on Time Walk effects in Commander and how bad they are, but even the most temporally lenient amongst you have got agree on this one.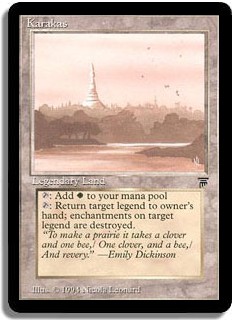 "Karakas… is hard to deal with and too good at disrupting generals. Protean Hulk… Unfortunately, it's proven too good. It's a one-card combo which is too easy to tutor up, and once it resolves there are several ways to kill every opponent, instantly… Lion's Eye Diamond/Auriok Salvagers… are… cheap components which are easy to tutor up and quick to hit play. Because they come down so soon, they can be online before opponents can be expected to have disruption available."
I think Protean Hulk and LED are no-brainers, engine cards that fuel combos. Karakas, I'm not so sure about. I can see the rationale—when someone's got a Karakas in play, it prevents most everyone from wanting to play their Commanders until Karakas is dealt with first. That's certainly stifling of the natural flow of Commander games.
On the other hand though, I don't think it's a card that's too difficult to deal with—pinpoint land destruction is something that all decks should have among their 99, from Strip Mine to Tectonic Edge to Terastodon and plenty of other options. Plus, since it's a Legendary Land, anyone playing white will want to have a copy as well, making it more likely to get nuked by the legend rule (though with the price of Karakas skyrocketing, that likelihood is going down). I'd argue there are plenty of cards in the format that discourage people from playing their generals, cards like The Abyss, Proteus Staff, and Grave Pact. Yes, a land is a bit more difficult to deal with, but I don't think it's that much more outrageously powerful than other cards.
Playing Devil's Advocate though, I could see keeping Karakas on the list to bolster the "avoid cards like these" clause that prefaces the banned list. Karakas is an example of cards you want to avoid if you want to "enjoy the type of games you've heard associated with EDH." I very much agree with that sentiment, which is why I won't play cards like The Abyss, Proteus Staff, and Grave Pact.  
"With near-universal approval among the playerbase, and unanimous approval within the EDH rules folks, Limited Resources is getting the axe immediately."
Limited Resources is one of those cards that I think a lot of people have to pull up and read to remember what it does. Not me—I've had its rules text burned into my brain, and for the reason why, let me tell you a story.
When The Ferrett was being considered for taking on the editing duties for StarCityGames.com, he flew into Richmond before driving out to Roanoke, SCG's home base. Since he was one of the writing giants of multiplayer/casual Magic, I invited him to lunch with me, and then we could stop by our local game shop for a multiplayer game or two. He happily agreed, and with full tummies, we soon found ourselves shuffling up our decks with five or six other players.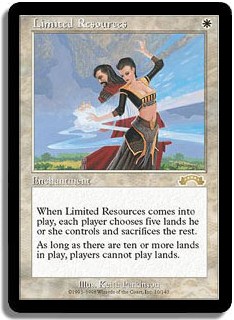 We chuckled a bit when The Ferrett pulled out a sixty-card deck to play; at the time, all of us played decks that were easily 250-300 cards or more. While this might seem insane, we weren't playing singleton, so our decks would contain 3-4 copies of most of the cards we wanted to cram in there. A few people joked about the possibility of the games going long enough that he'd get decked, while the rest of us hadn't even gone through a quarter of our decks.
The joking stopped when The Ferrett played Limited Resources on his second turn. The way the turn sequence had gone, half of us (including Ferrett) had two lands in play, and the other half of us had one. Of course, his deck was built to operate on two mana, with Sol Rings and cheap creatures that quickly ran us over. The rest of us struggled to draw into anything we could do to break out of the prison we were in for one or two mana. It was brutal… and so a massive dislike of Limited Resources was burned into my soul. When I first came to EDH, I was glad to see it on the banned list. You should be too.
"Recurring Nightmare… It has a reusable effect that cannot be stopped with enchantment removal, and lets you abuse comes-into-play abilities repeatedly… Kokusho… this was less of a slam-dunk, as there was some discussion that with Recur gone it was at a tolerable power level. However, even without Recur, the first time Kokusho goes to the graveyard represents a twenty point life swing in a four-player game, and there are many, many ways to get multiple uses out of him."
Recurring Nightmare makes me sad for nostalgic reasons—I used to love playing that card way back in the day and certainly miss it. However, it's undoubtedly a potent combo engine that certainly warrants banning.
Kokusho, the Evening Star… I'm less sure about. Yes, it represents a huge life swing, and yes, there are plentiful ways to reuse and abuse him, but let's break him down a second.
First off, he represents a path to victory by sucking life from opponents five points at a time. Considering we all start at 40 life, that's really not that big of deal without the backing of some sort of combo engine, engines that can have other options outside of Kokusho.
Second, he represents a big life boost that scales the more players there are. Anyone who's played Commander for any length of time has witnessed someone gaining insane amounts of life, sometimes even "arbitrarily large" amounts. There are all sorts of ways to deal with this situation, not least of which is the built-in Commander damage rule, which means that if you take 21 points of combat damage from a particular Commander, you lose no matter your life total.
Especially without Recurring Nightmare, I think Kokusho would be perfectly fine in Commander nowadays, though I think to be safe, he should be banned as a general so he's not the most consistent part of your deck and thus far too easy to set up an engine around.
Best I can tell, that's as far back as it goes in the Commander Forums regarding Banned List announcements. That leaves us with a handful remaining:
POWER NINE-ISH:
Ancestral Recall, Black Lotus, Library of Alexandria, Time Walk, Mox Sapphire, Ruby, Pearl, Emerald, and Jet
These cards are restricted in Vintage and banned in Legacy for a reason—they are hyper-efficient and overpowered. Considering that Commander is built as a casual, multiplayer format, it makes sense that you don't want players to have the capacity to explode onto the board so fast that no one gets a chance to play. Not to mention how expensive the cards are currently—what do you think would happen if suddenly Commander fans with deep pockets could run these cards in their decks?
What about Sol Ring? This is another card that's restricted in Vintage and banned in Legacy. It is also hyper-efficient and overpowered. To be consistent, shouldn't it be banned as well? My answer to this is three-fold.
First, it taps for colorless mana. While this is hardly a drawback (considering you get two colorless mana), it's not insignificant when it comes to explosive starts. Second, it's certainly much cheaper and accessible for Commander fans, offering most everyone the opportunity to "power up" their deck with Sol Ring instead of being the sole domain of Mr. Suitcase. Third, without the Moxen around, there's not a critical mass of hyper-efficient mana around to make for consistently explosive starts in a singleton, 100-card format.
Yes, I've been on the receiving end of Sol Ring-fueled explosive starts; in one of the games last Friday, Mulli got a turn 3 Siege-Gang Commander that attacked me relentlessly and got me down to single digits before Jay swept the board. I've also seen plenty of other games where someone's Sol Ring has been a big help without being dominating. It just doesn't feel like the card is a problem.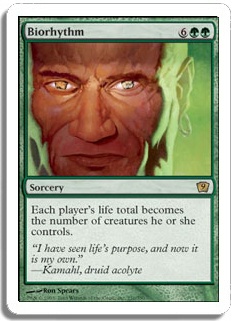 I WIN:
Global sweepers are a common and necessary element of Commander. So what happens when a player casts that Akroma's Vengeance to be the hero against the token-madness player, and the next player plays a one-drop creature and then casts Biorhythm? Whoops, I win! As a green mage, it hurts just a little to not be able to use such a powerful green spell in Commander, but as a fan of Commander, I can totally grok how bad the card is for the format.
Coalition Victory is a little less clearly bad. Granted, the land requirement is super-easy with access to classic or Ravnica-style dual lands. The creature requirement is a little more difficult to pull off, especially if everyone is playing a reasonable amount of creature control (as they should). The mana requirement is formidable, a whopping eight mana including all five colors. There are other "I win" cards with requirements that are far easier to obtain—Felidar Sovereign, Mayael's Aria, and Mortal Combat spring to mind. Of course, all of these require a waiting period—ideally giving each player a turn to respond to the threat (Vedalken Orrery aside). Much like Biorhythm, Coalition Victory wins on the spot if all conditions are met. Still, I think the requirements are steep enough and the threat manageable enough that I'd like to see Coalition Victory back in the mix.
GLOBAL RESETS:
Balance, Sway of the Stars, Upheaval
I'm sure you've experienced it—the game has gone on and on; the board has been reset over and over, exhausting most everyone's hand to the point of living off the topdeck. The only upside is that at least you've got the mana you need to cast whatever action you do draw.
Then someone drops Obliterate for the heck of it, resetting the game back to zero (even worse than zero, since it's unlikely we have seven cards in hand, including some lands). It's the worst game ever.
Cards like Balance, Sway of the Stars, and Upheaval reset the game back to zero, which is infinitely less fun than having someone just win so we can all get to the next game (or drive home to bed if it's early in the morning). Sure, you can sometimes set up a game-winning position by setting up the perfect work-around Balance or by floating a bunch of mana, casting Upheaval, and then casting Blightsteel Colossus. But having those cards in your deck also means you sometimes need to use them defensively to just reset the game to zero, and that's just not acceptable. The "avoid cards like these" clause is why I personally don't play Obliterate either.
THE REST:
Panoptic Mirror, Worldgorger Dragon, Yawgmoth's Bargain
There's no doubt that there's some crazy stuff you can do with Panoptic Mirror… but I'm not quite sure it rises to the level of banning. In Sheldon's article this week, he cited the Mirror as an example of the #1 Principle for EDH Banning: "When a card's power level in multiplayer EDH is significantly in excess of both its mana cost and power level in other formats."
What's the worst you can do with it? Play it as soon as you have five mana, then during your upkeep, imprint a card on Panoptic Mirror in response to the upkeep-triggered ability. When you do, that card is then available to copy when the triggered ability resolves. So what card—Time Warp? Hm, infinite turns! That's pretty disgusting, but for me, that's a function of the problem with Time Walk spells and effects in general. I suppose so long as Time Warp and Time Stretch are available, Panoptic Mirror has to remain on the ban list.
There's a funky Worldgorger Dragon combo with Animate Dead that basically blinks your permanents in and out of exile, letting you tap them and tap them over and over, typically generating "arbitrarily large" amounts of mana to do bad things with. Seems insanely easy to set up in Commander, so I can understand the banning.
Let's see… Yawgmoth's Bargain comes into play, and I can immediately trade X life (after starting the game with 40 life) to draw X cards. Obviously deserves the ban hammer.
To summarize… I think the Rules Committee has done a fantastic job shepherding this format over the years, and the fact that it's exploded in popularity is a testament to their care-taking skills. I cannot find fault with most of these bannings and would only offer up a few humble suggestions:
That's it for this week; have a great weekend!
Take care,
Bennie
starcitygeezer AT gmail DOT com
Make sure to follow my Twitter feed (@blairwitchgreen). I check it often so feel free to send me feedback, ideas, and random thoughts on Magic and life.
New to Commander?
If you're just curious about the format, building your first deck, or trying to take your Commander deck up a notch, here are some handy links:
My current Commander decks (and links to decklists) :
Previous Commander decks currently on hiatus: