After fifteen rounds of Swiss I was 12-2-1 playing Modern and 1% point short on tiebreakers from making Top 8 at Grand Prix Columbus. On the trek back to the car with my girlfriend roughly fifteen different players approached me to offer me their somber condolences about narrowly missing Top 8 in a tone of voice that one would expect to hear at a funeral. "Thanks" I replied. "If you would have told me coming into the event that I'd have gotten 9th in a 1050 player tournament I would have gladly taken it so I can't really complain about the result."
All in all I was very happy with pretty much everything about my experience in Columbus. I traveled to the tournament with Rebecca and she was so kind as to bring me food coffee and smoothies throughout the tournament (that I never would have had time in between rounds to get for myself) which was a great boon to me. I also got to spend some time hanging out and playing my pet format The Danger Room with Kevin Cron and Doug Linn (two of my Meandeck teammates) in between rounds and after the event. Basically the weekend was jam-packed with good friends Magic cards and a high place finish—three things that when put together make it really really difficult to complain about!
Today's article is going to focus upon the Modern deck I played in Columbus and basically everything one would need to know to play it in an upcoming event. My deck of choice was Bant which is probably pretty surprising when one considers that I was the only U/W/G deck in Day 2 but unsurprising to anybody who reads my Vintage column. (Midrange Bant is one of my favorite decks to play in Vintage right now.)
In the GP coverage Wizards asked notable players whether or not "control decks" exist in Modern and the widely adopted consensus was "Not really." While my Bant deck doesn't really look much like a pure control deck full of Wrath of Gods Esper Charms or Cruel Ultimatums I can say with some certainty that in every matchup that I played I was in the control role and sideboarded to become better at controlling whatever my opponent's strategy was trying to execute against me. At first glance my Bant deck appears to be a midrange deck (I'm so hooked on Midrange Bant!) but the lack of control decks in the format in general basically means that my midrange deck IS basically a control deck for Modern.
Let's take a look:
Creatures (18)
Planeswalkers (1)
Lands (22)
Spells (19) I built the deck Wednesday while playtesting with Ari Lax and the Ann Arbor guys. Basically Ari (as always) was super prepared and already had a bunch of good decks set up and ready to play. I always build my own deck for a tournament so once I got a feel for the speed of the format and what the decks seemed to be trying to do I got to work with a stack of commons and a Sharpie proxying up a brew. My first draft of this deck had Geist of Saint Traft and Kitchen Finks but those cards were really at odds with all of the counterspells I wanted to play in a field that I perceived to be very combo heavy.
I was told several times by numerous players that Noble Hierarch wasn't good but I refused to listen (if you can play Noble in a Type I midrange deck he has to make the cut in Modern…). The more I played the deck the more I realized I was just trying to build a Fairies deck. I went up to three Vendilion Cliques and three Restoration Angels which basically gave all of my creatures that didn't cost 1CC or 2CC (Noble Hierarch and Tarmogoyf) the flash ability—this meant that I almost never had to tap very much mana on my own turn.
One of the big problems the "Fae" all flash guys and permission style deck has faced in the past was that all of the creatures are relatively low toughness and have a problem fighting and holding off opposing monsters. Simply having four Goyfs that can fight wasn't enough because you don't always draw them.
"Same thing."
Restoration Angel solves a big part of the problem by being a big-bodied creature while still having Flash. She can drop onto the field and rough up lots of the staple creatures in the format: opposing Vendilion Clique Kitchen Finks Bloodbraid Elf Affinity's entire creature base etc. Not to mention she protects my other creatures from targeted removal while speeding up my clock and has value with the comes into play abilities of Snapcaster Mage and Vendilion Clique!
"Taking a page from the Fae playbook."
The singleton cards—Sword of Feast and Famine Jace Beleren and Vedalken Shackles—are unsurprising choices to me for the deck as I'm pretty sure I've played these cards in every Faeries deck that I've ever played (when they were legal) in Extended Fairies from last season.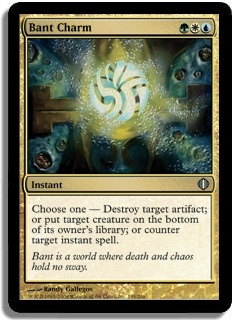 "Man down Pod down Plating down Gifts down Cryptic down Chord down Seething Song down…"
I first added one copy of Bant Charm while testing against Affinity to be creature removal but it also gave me a way to deal with Plating. After some more testing against Birthing Pod decks I realized that the card was clearly good enough to warrant a second copy; with all of the Hierarchs in my deck making mana enough to play a high quality versatile removal spell wasn't too much of an issue. The Bant Charm was one of the really good pieces of technology that made my deck a contender in the metagame.
The Tournament
Here is how my tournament played out:
Day 1
ROUND 1: Bye
ROUND 2: Bye
ROUND 3: Affinity Win
ROUND 4: Affinity Draw (would have won with more time)
ROUND 5: U/W Win
ROUND 6: Naya Pod Win
ROUND 7: Naya Pod Win
ROUND 8: W/U/R Delver Loss (Max Tietze)
ROUND 9: Pyromancer Ascension Win
Day 2
ROUND 10: Splinter Twin Win
ROUND 11: Splinter Twin Win
ROUND 12: U/W Win (Gaudenis Vidugiris)
ROUND 13: Storm Win
ROUND 14: W/U/R Delver Loss (Shahar Shenhar)
ROUND 15: Four-Color Pod Win (David Ochoa)
Basically as you will notice my deck appears to have been good against pretty much everything I played against besides the W/U/R Delver deck (that admittedly was a very good deck piloted by two very good players both of whom made Top 8!).
Changes
If I were to play Modern again today I would probably run this deck back with the following changes:
Maindeck
I would cut Sword of Feast and Famine for a third Cryptic Command. Sword was kind of unimpressive (though useful at times) and I basically just always wanted to draw Cryptic Command…
Sideboard
I would cut Memory's Journey Seal of Primordium Rhox War Monk Gaddock Teeg and one Tectonic Edge for one Worship one Oust two Kitchen Finks and one Phantasmal Image. Specifically I would want more cards that are good against the very aggressive beatdown decks.
How to Sideboard
Here is how I sideboarded in the key matchups I played against—and how I would sideboard using the changes to the maindeck and sideboard.
Versus Pod
Out:
In:
Basically against Pod decks all you actually want to do is kill their good creatures answer a Birthing Pod and attack them with a guy every turn until they die. They have a bunch of cards like Birds and Wall of Roots that don't actually need to be answered so the key is simply not to get killed by their combo—which is pretty easy with so much removal and permission. Remember one of the big strengths of this deck is that it is really good against decks trying to win with a combo.
Out:
In:
Spell Snare doesn't really do much against Twin but it doesn't matter because this matchup is really easy. You have a ton of removal for their combo and get to bring in more cards that stop them from going off. It's also pretty cute that Nature's Claim can answer a Blood Moon.
Versus W/U/R Delver
Out:
In:
Basically I needed more cards in my sideboard to get beefier and to fight better against their monsters. More cheap removal in Oust to fight off Delvers Steppe Lynx and Lavamancer and Finks to buffer my life total and block their monsters. Geist of Saint Traft is one of the best cards in the format against me so I bring in Phantasmal Images and Finks to block.
Versus Steam Vents (Non-Twin)
Out:
In:
Basically this deck never beats a Vendilion Clique and Bant has that plus a bunch of cheap counterspells. It's pretty much the ideal matchup to play against. I bring in Nature's Claims because a lot of them have Pyromancer Ascension—and sometimes they have Blood Moons or Lotus Blooms—but mostly because I don't have anything better and don't want my creature removal cards.
Versus Affinity
Out:
In:
Affinity is basically a bye for this deck; I unfortunately drew against it in the forth round against a player who was playing very very slow in our match. However if I had five more minutes I would have easily won. The game state at the end of turns was him with absolutely nothing and me at fifteen life with a hand of Nature's Claim Path to Exile Cryptic Command and Snapcaster Mage with Vedalken Shackles in play.
Basically the Bant deck I played in Columbus is like a new midrange Faeries-style deck that I believe is a great choice for an upcoming Modern event. It is very fun to actually play (because you always have lots of decision ways to interact and can do a lot of different things—ranging from attacking to grinding advantage—very well) and really rewards good decision-making.
In this article I outlined what I played what I would change and how to sideboard in the key matchups in hopes that anybody interested in playing the deck will have the necessary tools to be successful with it.
One last observation before I wrap up and sign off: I think that it is funny that basically almost every single card in the deck is pushing chase rare prices—even and especially uncommons such as Path to Exile and Spell Snare. Tarmogoyf Vendilion Clique Snapcaster Mage Ravnica duals Restoration Angel Zendikar fetchlands Noble Hierarch Cryptic Command Vedalken Shackles Horizon Canopy and Flooded Grove are all high-end rare cards that are among the most expensive cards in Modern—yet none of them are MYTHIC!
Maybe I could squeeze a Sword of Fire and Ice in there for good measure; hmm that doesn't sound too bad actually…
Anyway I hope that you enjoyed the article and that if you decide to sleeve up the deck that it runs good for you!
Thanks for reading!
Cheers
Brian DeMars