Tomorrow begins the SCG Open Series weekend in Somerset, New Jersey. On Sunday I will be throwing 40-card elbows with fellow SCG contributors past and present Joshua P. Ravitz and Thea "Darksteele Cube" Steele—but that still leaves our hero with a 75-card dilemma for Dragon's Maze's inaugural Standard Open.
In times past I used a variety of playtesting strategies. For years I would just play Apprentice with myself for 10+ hours a week during the weekdays, jamming a ten-game set before work—a hardnosed, head down technology taught to me by Eric Taylor via Kai Budde. For getting to understand the ins and outs of both sides of a matchup, there is no peer to grinding Apprentice against yourself. Because Apprentice is not real Magic or any facsimile, for it you can do stuff like stack one deck to a perfect draw to gauge the speed of God hands or always give the experimental deck a sideboard card to measure how good it is or if it's worth the plane ticket to Paris.
Then, by the weekend, I would be relatively well armed for serious IRL playtest sessions with Osyp, Josh, Steve, Billy Moreno, Paul Jordan, Julian Levin, or Asher Hecht. In the glory days of the Apprentice program, we would plop Bella in front of Curious George on infinite repeat and just figure out the optimal lists via relentless tuning and one-upsmanship. Shocking that the child turned out a genius anyway.
The kids got older, including the Apprentices. Paul, one of "my kids," has kids. Multiple went off to college or got jobs; Clark, a firecracker from the outset, was never as compliant to playtest sessions. The last Sunday session had a shirtless toddler Bella drowning an Eeyore in the toilet to distract her dad from Threshold v. Flash-Hulk. At least it produced Billy's masterwork and Steve's Grand Prix win. After, I largely switched to Magic Online.
So for tomorrow, here was the strat: I limited myself to only aggressive decks to try and grind. Time being limited, no new cards being on Magic Online, presumption being that most opponents come Saturday will be short new cards or stuck on untuned lists (or sucking on suboptimal mana bases). I want to punish stumblers, quickly off mana screw victims, generally put opponents on their heels, and have them shaking their fists at how lucky my draws and topdecks are.
Nothing, nothing, cute. It's bad enough losing to a corner case Fog as a beatdown deck, but at least you can all-in or one-shot them. But how horrible is losing to Fog with 100 Tribute to Hungers in grip? Threats. Non-interactive if possible. You know, lots of the stuff I wrote about last week. I figured twenty tournaments would be enough prep to at least pick a deck. Here's how they shook out.
Deck #1: Frank Karsten Naya Blitz
Creatures (39)
Lands (21) Rather than playing no sideboard and mono-bluffing, I decided to actually play a sideboard. Frank suggested three Fiend Hunters and / or Nearheath Pilgrims for the mirror (in place of the against-beatdown-weak Thalia, Guardian of Thraben). I tried both with the contra positive assumption that if Thalia is bad against beatdown, the fourth must have some value against targeted opponents.
I really Really REALLY didn't like the look of the deck against the card Boros Reckoner, so I just threw some into the sideboard in an effort to not get blown out by it. Naya Blitz isn't the optimized Reckoner beatdown deck, but having one in play can keep you from auto-losing on thirteen life—as long as you have the opponent low enough as well. Turns out that Naya Blitz is unacceptably bad against Boros Reckoner.
I put out a call on Twitter; my beloved Twitter army came back with a variety of "draw Champion of the Parish on turn 1" and attempts to conditionally overpower with Ghor-Clan Rampager, but there was nothing strategic.
I bugged Brian Kibler over Facebook.
"Some beatdown decks just lose to Boros Reckoner," he said. I remembered back to the last New Jersey Open when Osyp had mentally put together what would be U/R/W Flash—but didn't have the cards yet. He saw Boros Reckoner as the anti-beatdown. Let's be honest, it is a pretty good beatdown.
Match 1: Naya Blitz Mirror
I won the flip and got second turn Burning-Tree Emissary both games.
He sided in Nearheath Pilgrim; in an interest of not over-sideboarding, I sided in only Fiend Hunter. His Pilgrim was good, but my Hunter was better. I had essentially one decision I could have made over the two-game match, but as he didn't play around my Ghor-Clan Rampager, I didn't get the chance to make it.
Win, 1-0
Match 2: U/R/W Reckoner
I got game 1, though it was pretty tight.
Game 2 he had perfect answer after perfect answer. At one point, I tanked roughly forever. Attack with my Fiend Hunter or no? Battalion or no? Play around Azorius Charm, or play around Restoration Angel? Turns out he had Snapcaster Mage (for the Azorius Charm in his graveyard), Restoration Angel, and another Restoration Angel. Things did not go well for our hero.
Game 3 he played Reckoner, Reckoner, and a third Reckoner. This deck is not good against Boros Reckoner.
Loss, 1-1
Match 3: Act 2
Game 1 I got a frankly remarkable start, but he got two Blood Artists, which kept him alive despite the unholy amount of pressure and combat advantage I put on. I just kept splattering his 1/1s—and losing a couple of life points while he gained a couple.
Just don't have the Aristocrat...
He had the Aristocrat. Falkenrath Aristocrat, double Blood Artist, turn 5 kill. Exactsies.
Game 2 I had essentially no shot. I can see why Brad likes this deck so much was what I was thinking through all the head spinning. This deck is not very good against Boros Reckoner.
Loss, 1-2
Match 4: Mono-Green Ooze
You make the play!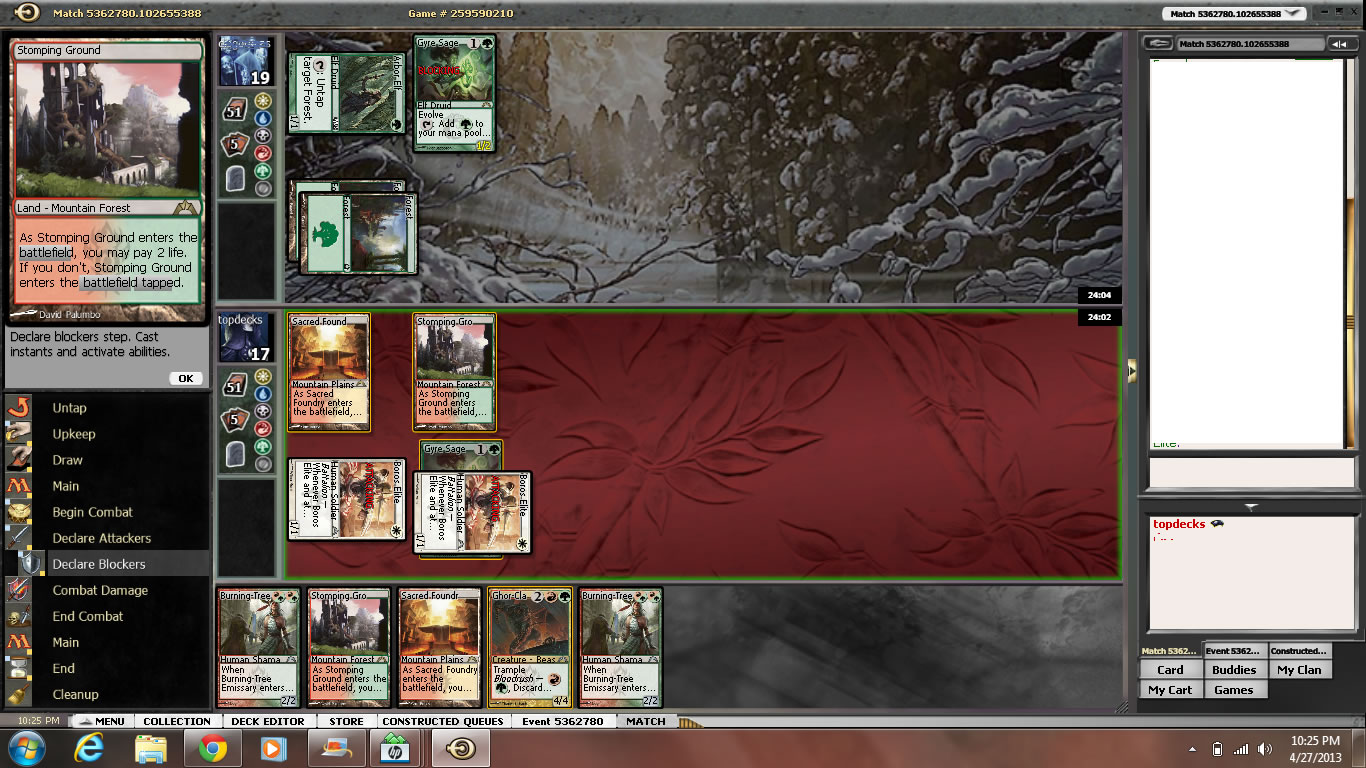 Can you think of a reason you would ever put an unenhanced Gyre Sage in front of one of those 1/1s on turn 2 or 3? Any reason at all? What is your best outcome here? That I blow a Giant Growth and you trade Giant Growth for Gyre Sage? Is a one-for-one where we trade one mana for two and you save one point of damage worth your Sage?
Obviously, I sent the Ghor-Clan Rampager in bloodrush style and got in for good money.
I would have thought this would have been a match to win since I was playing a pretty established Deck to Beat-level list and he was playing half of Brian Kibler's deck. We went to three, and I got locked down by all his Predator Oozes and stuff that makes stuff fight each other.
Loss, 1-3
Wow.
1-3.
It was pretty hard to keep going at this point, but my strategy was to go ten tournaments and see what came out the other side. The Ooze match exposed the inflexibility of the Naya list. Reckoner is a superior combat creature with a utility edge that Naya as it stands can't easily remove. But utility creatures—actual guys that tap to do interesting things—are an even bigger problem if left unopposed. Like Bob used to kid about Limited decks with no Dark Banishings, "If it hits play...it's staying there." Head down. Grind. Six more, michaelj.
Match 5: Travis Woo Fog
I figured this would be an atrocious matchup. I am a mono-beatdown deck. He is a deck that stops decks that try to win uncomplicated games in The Red Zone.
But like Dave said, there are no wrong threats, only wrong answers. I just put everything out there to try to win as quickly as possible, and I did. Twice.
Win, 2-3
I realized I could actually affect the game a bit in a matchup like this and that I wasn't likely to need both my Pilgrims and my Fiend Hunters. I revised the sideboard with:
-3 Nearheath Pilgrim
-1 Ghor-Clan Rampager
+4 Skullcrack
To:
Creatures (39)
Lands (21) Skullcrack actually allows you to play a strategic game against Fog. Commit to the board, let them set up for a big Fog defense; kill them to death by preventing prevention. Skullcrack is also a nice way to kill Planeswalkers.
Frank Karsten Naya Blitz v. 2
Match 6: Bant Biomancer
He was playing a Master Biomancer deck. So that might seem like a snap-LOL, but the problem is if I don't kill him super quick like, all of a sudden he has two huge guys and I can't easily remove creatures. Then he plays some giant and kills me with it, yeah?
We split the first two; I mulled to four in game 3. Normally, I am not overly frowny face over mulling low, but I had a lot of three-drops in (Fiend Hunter, Boros Reckoner) to try to compete with his bigger and more powerful drops. So a mull to four was devastating given my higher curve.
Loss, 2-4
Match 7: Gruul Aggro
Kind of an unremarkable win. I think he stumbled and didn't draw an excess of Reckoners (luckily).
Win, 3-4
Match 8: U/R/W Pike
Pretty surprised I got this one since he had Izzet Staticaster, which might be an even bigger beating than Boros Reckoner. Luckily, I saw Izzet Staticaster off of Thought Scour.
Win, 4-4
Match 9: BUG Evolve
Nothing to see here, really.
Win, 5-4
Match 10: G/W Ramp
We split the first two, with him hitting Garruk, Primal Hunter and protecting it reasonably well both games. Well, really well in game 1 since I never actually removed it and he destroyed me that game.
Game 3 he got stuck on four mana for a while, so he couldn't destroy me with his superior creatures.
On one hand, last Open I played G/W Ramp, and I think it can be a good strategy; on the other hand, this match illustrates why I want to play an aggro deck this weekend. He had a solid strategy and demolished me game 1. I have no flexibility and managed to finish him in three—because his cards are big and clunky and that's it.
Win, 6-4
The 4-0 run at the end felt pretty good obviously and managed to salvage a positive EV if not a spectacular record.
I came to respect the potential speed of Naya Blitz, but even though I want to play beatdown, I realized this is not going to be the deck for me. I made very few non-obvious decisions and felt utterly helpless in all four of my losses. Not that I am likely to play against Mono-Green Ooze or Bant Biomancer—just big / tough guys in those cases, which are not that unusual to play against. Also, I think Boros Reckoner is on the short list for best creature in the format (maybe best card), and I have no interest in playing a deck that scoops to a glorified Gnarled Mass.
Deck #2: Jun'ya Takahashi Bant Hexproof
Creatures (20)
Lands (22) I made one change to Takahashi's list, which was to cut the Overgrown Tomb for a Glacial Fortress. I guess it could have been a Hinterland Harbor. In case you didn't figure it out by looking at this list, the only card that Overgrown Tomb particularly casts is Gift of Orzhova. This decision actually bit me once but not enough that I think it is wrong.
Match 1: BUG Delver
He had both Tribute to Hunger and Devour Flesh main.
On top of that, his deck is all about rebuying instants as two-for-ones, and mine is all about putting more and more stuff on hexproof guys. Ugly.
Loss, 0-1
Match 2: U/W Spirits
Lots of the games with Bant Hexproof I have no notes.
That is because you just go guy, pants, kill the opponent.
This one I sided in Nearheath Pilgrim to help race.
Win, 1-1
Match 3: Gruul Aggro
Easily raced with Gift of Orzhova and Feeling of Dread.
I was initially apprehensive RE: Loxodon Smiter, but that card was consistently awesome at holding the ground for me against aggro.
Win, 2-1
Match 4: Esper Control
He was basically Orzhov Control as he was mana screwed both games. He tapped out for like a Lingering Souls, and I just put 100 Pants on some guy and killed him to death. First of many occasions I wanted something interactive like a Dispel in my sideboard.
Win, 3-1
Match 5: B/R/W Tokens
His deck had all the tight token makers on 2 and 3; I assume it was an Assemble the Legion deck, but we never got far enough into a game to find out. I liked this match since it was relatively decision-intensive. If I am reading him for a Midnight Haunting, what am I supposed to do pre-combat? Ethereal Armor my Geist? Rancor? I didn't want to play into Devour Flesh / Tribute to Hunger when he had BRW up.
Turns out I mostly sat back on Simic Charm for Giant Growth and Unsummon abilities, put some pressure on, and then set up the one-shot.
A really interesting, cerebral match to play from my side, though if you looked at it dispassionately (or perhaps from his side of the table), I think it would have looked one-sided.
Win, 4-1
Match 6: Mono-Red Aggro
I hit turn 2 Geist of Saint Traft both games 1 and 2. One of them I won; the other he chained Boros Reckoner into Hellrider and then played three haste creatures the next turn to kill me from seventeen, which was pretty spectacular.
Game 3 I played so that he would have to have a Brimstone Volley to win, and he didn't. Loxodon Smiter was again awesome.
Win, 5-1
I was feeling understandably pretty great about Bant Hexproof at this point!
Match 7: Mono-Red Aggro
His draws were spectacular all three games. Game 1 I had a pretty solid turn 2 Invisible Stalker / turn 3 enhance draw, but he just killed me on turn 4.
In the decider, I had a decision to make. Either I put him on Hellrider or I put him on other. He missed his fourth land drop the previous turn. I put Gift of Orzhova on my beater to swing for seven lifelink, going for the three-turn clock. He drew the fourth land, played Hellrider, and put me to -1. Disappointing.
Loss, 5-2
Match 8: Jund
I made a decision again, which was to keep a one lander with Avacyn's Pilgrim. I did not draw lands, so he got game 1 with one land in play.
Game 2 I won pretty ho hum.
Game 3 he was on the play and hit a turn 2 Farseek. I had the option to play Loxodon Smiter, but I knew he had all kinds of Dreadbores and other point removal, so I went with Geist of Saint Traft with all the regalia in grip. He answered with a hard cast Bonfire of the Damned, killing the Geist.
He of course had removal for the Smiter; we went long—and that is not the game I want to be playing against a heavy removal deck.
Loss, 5-3
Losing two in a row felt kind of emotionally disempowering, but at least I got to make decisions. They were both wrong! The reality is that you only get better by making mistakes; elsewise, how can you know where you need to readjust?
Match 9: Naya Blitz
It was really interesting to see the inflexibility of Naya Blitz from the other side of the table. Loxodon Smiter was a great stop sign thanks to turn 1 Avacyn's Pilgrim. For quite some time, the Pilgrim was my only source of white mana, but luckily he couldn't remove either. Eventually, I drew a second white to set up Gift of Orzhova, and that was that.
Game 2 I opened on Nearheath Pilgrim + Loxodon Smiter and got ahead big time; traded the Pilgrim for more lifelink; and then played the Gift to keep racing. The mono-beatdown matchups are pretty fun with this deck.
Win, 6-3
Match 10: Naya Zoo
Really fun match to finish it out, as again, I got to make a decision.
He showed me Wolfir Silverheart in game 1, but I raced him.
In game 2, he got a pretty quick Domri Rade; I answered with Loxodon Smiter. Attack him or the planeswalker? I decided on the planeswalker with my flying, lifelinked Elephant as a "play around Wolfir Silverheart" strategy—which was right since he immediately played the big soulbond 8/8. Had I left Domri Rade, he would have fought my Smiter and won.
Instead, I drew Silverblade Paladin, did some quick math, and one-shot him for the kill.
Win 7-3
So…definitely Bant Hexproof. That 7-3 could easily have been 9-1 with some minor different decisions, and I only felt legitimately behind against Devour Flesh + Tribute to Hunger maindeck.
And here is where I give away all my equity.
Creatures (20)
Lands (22) I am playing a few new cards despite not testing them yet.
Voice of Resurgence - I sided out Fencing Ace and / or Silverblade Paladin quite a few times. I love Fencing Ace as a concept, but I didn't feel that either of these cards overperformed in the sets I played. On balance, Voice of Resurgence can give me some additional bodies; it actually shores up some of the narrow weaknesses of the strategy.
Unflinching Courage - Not exactly Gift of Orzhova, but easier to cast (no Overgrown Tomb). Flying is a big game, though.
Render Silent - I sided in Pacifism zero times. Feeling of Dread I liked a lot against beatdown, but I don't think you need both. Render Silent is awesome because it gives you some game against Fog, and I wanted some interactive tools in general. I think I am going to be able to get a lot of money on this one this weekend.
If there is one complaint I have about this deck, it is that I don't feel like I get to make very many decisions. Just for fun, here is one for you. It's turn 1—what play do you make?

In this spot, I chose to play Breeding Pool into Avacyn's Pilgrim. The play you want is turn 2 Geist of Saint Traft, and there is at least one other play that can get you there (Temple Garden into Avacyn's Pilgrim). Both plays cost you two life on turn 1. The difference with the Breeding Pool play is that Breeding Pool is the only blue producing land in your hand, you need blue for Geist, and you can hit freebie Sunpetal Grove on turn 2, saving you two life relative to the Temple Garden play. Also, if your Pilgrim dies, you can immediately go Invisible Stalker.
Here is how those twenty tournaments went: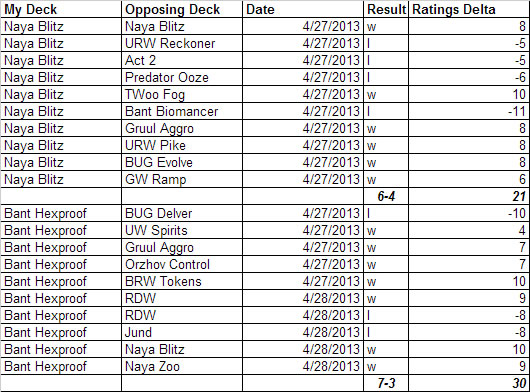 Thanks for reading, and wish me luck!
LOVE
MIKE

| | |
| --- | --- |
| | Knowledge. Power. Know everything. Do anything. Omniscience. Omnipotence. Dimir. |