Life sure is tough without Sphinx's Revelation around.
This weekend I embarked on a multi-state tour in an attempt to become the State Champion of both Rhode Island and Connecticut. StarCityGames has really amped up the State Championship program, and with a huge amount of Players' Championship points on the line this would be an important weekend.
After playing Green Devotion strategies at both SCG NJ and an IQ, I wasn't really thrilled with the deck. While it had some hands that were unbeatable, it also had many hands that rolled over and died to a few removal spells while you stared helplessly at your Elvish Mystic and three Sylvan Caryatids. Looking for a new deck was tough, however, as with the Pro Tour on the horizon most people were very tight lipped. While normally I could have just grabbed a deck from the Pro Tour, the time change meant that the Standard rounds would not be ending until well after midnight Eastern Standard Time, and I had to pursue other options.
As I am usually looking for a control deck, I came across good buddy Gerard Fabiano's article on Esper Control, and after a brief conversation with him about the deck I decided that was the best place to be. A few changes were made, the deck was sleeved, and alarms were set.
Creatures (1)
Planeswalkers (5)
Lands (26)
Spells (28) I made some slight changes to the deck, as I felt four copies of Thoughtseize was too much incidental damage and four Last Breath was overkill. A second Jace's Ingenuity was added as well, as without something huge like Sphinx's Revelation the deck really isn't great at actually putting card advantage together in the mid or late games.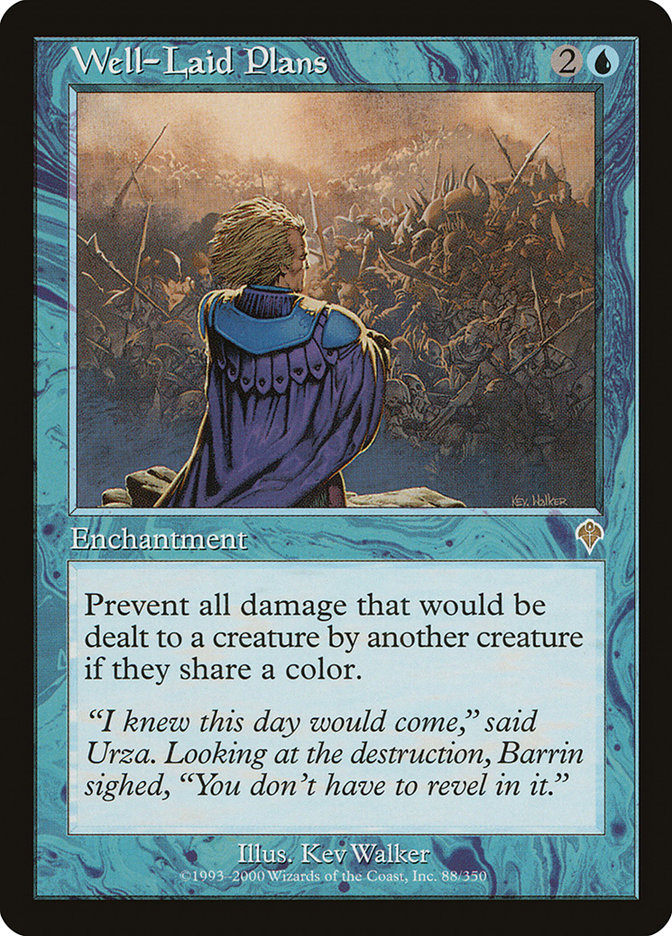 Unfortunately, well-laid plans of mice and men oft go astray. We would never see round one, as issues at the Cross Sound Ferry saw us watch not only our boat sail off without us but the following boat as well. We would end up finally boarding a boat a full hour later than expected and arriving at the tournament site at the conclusion of round one. We were allowed to enter the tournament with a round one loss, which I don't think I've ever had to do in the entirety of my Magic career, and the only saving grace was that the tournament would only be five rounds.
After winning a few rounds I found myself paired down in the final round, which would deny me the ability to draw into top 8. Forced to play, I was paired up with an Abzan Reanimator deck, with Ashen Rider and Hornet Queen on the top end.
Game 1 was a close affair, which I was able to finally stabilize at three life with an End Hostilities after some mana issues finding double white. The only permanent left on the board was my Ashiok, Nightmare Weaver, which had a Nyx Weaver under it. I decided to plus Ashiok in search of a Siege Rhino in order to get myself above the three life danger zone, and his top three cards revealed Temple of Malady, Commune with the Gods, and Siege Rhino. Now set up perfectly with a grip full of spells, an impending Siege Rhino, and a handless opponent, I had to fade for one turn.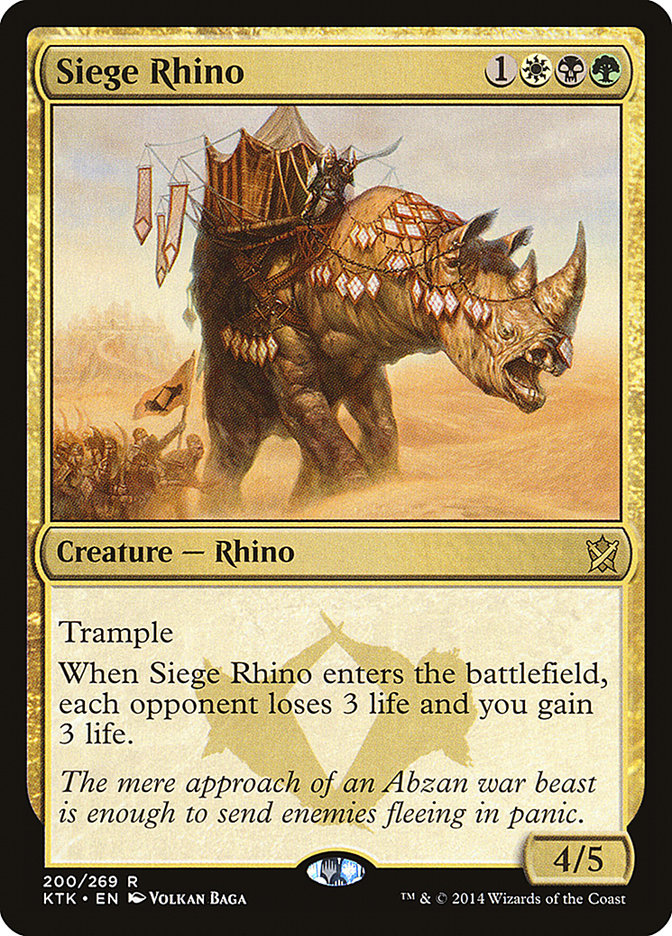 My opponent untapped, drew his card, and promptly cast his fresh Siege Rhino to kill me.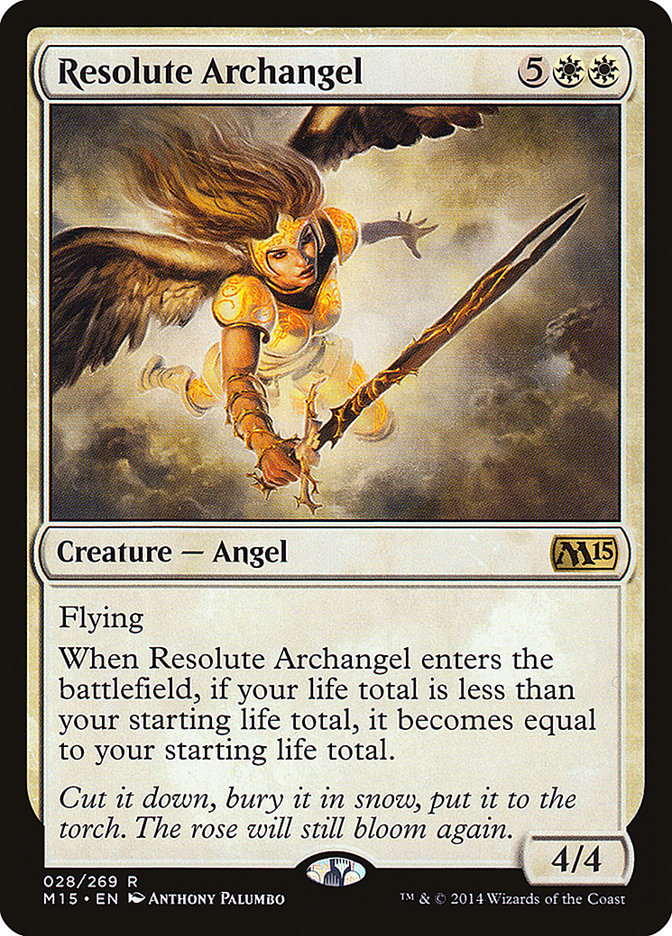 Game 2 saw the power of Resolute Archangel, as I was able to take a bunch of damage in the early game to make some favorable trades only to come back from one life back to twenty in a flash. While the Archangel bit it to a Hero's Downfall, an Elspeth was able to come down and seal the deal.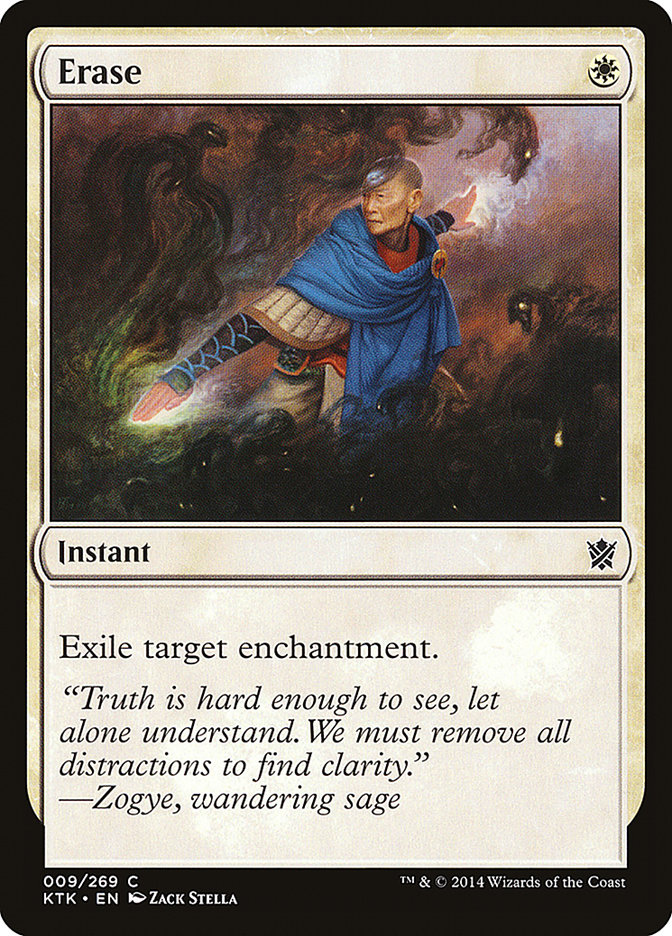 Game 3 saw me mulligan to five, but an early Thoughtseize revealed my opponent had a two land hand with a Satyr Wayfinder and a bunch of four+ mana spells. I took the Satyr and the game would drag on for a while until I would succumb to another exactsies Siege Rhino right before I was able to turn the corner.
Frustrated after losing, I turned to friend and fellow SCG columnist Ross Merriam and asked him if I had done anything wrong. He agreed with all my strategic lines, but pointed out that I had taken an unnecessary point of damage from Caves of Koilos to cast an end of turn Erase on turn 5. On my turn 5 I had just played my fifth land, a Temple of Enlightenment, and kept an Elspeth, Sun's Champion on top of my deck with the scry. I didn't have a sixth land yet, but the game was stalled out and eventually landing the Elspeth when I drew a land was very reasonable. Because I knew my next card was uncastable and I would not be using my mana at all on turn 6, I could have simply waited to untap before playing the Erase with the Temple of Enlightenment. As I was casting a Jace's Ingenuity on the turn he cast Siege Rhino, it is likely I would have been able to turn the game around at one life again.
Frustrated with my performance, it was time to think about tomorrow's tournament and check out the coverage from the Pro Tour.
I was pretty unhappy with the Esper deck, as the mana was really really bad. While Flooded Strand and Polluted Delta were great for setting up delve spells in the midgame, they were awful at actually casting my spells. Fetchlands have such a high pedigree because of how well they interact with dual lands in Eternal formats, but when you can only fetch basic lands they are one of the worst dual land cycles available for three color decks. Hands like this would come up repeatedly:
What are you even supposed to do with this hand?
Because fetchlands can't tap for different colors on different turns like Temples or other duals, you are forced into answering the question of "what spells do I want to be able to actually cast this game?" With so many double colored spells in the deck across all three colors, any game I didn't draw a few Temples, my mana was simply all over the map.
After enjoying some poker and a nice respite from Magic at Mohegan Sun, we were back at our hotel room checking out the Pro Tour coverage, and I was again in search of a deck. Ivan Floch was doing very well with a straight U/B Control deck, and I liked the look of it. I again made a few minor changes, most notably to the sideboard, and registered this 75:
Creatures (4)
Lands (27)
Spells (29) The biggest point of contention in my list was a little planeswalker that I think nobody truly understands.
I don't think anyone truly knows if this card is good or not. It has its major backers (Gerard Fabiano), and its major naysayers (Ivan Floch), and I have personally been on both sides of the fence on the card. I've played it before at a number of times, and at various times I have said that it is stone unplayable, and at various times I've said it's an absolute four-of.
Clearly the pro community has similar issues, as the two major U/B Control decklists at the Pro Tour played either four or zero copies of the card.
My reasoning was that Ashiok has gotten much better with the release of Khans of Tarkir, as Khans has introduced a large number of very powerful three and four mana creatures that are extremely high in power level in exchange for very difficult mana costs. It is very clear at this early stage of the format that Mantis Rider and Siege Rhino are format-defining cards, with Savage Knuckleblade, Butcher of the Horde, and others coming in right behind them. This means the value you are going to get off of an Ashiok -X activation is going to be very high and that Ashiok will likely live through it.
Ashiok's value against midrangey, good-stuff creature decks is pretty clear, and Standard is absolutely full of these decks right now. But there are also the times against Jeskai Aggro or a control deck where Ashiok literally just sits there doing nothing, and you want to pull your hair out for ever putting the card in your deck in the first place. Not every deck in the format is creature heavy, and if you aren't able to hit a creature in the first 3-6 cards, Ashiok really isn't doing much.
All of this coupled with the popularity of Abzan decks from the Pro Tour made me deviate from Floch's list and put three Ashiok in the sideboard.
Unfortunately, the presence or absence of Ashiok from the decklist was the least of the deck's problems.
After a round one win, I played against a somewhat odd Azban deck in round two. Game 1 I traded off with his creatures, countered spells, drew some cards, and around turn 12 or so I felt I had completely turned the corner and was in control of the game. His only permanent was a Bow of Nylea, and I had just played a Prognostic Sphinx. He untapped and played a Brimaz, King of Oreskos, and said go. After drawing my card for the turn and not having a removal spell, I felt like I couldn't actually win the game. With the Bow of Nylea out I could never profitably block with my Sphinx, and unless I drew a removal spell in the next turn or two once Brimaz made a few deathtouch tokens I would have no way to remove them all (aside from my one remaining Drown in Sorrow) and would eventually die to them. I didn't draw a removal spell in two turns and just died in a game I was sure I should have won.
Game 2 he again had a Bow of Nylea out late in a game I once again felt in pretty good control of. After trading off a few counterspells and removal spells, he landed a Fleecemane Lion and moved to immediately make it monstrous. I had no immediate answer, and having already used my one Perilous Vault earlier in the game I actually had no out to an indestructible 4/4 deathtouch creature.
While perhaps the deck was okay for the Pro Tour and the specific metagame that Floch was accounting for, I would lose a few more times to random things that my deck just could not deal with. The decks power level was quite low compared to what my opponents were doing, and worst of all it didn't even really ever get ahead on cards! One of the hallmarks of a good control deck is that you just trade off one for one with good answers, and then eventually refill and slowly grind control of the game.
Whether it was Fact or Fiction, any Jace, or Sphinx's Revelation, control decks would eventually keep powering through with their card draw to eventually gain total control of the game. While Dig Through Time was pretty good and the card I wanted to draw most often in the mid/lategame, in a lot of ways it was nothing more than a glorified Inspiration. It would only ever put me up one card, and very often I was struggling to keep up in the lategame if I ever drew a few lands (or worthless late game Despises and Thoughtseizes) in a row.
Speaking of Despise and Thoughtseize, I've always disliked them in very reactive control decks. They are worthless draws in the midgame, and because your opponent never has to spend any mana to cast the cards you take, it allows them to continue to curve out and basically ignore the lost card. Your answers line up very well when your opponent has to cast a four mana spell and you spend two mana to counter or kill it; this gives you the time you need to turn the corner into the late game. Spending one mana just to take their card does nothing but trade your time and resources for their resources, when your biggest concern is to be gaining time.
Discard spells are great in decks that have more proactive plans (think Pack Rat or Bitterblossom), but in long-game control decks, I am not a fan at all.
So where do we go from here?
Honestly, I'm not sure. While I definitely don't love Perilous Vault it might be necessary in the U/B Control decks, but even with that I'm still not convinced they are good enough to be true players in the format. Control has had it pretty easy with cards like Sphinx's Revelation around, and right now there aren't really any amazing cards to glue a control deck together with.