When I write articles for This Here Site Here, they're polished, longish-form, usually focused on a single core idea. Occasionally I'll do mini-articles (as in "Nooks & Crannies"), but that's outside my norm.
Today's article? Really outside my norm...my publication norm, that is. These are mini-minis -- tiny incandescent mind-sparks that never did develop into full themes, yet still deserve expression. Think of it as the Robot Chicken of Magic articles. It's not too far off.
A Logical Conclusion Drawn from the Name "Elspeth"
Elspeth, as in Elspeth Tirel and Elspeth, Sun's Champion, is not a particularly common name. In fact, it is peculiar to the Scots language and is a variant of Elizabeth, a name that means, among various shadings, "pledged to God" or "chosen by God."
This leads to a couple of observations. First, assuming the Wizards Creative team had Elspeth's fate mapped out more-or-less from the beginning (and based on my understanding of their timelines, this wouldn't surprise me a lick), Elspeth ending up a sun god's champion was foreshadowed by her name all the way back in Shards block, which is pretty darn impressive.
Second, if Elspeth were named Elspeth by her parents...and she was born on a plane dominated by Phyrexians...somewhere in the Multiverse is Celtic Phyrexia.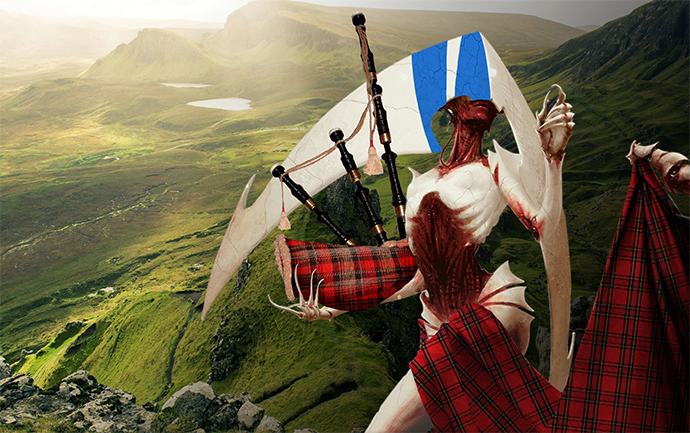 That Loch Ness Monster will look marvelous once it's compleated. Next stop: Dunrobin Castle!
How Much Does My Mother Love Me?
I've written before about my "Magic mom," who drove me to many Magic tournaments in my high school days and helped set the stage for my current life. When I called her the other night, I mentioned the South Park episode involving Magic cards and roosters (no link because this is a family site, but likely you've heard of it) and how there were names I wrote for Magic (namely Kalonian Twingrove and Glacial Crasher with Mercurial Pretender being mangled as "Merciful Pretender") mentioned during the show, including the line: "Can you believe that rooster played a Kalonian Twingrove with half his mana tapped?!"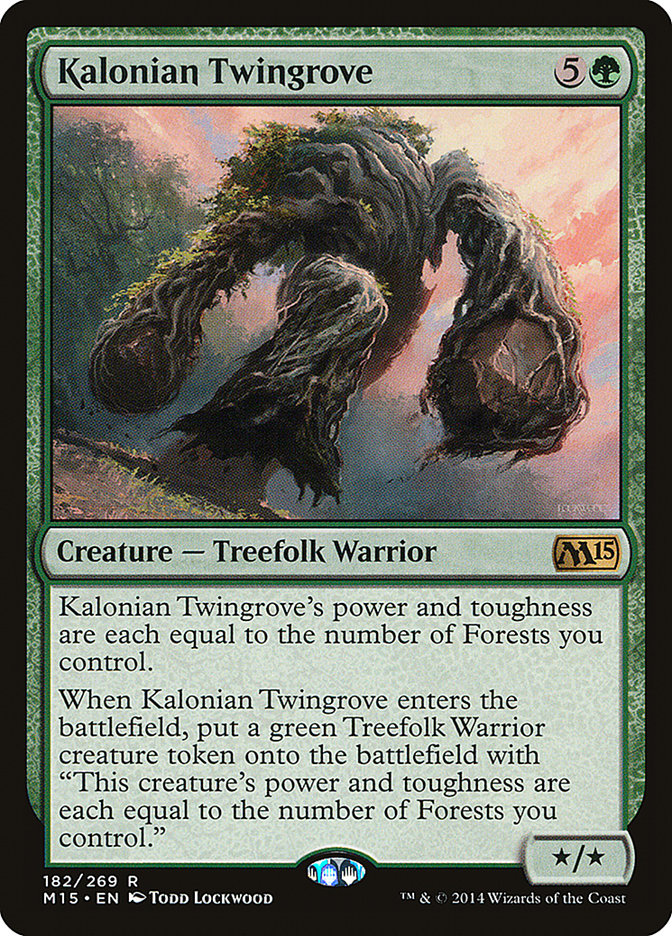 My mother -- my retired-schoolteacher, prim-and-proper, scolds-shop-customers-who-curse mother -- told me, "I want to watch that."
"Mom, it's South Park. Bad language. Crude humor. I don't think you..."
"For you I'd watch South Park."
She's proud of her boy. I wouldn't want it any other way. (And thank Merciful Pretender I found a ten-second clip of the Kalonian Twingrove quote that I could show her!)
Commander for People Who Hate Commander
Creatures (20)
Lands (38) His Name Is Gideon, and He's About to Die
Duels of the Planeswalkers 2012 still has one of the best video intros ever for a Magic game, and in just under two minutes there's a magnificent exploration of Gideon's character and the journey he has taken across worlds, aside from the inaccuracy about being born on Bant (his home plane is unknown, but his particular style of justice magic has no correspondence on that plane).
The key word with Gideon is justice; he is Gideon, Champion of Justice on Ravnica even as he aligns himself with the Boros. It's unquestionably a virtue of the color white in Magic, but it's far from the only one (see also: community, order). It was justice that motivated him, in his Robin Hood-like adolescence, to steal from mansions with his gang (itself a manifestation of order, if an odd one) and give most of the proceeds to the poor, keeping only enough for himself and his gang to survive.
Gideon himself states that he had been part of an anti-red-magic association, the Order of Heliud (not to be confused with Heliod, God of the Sun from Theros), but had discovered through his own experiences that it was tyrannical and concluded it was not worth saving. Rather than holding the group above all, he chose the individualistic route when the group no longer served justice. Note particularly his anger at his past self-righteousness, a vibe not unlike the rare Contemporary Christian songs that call out the community's unfortunate and all-too-common tendency toward judgmental behavior and holier-than-thou pride. (One of my favorite bands, Casting Crowns, has several songs in this vein.)
Speaking of religion, there is a great deal of religious resonance in Gideon's name. In theBook of Judges of the Hebrew Bible and Christian Old Testament,Gideon is one of several persons (not "men," as Deborah is among them) chosen in turn to deliver the Israelites from their troubles and call them out for their idolatrous and other sinful behavior -- in other words, they were both military leaders and agents of divine justice, which fits Magic's Gideon. His surname, "Jura," calls to mind such words as "jury" and "juror," which derive the Latin verb juro (jurare, juravi, juratus) meaning "vow." This wouldn't be the first name Magic has derived from a Latin source, either; the troublesome artifact Mirari of Odyssey and Onslaught fame means "to marvel at" in Latin.
The Big Risk
Merely because an author, an artist, or another creative person puts something into a work does not imply endorsement or belief. (Did Ayn Rand believe in her villains' ideologies? Heck no!) On the other hand, the presence of an element in a work does indicate that its creator considered it and then placed it there...or worse, never considered it at all, letting an unconscious assumption slip through into the characters or setting or tone. The accusation "you're reading too much into it" sometimes has merit (as Neale Talbot's recent satire suggests), but more often it says more about the speaker than the target. Where Mr.Talbot snarked on Magic's use of the term "mana," a concept taken from several Pacific Islander cultures, I made the same point two years ago, seriously rather than sarcastically, and my stance that it's deserving of examination hasn't changed.
I've disagreed with Wizards Creative plenty in my time, but I also like to give credit where it's due. For the first time I can remember in history, the Magic blocks forming Standard are both based on worlds that a) go outside the Northern and Western European sources that are the basis of much fantasy, and b) go outside the same areas to find the "default" appearance for humans in their settings.
Theros is based on Greco-Roman myth as filtered through popular culture and Magic. Since it's nigh-impossible to give dozens of artists a general prompt and have none of them come back looking Western European, the Creative team must have laid down specific visual rules for the artists: no blond hair and no blue eyes except on planeswalkers. Go look at Journey into Nyx singles and check specifically for both. The only blue eye on the plane belongs to Ajani, Mentor of Heroes.
Of Theros-born humans, the lightest skin tone on any card belongs to Daxos of Meletis (I'll leave aside for now that he was the designated love interest of the story) and the average is somewhere between Curse of the Swine and Scholar of Athreos.
Switching from Greek-inspired Theros to the broadly Asian-inspired Khans of Tarkir, there are more instances of light skin tones, particularly among the Abzan, but again there's a distinct lack of blond hair. There are some lighter brown shades, such as on Abzan leader Anafenza, the Foremost, but once again the Western and Northern European influences are all but absent. Sorin Markov stood out on Zendikar in his original appearance for the aristocratic richness of his clothes and weapons; the same applies on Tarkir, but his hair and complexion also mark him as otherworldly.
"Sit down, sonny, and I'll make you some blood-tea."
Travelin' Man
In mid-December I'll be traveling from Roanoke to Seattle/Tacoma for the StarCityGames.com Invitational. It'll be my effective vacation for the year, my first solid block of time off in sixteen months (I took no time off between jobs, turning in one work badge on Friday and shaking Evan Erwin's hand on Monday), and I want to make the most of it. Ideally, that would involve me winning in the finals, but based on my past Invitational experience, that's not likely.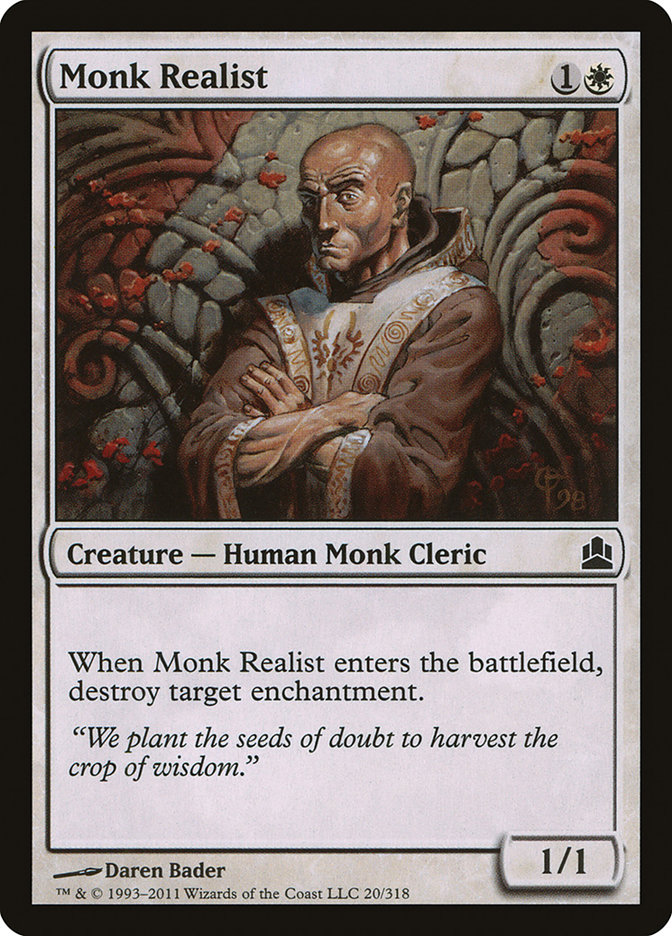 "Day Two? Good luck with that."
I already have a twelve-hour layover in Las Vegas all mapped out, but I could use your help in planning the rest of my time.
On Saturday: If I'm out of the Invitational, I'd like to spend a day exploring either Seattle, a city I haven't seen much of, or someplace in British Columbia (Victoria, Vancouver). What's your must-see? Is the Space Needle all that and a bag of chips? What about afternoon tea at The Empress?
On Sunday: I'm taking the last redeye out of the city. That leaves me time to make a quick trip to Oregon, which will be my 49th state visited of 50 (Alaska was #47 and Nevada will be #48). What should I experience in a few hours in Portland? Voodoo Doughnut? Powell's Books? Mount Tabor ?
I appreciate any advice I can get. If you're at the Invitational next month, look for the guy in the tie and don't forget to say hi!