I knew that I was going to play Burn in Modern. I have done very reasonably with the deck since I picked it up back in Richmond at the Season One Invitational. I noticed that I accumulated a whole lot of 5-3s over the season, and my goal in Modern was to figure out where I was falling short.
As I've learned more, I figured out that a lot of the games I was losing was due to inexperience, not maximizing everything I possibly could at all times, and overcompensating for things I probably wasn't going to beat in the first place. I should've been focusing instead on the close games, the ones that you have to show weakness in your body language to maximize that Deflecting Palm you were holding when they move in on their Gurmag Angler. The games where you can't afford to play around a Mana Leak, so it's right to just fire off that Lava Spike so you don't get hit with Snapcaster Mage into Inquisition of Kozilek and then it all works out because you played only around what you could afford to.
I did my best to work on fixing those holes in my game with the deck, and I would get plenty of practice in during the week, but Andrew Shrout put a little wrench in my plan when he presented an entirely different Burn strategy, utilizing forms of flood insurance and what feels like an actual sideboard. When I first looked at it, I was pretty baffled. Then I was intrigued. Then I looked at the sideboard.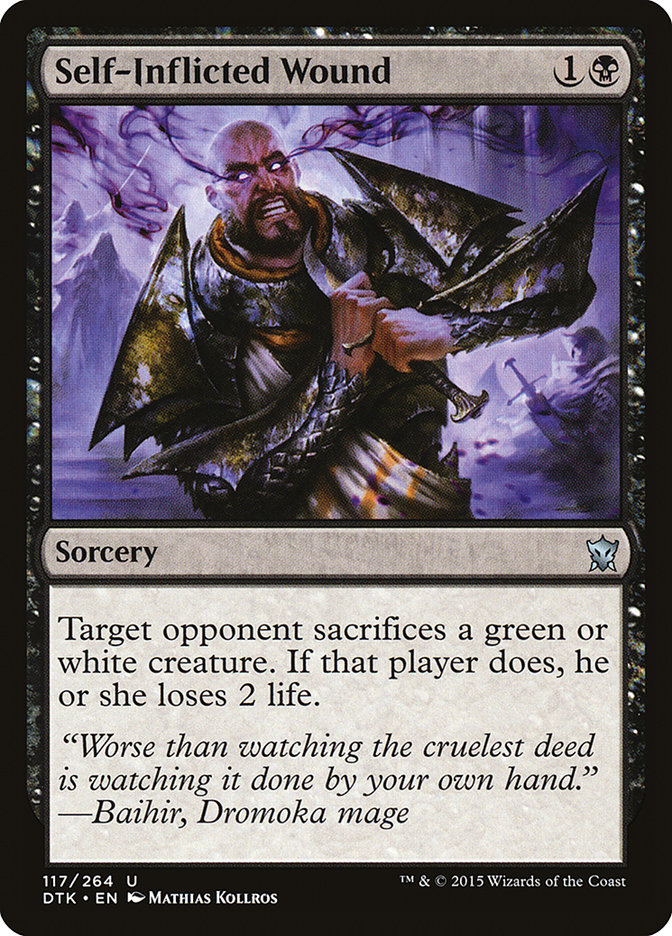 Sold.
Creatures (15)
Lands (21)
Spells (24) I blatantly broke my "play two colors, splash the third, but don't play the full three colors" rule with this build, but the power of this deck could not be denied. Having flood insurance is absolutely huge in this deck as you will often have too many lands and not enough things to do with them. Tasigur, the Golden Fang allows you to have a big threat on the dirt cheap, and if things drag on you can also get back a Lightning Bolt of their choice each turn. The big sell on the deck is Self-Inflicted Wound, which is a huge assist against the actual best creature against us, Tarmogoyf. Hitting Kor Firewalker is a big plus too, but getting to be better equipped against Abzan Collected Company and Jund is so important.
Unfortunately, Tasigur himself wasn't very good, and not having Boros Charm to bail you out in crummy situations kinda sucks. Tasigur doesn't really get to attack, and when it dies to a Terminate, you end up losing a lot of momentum that was already hard-to-get. There may be a build that utilizes Gurmag Angler instead, but we'll have to only rely on Bump in the Night as flood insurance. Maybe flood insurance isn't as important as the raw power of Boros Charm.
Creatures (14)
Lands (20)
Spells (26) For Standard, I was torn. I loved Stormbreath Dragon and I wanted to find the best Stormbreath Dragon deck I could find, but I felt dwarfed compared to the Dragon Megamorph decks. There really is no best deck in the format, and it's stupid to try and break the format in my opinion. I'd rather just go in with a few choices that I'm comfortable with and rely on my gut instincts with one of them.
G/R Dragons was always a dog to G/R Devotion, which I expected to be popular. Mardu Dragons was good but Goblin Rabblemaster wasn't great, and it felt more like filler in this deck than anything. I would try to build Five-Color Dragons decks like this, just to see what was there.
Creatures (29)
Lands (25)
Spells (6) I couldn't get the mana to work, though, and I didn't think it was worth trying to do so much in a short amount of time with no preparation.
I then went back to Mardu and reevaluated how I looked at the deck. I didn't want Goblin Rabblemaster, I knew that much, but I also wanted to change the dynamic of how the deck operated. I wanted to go bigger than the other Mardu decks while also having defense against the infinitely-annoying tag team of Den Protector and Deathmist Raptor. This is really tough to do because you can't go too big, since the Esper Dragons deck can outgrow you, but you can't midrange forever since there are too many ways for decks to climb back into games. Abzan makes a lot of ground up with Courser of Kruphix and Abzan Charm. Mardu doesn't quite have an equivalent, but it's not worth trying to match what Abzan does since in that case you might as well just play Abzan.
The more powerful creatures in Mardu weren't enough for me, but the biggest Dragon of them all seemed like a very easy splash. Dragonlord Atarka was splashed in Abzan by the mastermind of the clan, Steve Rubin. There isn't much reason we couldn't adopt that plan over here. We're already on Haven of the Spirit Dragon, so that adds the green sources we need... adjusting our manabase a little shouldn't be too difficult, so we can build from there.
If we're going to go bigger, then we need something to hold things down until we get there. Orator of Ojutai is not a great creature in its own right, but if we have more Dragons in our deck then we have much-needed card draw. A bad Wall of Omens is still worth having when we're trying to go bigger anyway, especially if we include bridges such as Anger of the Gods and/or Crux of Fate. This leaves me with a good map of what I want to build and how I want to build it.
Creatures (16)
Planeswalkers (1)
Lands (25)
Spells (18) I was pretty happy with where things were going, but again, the manabase appeared stressed. Five sources of green mana was okay for Atarka but I really wanted a sixth, but a fourth Haven of the Spirit Dragon wasn't working with Crackling Doom and Mardu Charm. Drawing two Swamps early on could also be a problem, which made me question if I wanted all four Bloodstained Mires in the first place. I don't think they're sacred cows by any stretch, and it would make it easier to get a second Caves of Koilos in there as well as something else. Murderous Cut gets much worse if I do this, however, and I can't quite afford to stumble on my spells, never mind the mana.
Another solution is to add a twenty-sixth land, probably a Temple of Plenty. This would give me the sixth green source as well as an additional white source, which I'm currently slightly short. Lastly, I can take the cheap route and jam a second Mana Confluence, but that makes my red matchup just that extra bit worse and I would never want to draw two of them in one game. It would certainly be something to think about for the days to come, and I'd look more into it with players I trust. It's good to have a go-to player or group of players that know and understand your mindset as a player, so they can take your preferences in consideration when giving advice. Nothing helps quite like getting assistance from people that know you well, regardless of if what you have works or not.
I ran it through a Magic Online daily event to a 3-1 finish, but there was still so much that felt like it was missing. I definitely felt that I was getting closer to what I wanted, though, and I began to build off of what I'd learned. I briefly entertained a build that splashed Dragonlord Ojutai instead of Dragonlord Atarka, but without access to Satyr Wayfinder and Sylvan Caryatid that was a much more difficult endeavor that I simply didn't have the time for. I wound up adding the extra land, a Sandsteppe Citadel, and I made quite a few cosmetic changes with the removal. Mardu Charm got cut, as did the Murderous Cut, and I added the third Thoughtseize and the fourth Draconic Roar to keep myself from being too slow on the action when I draw heavy on the tapped-land side now that I'd added yet another. Because of the additional Dragon spell, I felt that I needed one more Dragon to really make sure I have one early and often. That additional Dragon was the second Kolaghan, the Storm's Fury, as I felt that it gave me a nice angle against an opposing Crux of Fate, Elspeth, Sun's Champion, and opposing red Dragons which can be real big pains. Basically, I decided to utilize Kolaghan's not-as-well-advertised features more than other Mardu Dragons decks would.
One last but extremely important thing I noticed was the lack of presence in Dromoka's Command. Aside from G/W/x-based aggressive decks no one had them, and even in some of those you'd be hard-pressed to see a large amount of Dromoka's Commands like we did even just a week or so ago. This is likely because of just how much protein there is in creatures now, in addition to people simply not playing that many enchantments anymore. If that was the trend going into the Season Two Invitational, then Outpost Siege may be in an excellent spot for the weekend.
!!!!
Even if Dromoka's Command was still very popular, I'd still want some more push against the other Dragons decks anyways, even if they're a "good" matchup. Mardu really doesn't have a way to generate a lot of card advantage in the midgame, and in a format where every other deck is both capable of that and of strong-arming you into some real tough spots, you have to keep the ball rolling somehow.
I would eventually come to this:
Creatures (17)
Lands (26)
Spells (17) I learned that I barely had anything for the G/R Dragons / G/R Devotion matchup in my previous sideboards, so I ended up with the standby best removal spell against them, Ultimate Price. I felt that since we're already jamming Anger of the Gods in the maindeck to help combat Den Protector, Deathmist Raptor, and Mono-Red, I could afford to diversify a bit with the Virulent Plague, especially since I'm already on Crux of Fate. I don't want to overload on sorcery-speed sweepers, as you can become super weak to Dash, but Ultimate Price helps a lot with that angle. I started with three each of Duress and Self-Inflicted Wound, but often felt that I had too many of those effects so I shaved one of each to make room for an additional Outpost Siege and what wound up being an Elsepth, getting rid of the second Kolaghan's Command.
Still, the deck just felt very... decent. It wasn't bad, but I felt that I could do better. Maybe if I explored other options outside of Mardu, I could find something. Maybe if I were willing to give up the G/R Devotion matchup, I can be more robust.
Creatures (27)
Planeswalkers (2)
Lands (24)
Spells (7) I lose a bit more to Mono-Red with this build, but I gain more against the expected uptick in Esper Dragons. I overloaded on Roasts because I refuse to die to Abzan Aggro, and I kept Rattleclaw Mystic because cards like Wild Slash and Bile Blight are trending low. Thoughtseize has always been an issue, so adding the Megamorph package in here is a huge boon to an already-cohesive plan. You also get to shave a bit on Crater's Claws, which has never been a great card in your opening hand. All in all, it's not a perfect shell, but I'm certainly happy with it thus far.
Standard is only getting tougher and tougher, but Modern has gotten better for me. I won't be in attendance for GP Charlotte, but I will be preparing for the upcoming Opens in Indianapolis and Baltimore. The Invitational has been nothing but exciting, and Modern has had a great showing.