We live in a world where under-costed artifacts have shaped entire formats and brought Magic players to their knees:
…and many, many more.
Next in that line of offenders?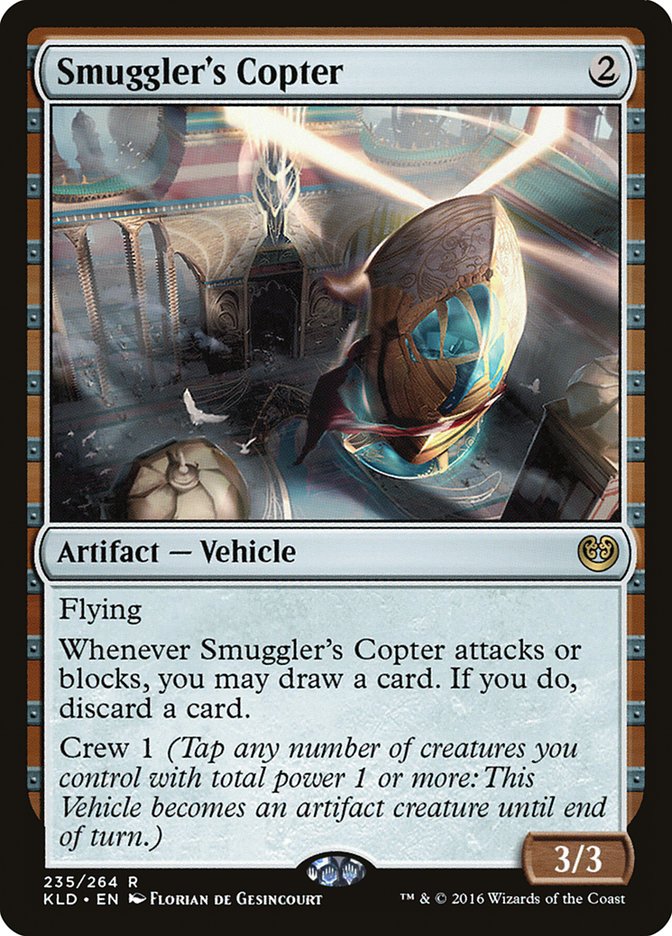 It's possible it may be too early to make this assessment, but then again, I'd rather be trying to figure out how to beat in now than wondering what went wrong two months from now. Having 32 copies of a card in a Top 8 and over 100 of them in a Top 32 is a ridiculous and frightening number, but no, the sky isn't falling. Not yet, anyway.
One of the traits I exemplify the most in my writing is probably hyperbole. I love talking about things as if they are larger than life, but make no mistake that today's discussion won't include any measure of sarcasm or satire. With #SCGRegionals on the horizon, you will play against dozens of Smuggler's Copters over the weekend, and the Pro Tour is likely to reinforce that.
Players will be placed directly into one of two camps:
Play Copter.
Play to beat Copter.
This is somewhat symptomatic of a format where there is a clear power creep amongst the available card pool. Over the last few years we've been forced to deal with scenarios involving Rally the Ancestors, Collected Company, Pack Rat, and others. It's rare that so early in a card's life that we have to look at it as a potentially format-warping threat and address it as such. Usually they ramp up and are identified later in their legality, and we scratch our heads and ask, "Why did it take so long before that broke out?"
We're not going to have this problem this time around.
Standard has several options and answers to Smuggler's Copter, but some of them are narrow and others may be unplayable. We're going to go over them today, and talk about what the best way to attack Smuggler's Copter decks might really be.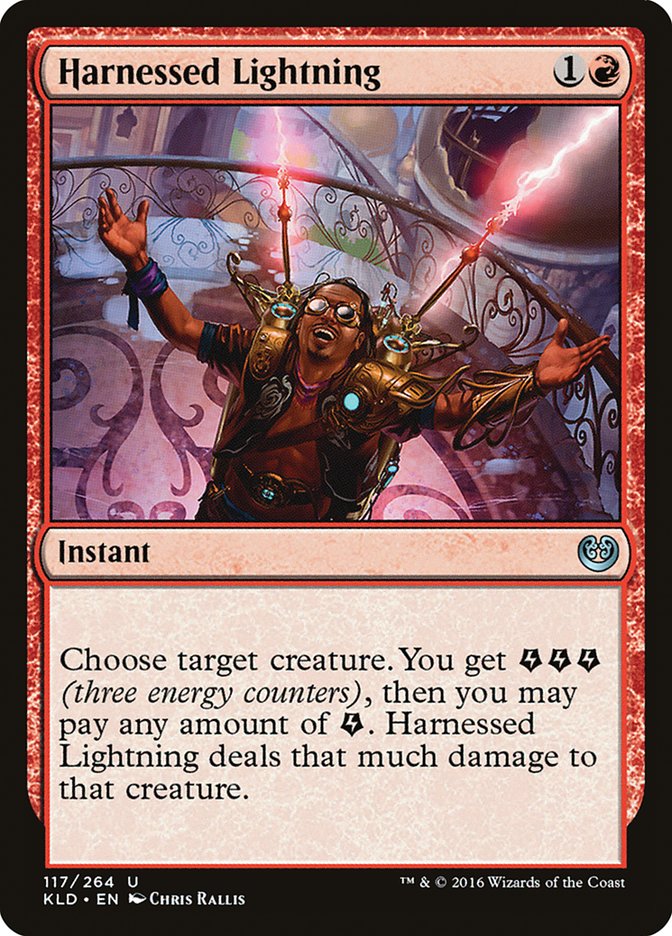 Harnessed Lightning might be the most proactive solution because it requires the least amount of actual work or circumstance in order to shoot a Copter out of the sky. Without the Crewing of something like Veteran Motorist or a Depala, Pilot Exemplar on the battlefield, a Harnessed Lightning can handle the Copter before it gets the opportunity to begin generating card advantage. Subsequent copies and the addition of Energy allow it to take out Copters if they are larger, which gives it one of the most important edges in the format.
Decks the utilize Harnessed Lightning can be aggressive to clear blockers, midrange to remove threats from the battlefield, or control for the same purpose. Energy being a side-effect of many already impressive spells or archetypes that require it to function are going to make this one of the best answers to Smuggler's Copter going forward. It also kills Fleetwheel Cruiser and Sylvan Advocate. Three toughness is the magic number we're working with.
Where it goes wrong: One of the rough parts about Harnessed Lightning is that it requires additional resources to defeat any larger Copter. Always Watching along with the Boros creatures that naturally pump the size of vehicles invalidate Harnessed Lightning unless you're able to, say, kill a Motorist with the first Lightning, bank two Energy, and then kill a Copter with what you have left in your tank. It is also rather ineffective against much larger threats, meaning its uses are relatively linear and clear. It does the job well, but isn't enough on its own.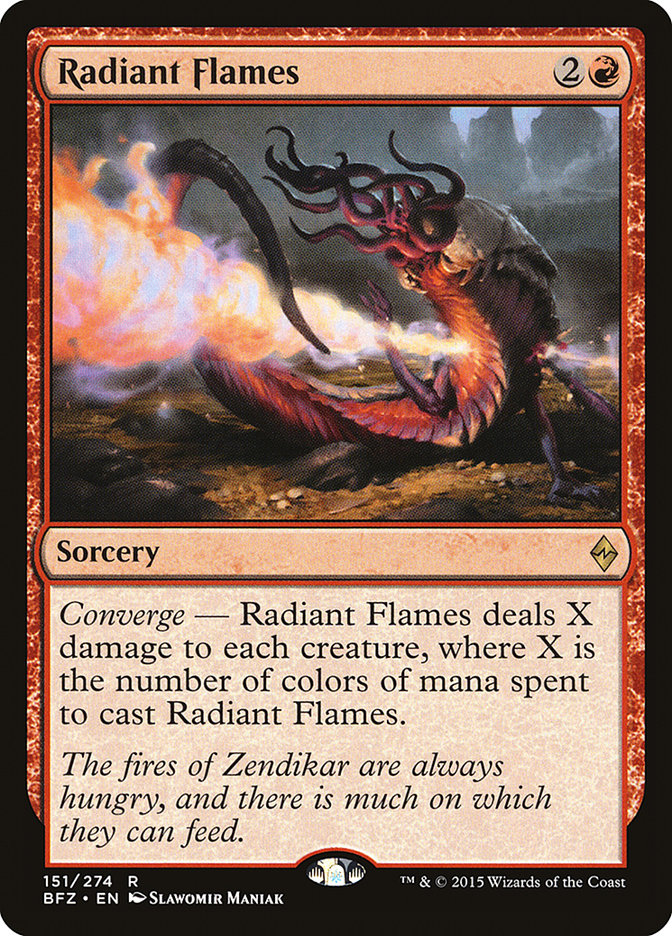 Honorable Mention: Radiant Flames
When Kaladesh was announced and Collected Company started to fade away, I thought Radiant Flames would be far more successful, but it turns out that not being able to kill Smuggler's Copter, or any Vehicle for that matter, makes it difficult to justify using. Clearing the battlefield of the three-toughness creatures used to Crew Vehicles is, of course, awesome, but any follow-up creature still lets them smash into you, and that makes Radiant Flames a poor choice.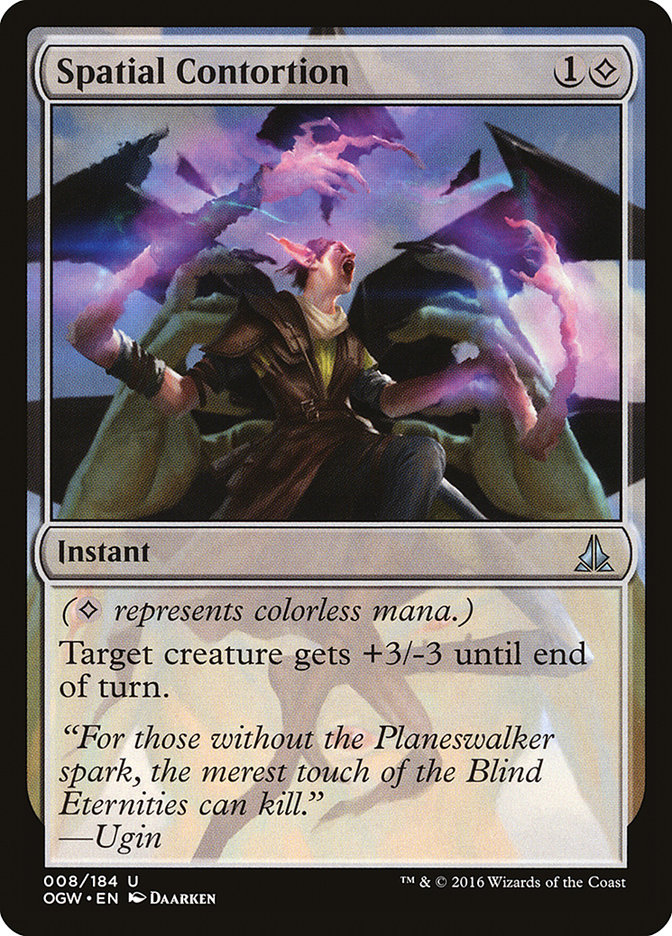 Spatial Contortion is an incredible removal spell that has seen cross-format play and is currently a prime answer to taking care of Smuggler's Copter. The Team Nexus Colossal Affinity deck utilizes a full playset of Contortions to hold the ground as well as the skies to keep them from operating the marquee Vehicle.
Aside from what it's meant to do, which is recreate the scenes from Black Hawk Down, Spatial Contortion also is able to do other neat things, such as pump your own big creatures to increase your damage output. Sometimes those last for points of damage can come from the +3 aspect of Contortion, so having that kind of flexibility is nice.
Where it goes wrong: You're going to have to get used to this theme, but even though killing things with three toughness is what our initial aim is, the decks that utilize Copter have multiple ways to grow their creatures organically out of the reach of almost all of the removal in Standard. In the right deck it's easily castable, but unlike other options, like Harnessed Lightning, it's not easily splashable.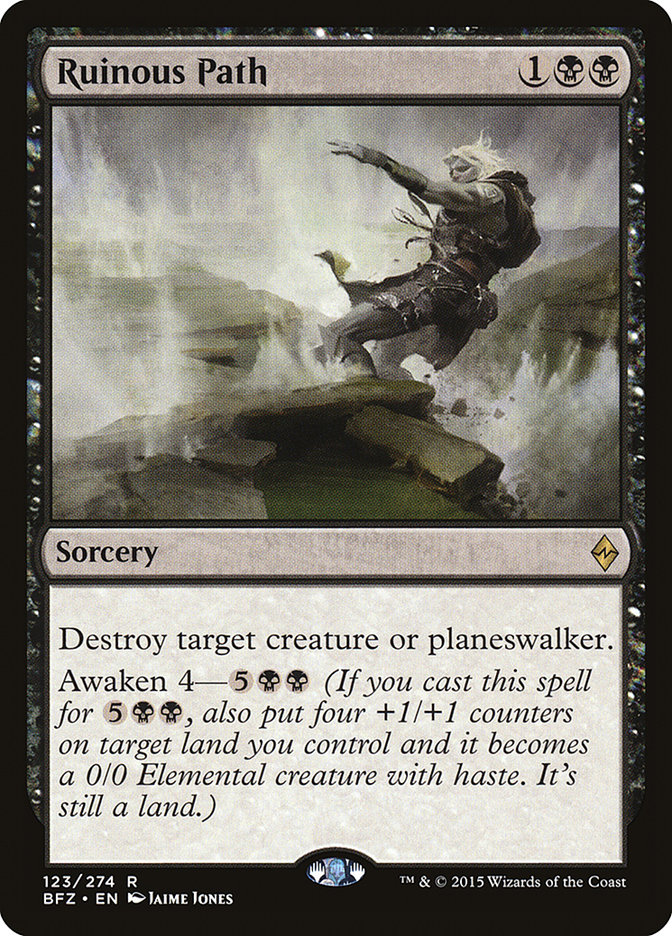 Honorable Mention: Ruinous Path
I love Ruinous Path because it can kill anything for a very reasonable rate, but planeswalkers are suffering right now against a very agile field that invalidates them. Gideon isn't at his best in an aggressive format, and Chandra, Flamecaller might be too slow. Chandra can't -3 to kill a Smuggler's Copter, and that's a huge problem. If she can't kill it, neither can Ruinous Path. It fails an important test, and right now removal is going to have to face the "can it stand up to Copter" challenge.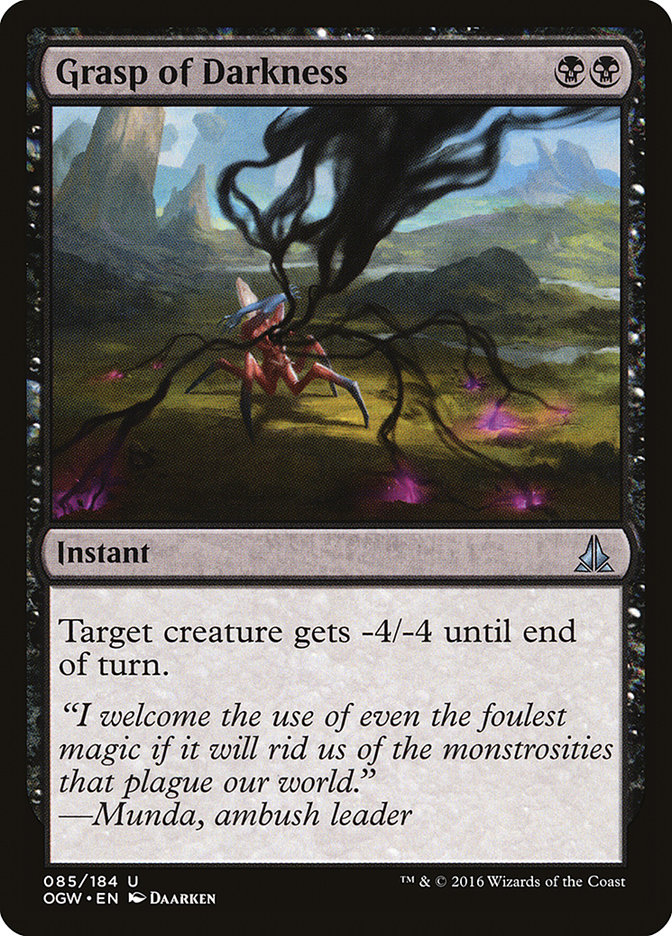 Now we're talking. Grasp of Darkness is one of the single best answers for Smuggler's Copter in all of Standard. Period.
The format is going to warp around Copter, because that's what happens when a card has the sort of coming-out party that it did last week. The problem most Week 1 builds had was that they were trying to prepare for a wide-open field of tons of new cards, strategies, and archetypes. That's fine, but the thread that kept them all together was Copter, which means a singular answer needs to exist that can take it out at all or most levels, aside from corner cases.
Grasp of Darkness is hard to cast, but not impossible. One of the Level 1 decks that we arrived at when testing the first iteration of Kaladesh Standard was a B/W Control build that used Grasp as the answer to vehicles and would use Fumigate to clean up the rest of the battlefield. It was very basic, not extremely flashy, and used Linvala, the Preserver and Gideon as the win conditions, and was ruled out pretty early in favor of what we thought the format would be.
It's probably time to dust that deck off and get back to basics. It has a multitude of removal and disruption, and given the presence of R/W Humans/Vehicles and Bant Aggro, this B/W deck might be the answer.
Where it goes wrong: Honestly, black might not be that good in Standard. Read the Bones brought the room together, and Live Free doesn't let you see nearly the same amount of cards, which is very unfortunate. Die Young is a sorcery that has to leech from other Energy effects to be successful, and that drives the power level way down. Losing Ultimate Price was a shot, but thankfully Grasp can still fill a lot of those gaps along with Fumigate.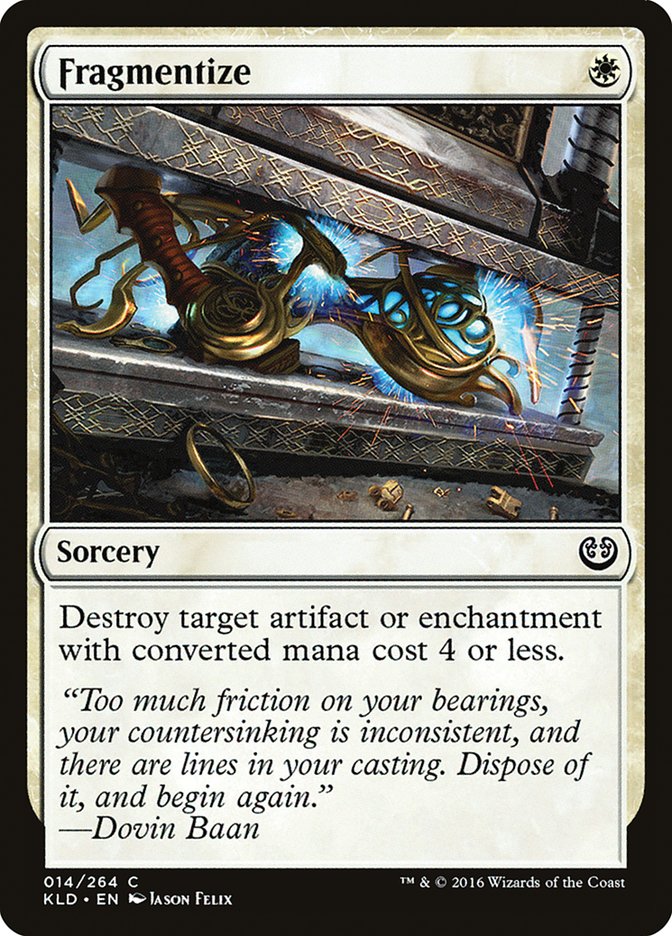 Honorable Mention: Fragmentize
Fragmentize is one of those niche cards that you'll sideboard quite a bit but in the end turns out to be dead more often than you'd like. With this shaping up to be a heavily creature-based format, you won't want an answer for one thing that can't serve as an answer for another. I'm not saying that Fragging something is bad, because more often than not, the first one you cast will help if it hits a Copter or a Cruiser, but beyond that, they may clog up your hand and prove ineffective against the threats that Crew them.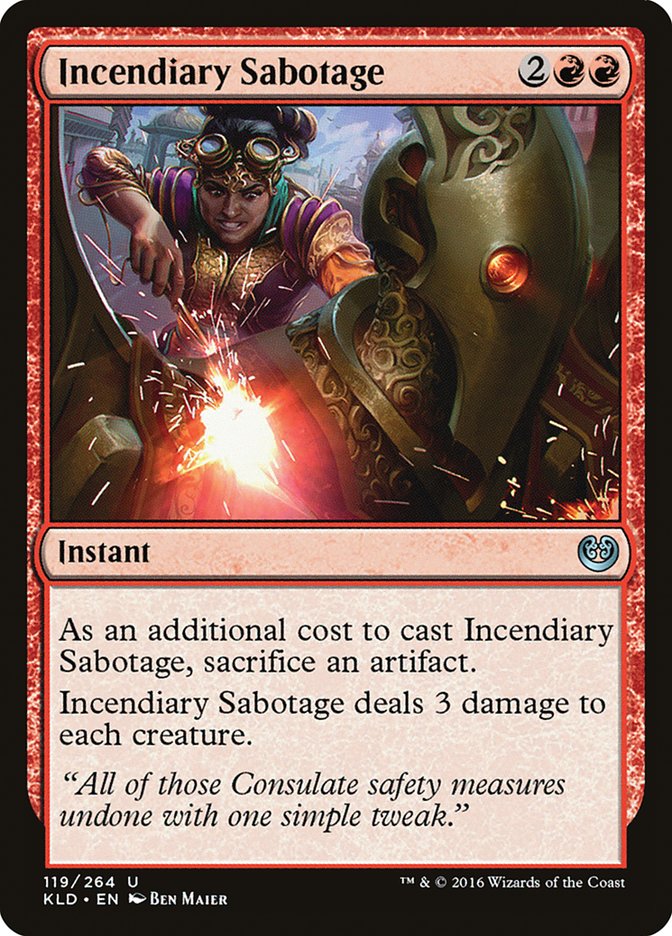 In some way, shape, or form, I think a card like this is going to start seeing a lot more play. We've already established that three damage is the starting point we need to work from, and Incendiary Sabotage does what Radiant Flames can't: be cast on your opponent's turn.
While the cost of sacrificing an artifact can be steep, in this iteration of Standard we have multiple cheap ones that can help you pay for it. Prophetic Prism draws a card, smooths out your mana, and acts as fodder to Sabotage. This lets you blow up most of the relevant Vehicles in the format when they are Crewed, along with their Pilots.
It's possible that, if the format slows down a bit in order to compensate for the aggressive decks, Incendiary Sabotage becomes the go-to sweeper that midrange decks will need to keep themselves from being overtaken by Vehicles. The fact that it can take out Smuggler's Copter and so much more is what puts it squarely near the top of my list. The only thing holding it back is that they'll get one or more potential loots with the Copter.
Where it goes wrong: Double red and sacrificing an artifact are two strikes against it. Luckily the power level and impact are fairly high, but there might be times where you simply don't draw an artifact. You'll need around eight to twelve to successfully power up Incendiary Sabotage on time, so when you don't pick one up, it'll be as dead as a card can be in your hand.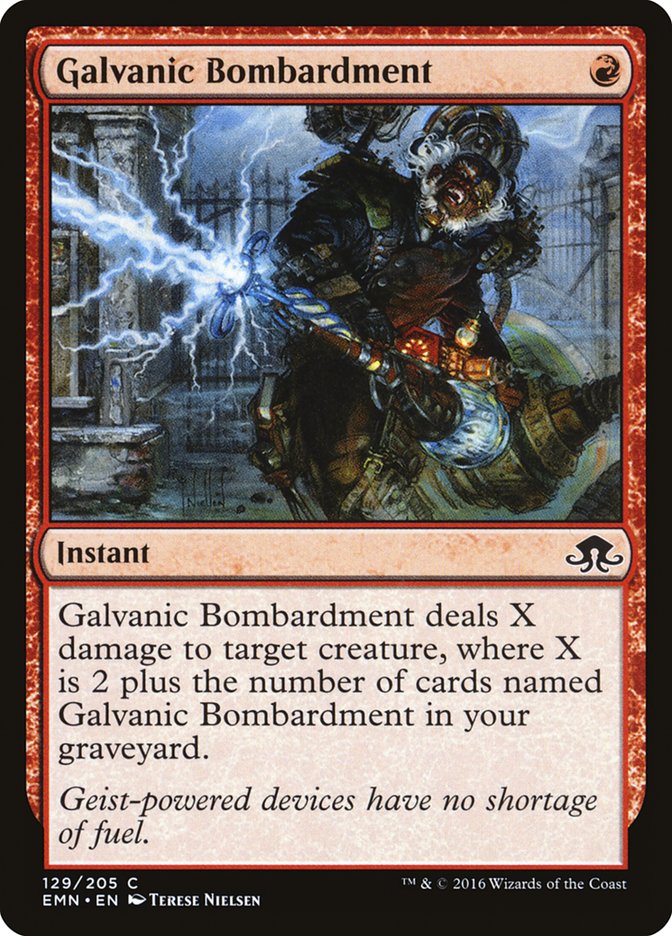 Honorable Mention: Galvanic Bombardment
I love Galvanic Bombardment, but it suffers from being very ineffective if you don't draw multiples. The first copy doesn't kill Smuggler's Copter, but it will likely kill whatever is Crewing it. The second one does the trick, but that implies you've drawn it.
The biggest problem with Bombardment is that you're almost completely required to play the full four of them, and some decks can't afford to make that kind of commitment because it's simply more slots than they can afford. Only decks like U/R Thermo-Alchemist are in the market for that kind of spell, and it doesn't excel in many other archetypes.
Bonus Section! Doing the Best Job You Can!
This weekend I had a fantastic time at #GPAtlanta, and even though I didn't do as well as I would have hoped, one thing made it pretty neat.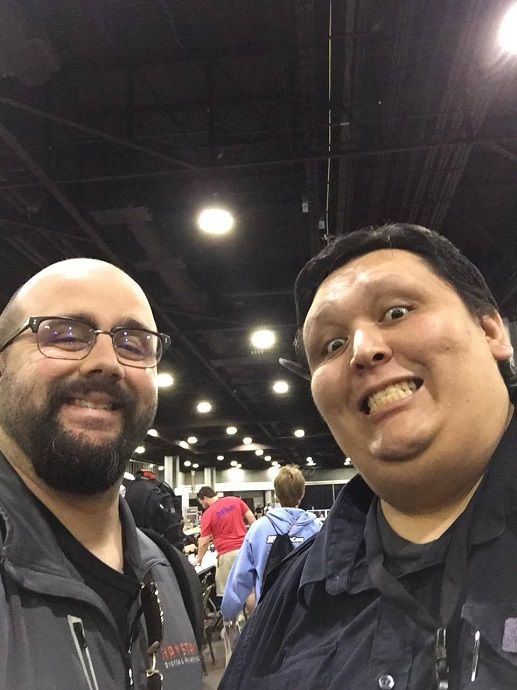 I took a picture with Judge Charles Ferguson, because this guy was having the best time operating side drafts at the Grand Prix. He was telling jokes, being animated, and making the entire experience so wonderful for the players he was in charge of. Heck, someone lost their sideboard and he offered to go through two gigantic boxes of donated draft trash to see if he could track down their misplaced rares. For the entire weekend he brought joy to players, and you could see the smiles firmly plastered to people's faces.
Going above and beyond the call of duty? It was one of the coolest things I've seen at a GP in a long, long time. It might not seem like a big deal, but Magic players spend so much time complaining that it's a delight to see someone who spends more time bringing happiness to those around them rather than feeding into the nonsense.
Thanks, Charles. Your energy did not go unnoticed.
Speaking of going unnoticed, SCG Regionals this weekend should be extremely exciting. I'll be all over the Pro Tour coverage on Friday to see what insane Standard decks come out of the woodwork, and I might be bringing one of them this Saturday.
Good luck to you, and may all of your opponents' Smuggler's Copters go un-Crewed, or, at the very least, may you have all the answers for when they are. Hopefully I have given you a few ideas.