Karn, Scion of Urza, History of Benalia, Lyra Dawnbringer, Llanowar Elves, Goblin Chainwhirler, and the rest of Dominaria have had a tremendous impact on the format, no question. However, from where I'm sitting, it sure looks like we've only scratched the surface. Some of the obvious cards have devastated previously existing strategies, and not everyone has evolved and caught up yet.
Today, I'd like to talk about ten of the most underrated cards in Standard, cards that have more meaningful purpose in today's Standard format than people are giving credit. And I'm not talking Dominaria cards people haven't figured out how to use yet, like Lich's Mastery. I'm talking returning stars (or former also-rans).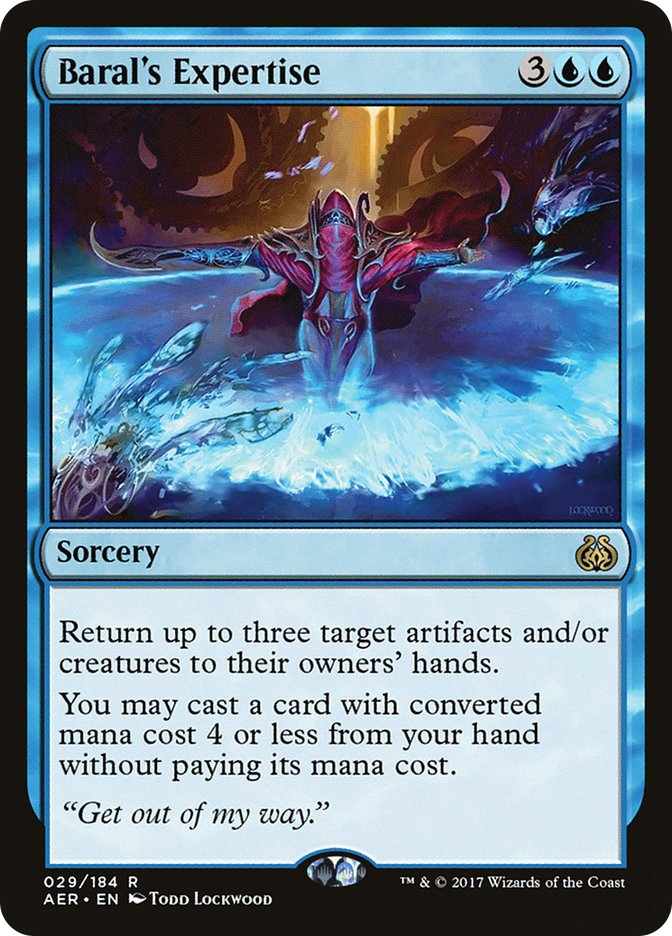 Baral's Expertise has always had a dramatic effect on the tempo of a game, but the card has new meaning because of cards like History of Benalia and Karn.
History of Benalia is an incredibly strong token maker that is appearing in all kinds of decks. When you bounce token-makers with Baral's Expertise, you're getting exile while only paying for bounce. Bounce two tokens and whatever else they might have played, whether it's a Knight of Malice or a Lyra Dawnbringer, and you'll have regained the card advantage you were "sacrificing" to play Baral's Expertise. What's more, you'll get to drop a four-drop for free and completely swing the game in your direction.
To this end, Karn is an especially potent four-drop for combining with Baral's Expertise. To begin with, it's just incredibly powerful and costs four, so already, that would be interesting with Baral's Expertise. Of course, the majority of opponents have Karn, as well, so fighting over Karn is a big part of the game. Baral's Expertise can bounce the Construct, assuming they make it, and can bounce any blockers that would potentially try to defend Karn from your attacks.