Is R/B Aggro the best deck in Standard? Probably not, but it does make a strong case for itself. Winning Grand Prix Birmingham is well and good, but you can win a tournament without playing the best deck. It happens all the time. But placing six copies into the top 8 of a Grand Prix and nine more copies into the top 32? That's something special.
Still, Standard can be a very cyclical format and it remains to be seen whether R/B Aggro can maintain this level of dominance going forward. Dominaria Standard may have only been around for three weeks, but each of those weeks has seen a new 'best' deck emerge from the woodwork. If this trend continues, I'd say we're in for a pretty great Standard format.
But let's set aside the question of the best deck for the time being and talk instead about the best card in this Standard format. I have a nomination: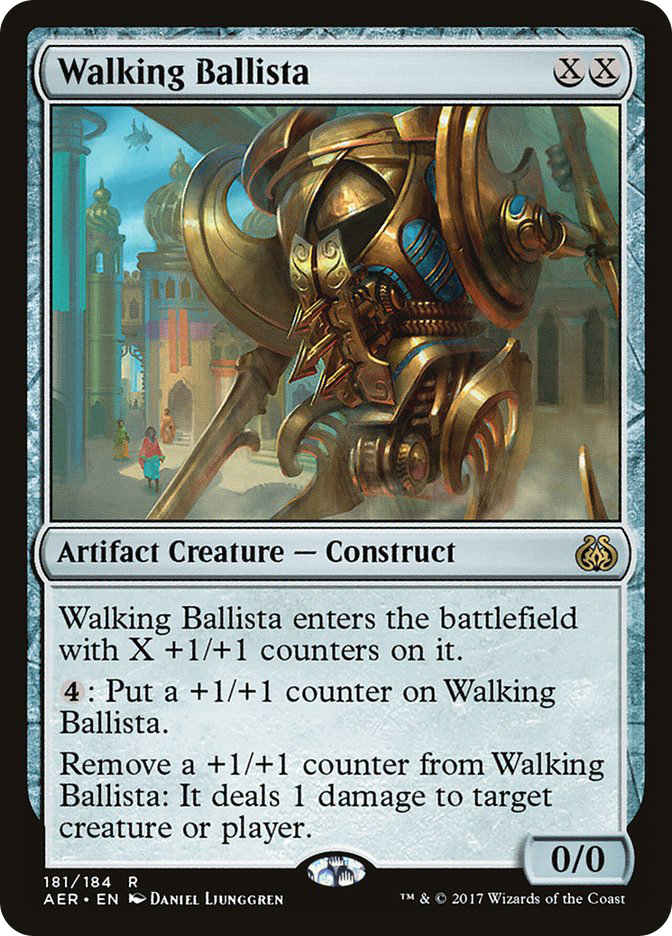 Look, I'll admit it, I'm pretty biased here. In the almost a year and a half since the release of Aether Revolt and the printing of Walking Ballista, I've registered Ballista in Standard tournaments far more often than not. I took a couple of short breaks from the path of the Ballista, once to play B/W Zombies and once to play U/W Oketra's Monument. And honestly, in retrospect I'm not even entirely sure it was correct to play zero copies of Ballista in the Monument deck.
Point is, I've played a lot of Walking Ballista. There's been times in the past when I thought Ballista was only okay, and there's been times when I thought it was great. Right now, I think it's the best its ever been, just truly phenomenal. Case in point: it's everywhere.
The number of different archetypes playing Walking Ballista right now is truly staggering. Not only is it seeing play in last weekend's breakout deck, R/B Aggro, it's being played by the breakout deck of the weekend before, W/B Aggro. It's true that the breakout deck of the first week, U/W Control, refuses to sully itself with any copies of Walking Ballista, but two of its U/W cousins, both Midrange and Historic, aren't afraid to besmirch their good name by associating with some Ballistas.