They say the heart wants what it wants, but what does the heart actually want?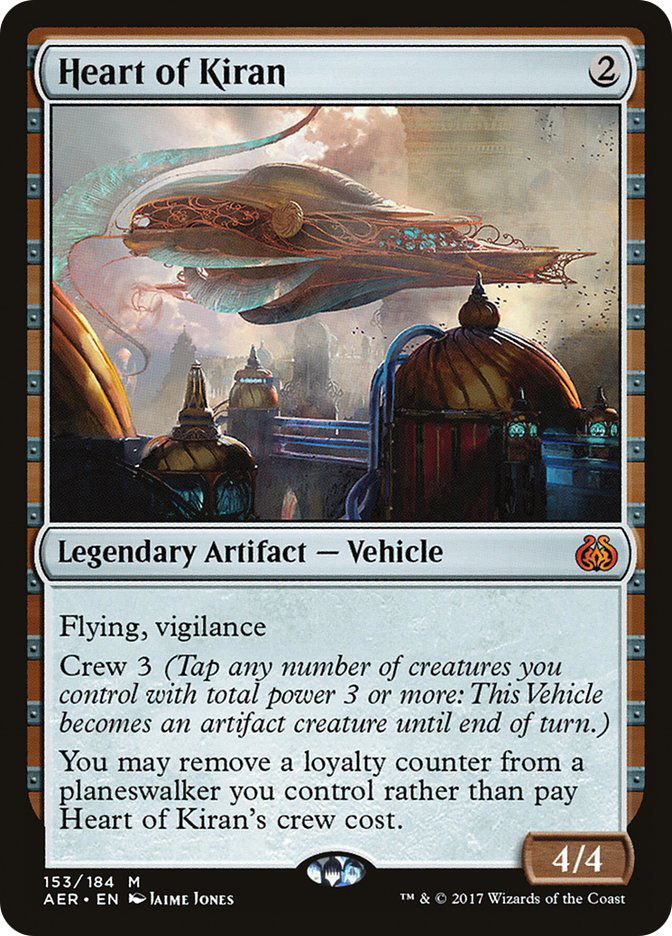 If the title and opening line wasn't heavy-handed enough today we're talking about Heart of Kiran, and two of the three decks this Vehicle has found itself in, R/B Aggro and W/B Aggro, both putting up big performances on their debut weekends and both functionally trying to do the exact same thing. Will there be a Highlander moment resulting in one of these decks becoming obsolete due to the other's dominance, or is Standard big enough for both to exist? Those are the questions that are going to drive us today as we break down exactly what's happening with everyone's favorite dead dad.
Both decks were present on the first weekend of events featuring Dominaria but may have looked a little different. R/B Aggro was still playing cards like Inventor's Apprentice and it seemed no one was aware of Goblin Chainwhirler's potential just yet. In fact, many of the finest players on the SCG Tour® took R/B Aggro to high finishes without introducing a single Dominaria card into their decklists. It's like they weren't even trying! Given this deck's ordinary design it was ignored by the masses while U/W Control became the talk of the tournament as the deck had a new win condition in the shape of Teferi, Hero of Dominaria, a card I will forever regret not preordering.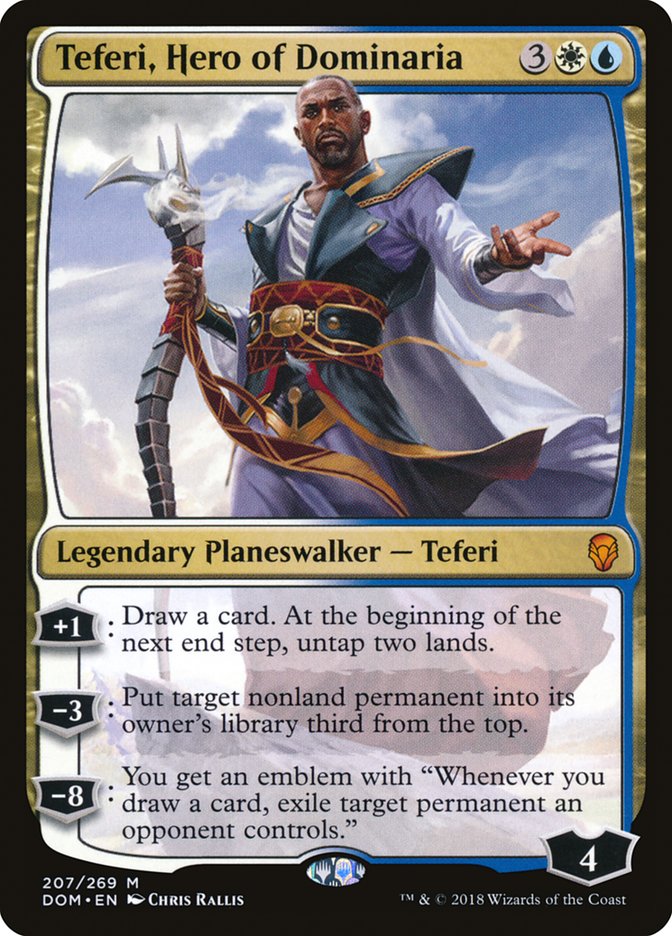 Really, his name is "Hero of Dominaria" too? How original.
Anyway, there was another Standard tournament that took place that weekend but was hidden from the rest of the world. It happened on the internet in a place called "Magic Online." There, hundreds of competitors fought in glorious Week 1 battle to see who could qualify for a Pro Tour that's seven months away. MYYAMAGAT may have not taken home first place, but he eventually took home first place in our hearts.
Creatures (16)
Planeswalkers (3)
Lands (25)
Spells (16) W/B Aggro eventually became the most talked about deck the following weekend in Baltimore for the following Team Constructed Open, but the only title this deck would take home was Zan Syed taking down the Classic with it. In second place was R/B Aggro, but this time it has a little spice. Michael Yue showed the world that this Boros Reckoner wannabe might not be the knock-off many of us would have expected it to be.
Creatures (23)
Planeswalkers (4)
Lands (24)
Spells (9) R/B Aggro started to "take off" when between 200-400 people were consistently watching semi-pro, semi-famous, semi-good Matt Foulkes streamed the deck all week leading up to GP Birmingham to very middling results. Still, that was enough for the masses to work on the deck and show its true power. The world was just not ready for R/B Aggro, and the most unlikely of champions was crowned as Simon "Sleeping Through Life" Nielsen took down the entire thing with his new take of the deck.
Creatures (19)
Planeswalkers (4)
Lands (25)
Spells (12) Again W/B Aggro wasn't really to be seen in real life but continued to dominate on Magic Online as Daniel Fournier took down the weekend's PTQ with the deck designed by none-other than Canada's true Magic hero, Lucas Siow.
Creatures (16)
Planeswalkers (6)
Lands (24) Lucas's take on the deck was like the others out there, but closer to what our own Gerry Thompson played at GP Birmingham. Gerry's final list of the deck may not have been perfect, but it does seem to fit a trend we're seeing from the more successful versions of the deck.