[Welcome to another edition of Fact or Fiction! Today, Sam Black, Jim Davis, and Patrick Sullivan are here to render their verdicts on five statements about the Modern banned list. Don't forget to vote for the winner at the end!]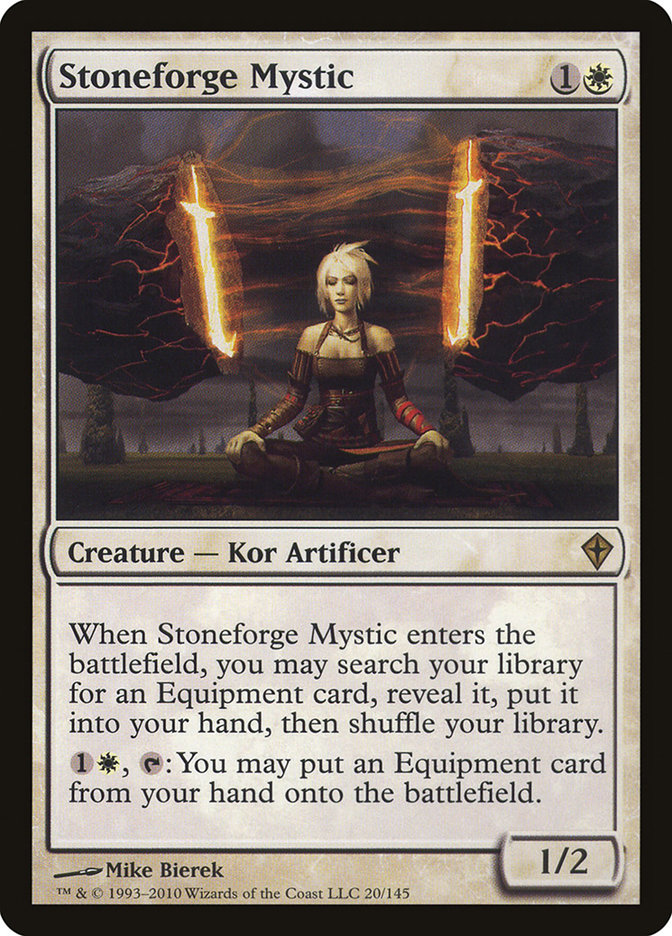 1. It's safe to take Stoneforge Mystic off the Modern banned list.
Sam Black: Fiction. Whenever I see this idea brought up, I dismiss it out of hand entirely. Nothing makes sense to me about the idea of printing Stoneforge Mystic. It's like a Tinker that nets you a card instead of costing a card, so I've just assumed WotC would rather put this one behind them, but let's take a closer look and consider the implications considering their goals for Modern.
I'm going to assume that the driving principle behind managing the Modern banned list is maximizing format diversity. They don't want too many people to play one deck, and they don't want to collapse several decks into one deck.
To me, the biggest problem with Stoneforge Mystic is: if it exists, why would you play a fair white deck and not play it? That's a dangerous baseline. That's why Wild Nacatl was banned, but Stoneforge is way more powerful and way more that. To clarify, I don't have an answer to why you wouldn't. It would become the white card. You run the risk of basically every fair deck splashing white to play it.
So why would you take on that risk? What goal are we working toward? Do we need more people to play white creatures? No, Humans is already the most popular deck. Are we just trying to fight that? This reminds me of the story with the increasingly dangerous predators brought in to deal with the previous ones. No thanks.
Jim Davis: Fact. I'm very surprised to be taking the "fact" side here, and six months ago I would have never considered it. However, with two of the best fair cards on the ban list (Jace, the Mind Sculptor and Bloodbraid Elf) being unbanned and doing almost nothing to help the fair decks in the format, it may be time to free the most powerful Kor ever printed.
There are typically two types of cards that get banned: cards that do fundamentally broken things (Hypergenesis, Rite of Flame, Summer Bloom), and cards that are so universally powerful that they become ubiquitous (Deathrite Shaman, Stoneforge Mystic, Mental Misstep). The second class of cards don't kill people on turn 2, but they make deckbuilding extremely homogenized because they're simply better than the other available options.
Stoneforge Mystic is an extremely powerful and flexible two-drop that can basically do it all for only six or seven slots in your deck. If unbanned, Stoneforge Mystic would be likely to slot in as one of the best possible threats in fair decks. I had been worried that it would invalidate too many cards in the format, but let's be real— fair decks are really struggling right now. Bloodbraid Elf and Jace couldn't save them, but maybe Stoneforge Mystic can.
Patrick Sullivan: Fact, but unwise. "Safe" is a very narrow question that should limit the conversation to something approximating "can the metagame handle this?" and if that is the limit of the scope, I think Stoneforge Mystic could be legal. It's a fragile creature that dies to a variety of commonly-played cards and putting a Batterskull onto the battlefield on the third turn isn't appreciably more powerful than plenty of other things you can do. Without the plethora of cantrips in Legacy, having a Batterskull stranded in your hand (either because your Stoneforge died or because you naturally drew it) is a significant opportunity cost, also.
Still, I think it's likely that Stoneforge Mystic would be a feature of the format, and it's hard for me to imagine Stoneforge Mystic making Modern a more diverse or more fun place. It's another powerful, cheap, proactive play, which Modern already has plenty of. It often reduces games to a simple binary of whether the opposing player has a removal spell on the second turn. And for a card that suggests that you build a toolbox of different effects, its history suggests that it's more about getting the same short list of things repeatedly. Combine "high rate" with "low novelty/replayability" and I think it's best to leave Stoneforge on the banned list, even if I believe the format could handle it.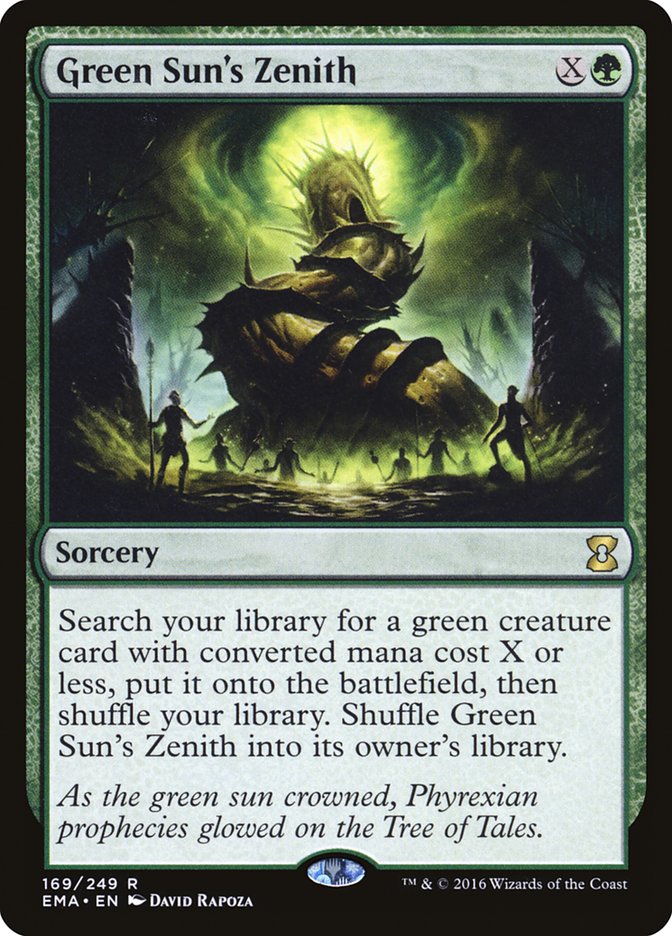 2. It's safe to take Green Sun's Zenith off the Modern banned list.
Sam Black: Conditional Fact. Yes, if you're willing to ban Dryad Arbor.