Last week, we embarked on a journey through the ages, looking at the 25 best green cards of all-time ( Green 25-21 , Green 20-16 , Green 15-11 , Green 10-6 , Green 5-1 ). This week...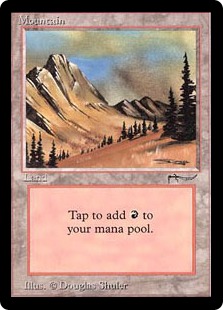 Red has evolved a fair bit over the years. While it has remained the burn color, its focus on land destruction, chaotic effects, and global destruction has toned down a bit. Instead, its replaced its former weakness (cheap creatures) with a strength (cheap creatures). Additionally, fast mana and Tormenting Voice style looting was added to the color, in order to try to expand its range a little.
Analyzing the top 25 red cards of all-time is particularly challenging. What's "better," another ritual banned in powered formats, or another insane five-drop Dragon that dominated Standard?
I guess we'll just have to see...