Even though Pro Tour 25th Anniversary wasn't all it could have been, having three Constructed formats forced players to innovate all over the place. We plenty to think about for each format.
Standard
As expected, R/B Aggro was all over the place. All things considered, 40% is an absurd metagame percentage, but very few people could figure out how to beat it. Bant Nexus certainly did the trick, although beating Insult//Injury going forward will be nearly impossible.
I really liked my matchup with Mono-Blue Paradoxical Outcome against the more midrange builds of R/B. Given that those versions would be the most popular deck, I recommended this version:
Creatures (8)
Planeswalkers (3)
Lands (19)
Spells (30) My next Standard tournament is Grand Prix Los Angeles, and unless my Magic Online testing ends up yielding far different results than they did before the Pro Tour, I'm going to play something like this.
Sai, Master Thopterist is kind of busted, plus this deck breaks the normal midrange paradigm of Standard. It's difficult to find a deck that goes over the top of the rest of the format, but this does it quite well. The only thing you need to figure out is how to not die. Coming up with the correct defensive package is more difficult than it seems.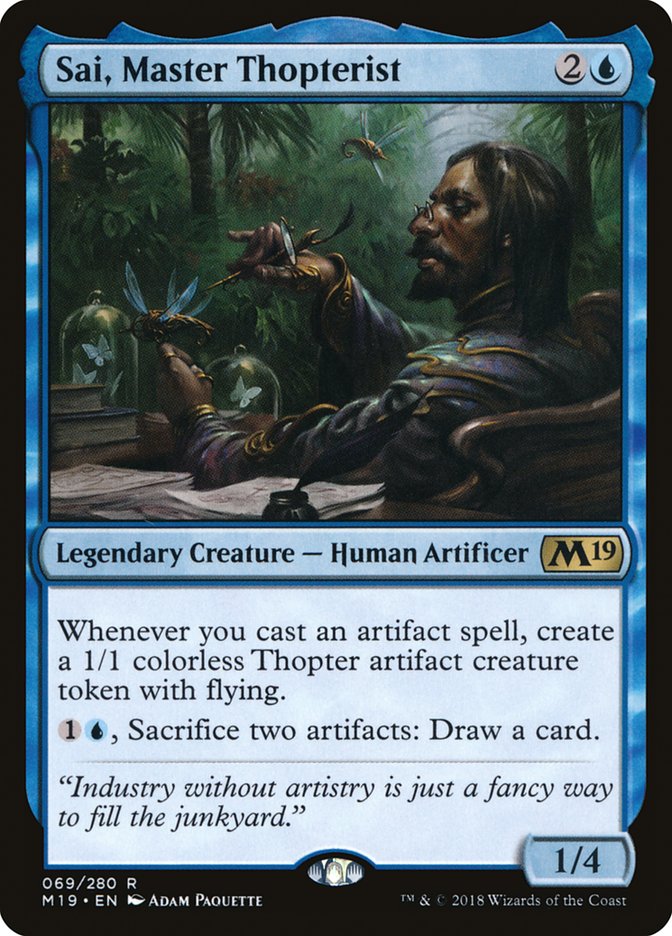 This deck isn't all over the place for a reason though. A fail rate inherently exists, and as Sam Black pointed out to me at the PT, it's a deck that wants to draw exactly one of each of its cards, which isn't entirely inaccurate.
There are some inconsistencies for sure, but for those looking for something cool to do before Standard rotates, you have your answer.
There are basically four options for Standard. Mono-Green Aggro is potentially great. Given the hype surrounding Bant Nexus, I favor the blue splash at the moment. Some form of Grixis Midrange is doable, but the mix of spells must be just right to fight the metagame. Other than that, there are the red decks.
There are six ways to build red aggro: