Last weekend I had the pleasure of playing with Niv-Mizzet, Parun in Sealed Deck at Grand Prix Mexico City, where it easily led me to a 9-0 finish. Standard is a different ballgame, but Niv-Mizzet is an absurd card to untap with. It mows down opposing battlefields with incredible ease while drawing more cards than you can reasonably use. It recovers and turns games around in ways that are extremely reminiscent of The Scarab God, and I suspect it's currently underplayed in Standard.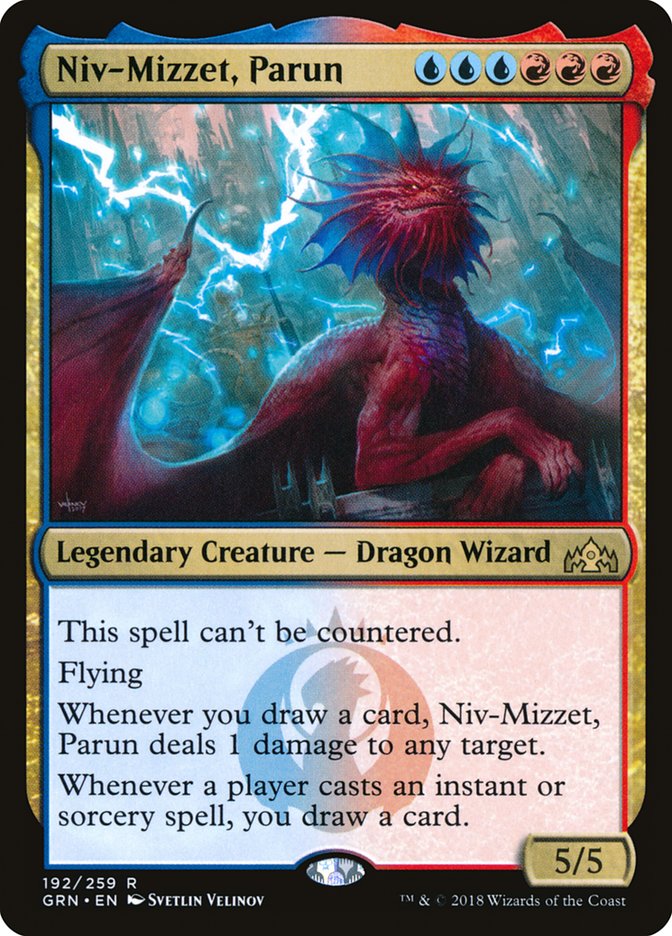 That said, we need to acknowledge the real forces that are holding Niv-Mizzet back. First, Izzet is a little lacking in the sweepers department, since Sweltering Suns was replaced by Deafening Clarion, which is a troublesome splash, but I think Fiery Cannonade currently isn't getting enough respect. Second, Niv-Mizzet is fantastic against all manner of instants and sorceries, but fails against permanents that answer it, and Ravenous Chupacabra and Conclave Tribunal are both heavily played right now. I think those are the two biggest strikes against Niv-Mizzet.
What Niv-Mizzet has going for it is, that outside of Kraul Harpooner, all the good answers can be stopped by Disdainful Stroke, so if you can get to eight mana--easiest with the help of Sarkhan, Fireblood--you can potentially cast Niv-Mizzet and protect it with Disdainful Stroke. It's also powerful enough that you could consider protecting it with Dive Down, but that's a lot narrower.