Welcome to What We'd Play! With the Season Two Invitational this weekend, many are unsure what they'd play in such a high profile tournament, especially one with two formats. That's where we come in and let you know what we'd play and why we'd play it. Hopefully this last minute advice aids in your decision-making! Be sure to vote for who you agree with in the poll at the end!
Emma Handy - Infect (Modern) and Golgari Midrange (Standard)
Creatures (14)
Lands (19)
Spells (27) The more things change, the more they stay the same.
After pledging to play Ironworks until the deck got banned, the nightmare scenario occurred last weekend in Baltimore and the most represented deck in the tournament was a deck that plays between three and four copies of Stony Silence on top of Rest in Peace and Spell Queller. Not a good time to be playing an artifact deck that uses the graveyard and relies on a couple of payoff cards…
Bant Spirits is the most popular fair deck in the format and is incredibly forgiving. This means we can expect a reasonable uptick in the deck going into this weekend, and with Ross Merriam doing well with his version of a deck that fits a style that people love to play, I would expect the same from Izzet Phoenix. With that idea out the window, it's time to sleeve up ol' faithful.
Enter Twisted Image.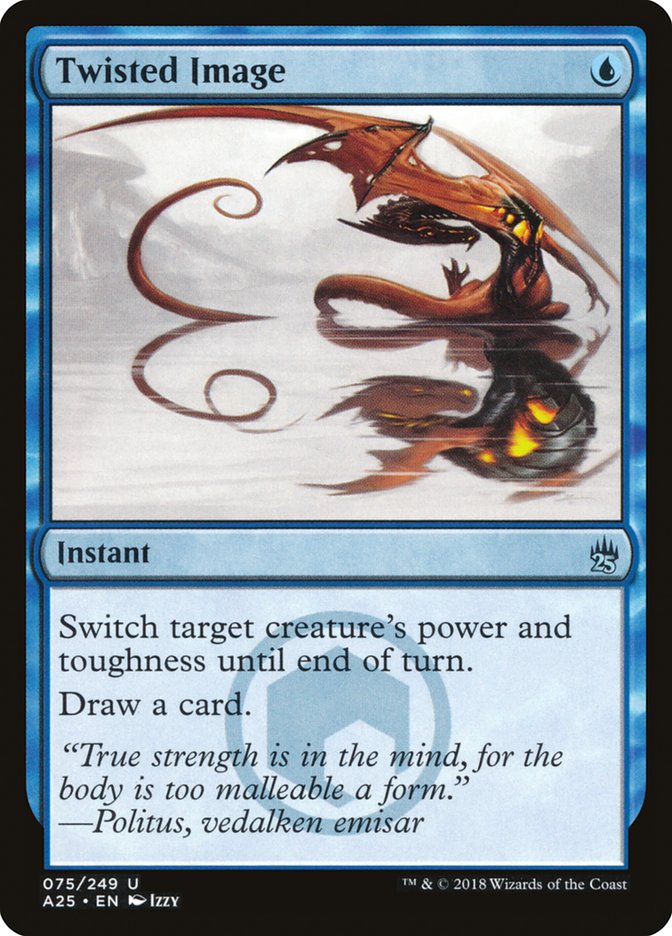 With these being the two biggest decks I expect to face on the weekend, having a way to interact with the first-turn Noble Hierarch, as well as deal with the only form of removal that your protection spells can't save you from (Thing in the Ice), it's time to dust off the old technology and give it the respect it deserves.
The fact that Infect is making a comeback and Twisted Image is the most important card in the mirror as a result of Spellskite's existence does a lot as well to help justify its inclusion. Worst case scenario, it's fairly easy to cycle.
People are still doing fairly linear things in the format, despite Jeskai Control looking like it did well last weekend. What really happened is that the same people who always play Jeskai did so, and then two Platinum-level pros played decision-intensive strategies to quarterfinals appearances. Jeskai may have been a quarter of the Top 8, but in reality, Seth Manfield and Brad Nelson played well and Jeskai was the deck they were playing.
When people are doing linear things, Infect is the best deck in the format. It has the most consistent turn-3 kills and has just enough play to interact with all the less interactive strategies that people are bringing to the table.
I'm not 100% positive on where cards will fall between the maindeck and the sideboard, but these are likely 74 of the cards that I'm playing this weekend, with the only card I'm really waffling on at this point being a third Breeding Pool over the ninth fetchland.
With the #SCGINVI playoffs being best of five in Modern, having a deck that can punish fail rates while having a consistent kill of its own, is going to put Infect as the best thing to play in Modern. It isn't an accident that the deck has more Invitational wins than any other archetype.