We're coming up on another big weekend for Modern. MagicFest Oakland will be taking place on the West Coast, but my eyes will be glued to SCG Columbus and the Team Modern Open. Notice the absence of the word "Unified" in the previous sentence. SCG Columbus will be the first tournament of its kind that I can remember, and every member of a team will have access to the entire Modern card pool.
Personally, I love this change. The Unified restriction is meaningful in smaller formats and forces interesting decisions in order to maximize power levels of an individual deck, but in Modern it has the opposite effect. The restriction places the metagame for the tournament squarely on rails, dictating that each seat is occupied by a format pillar. Optimal configurations for a Team Unified Modern tournament will almost always consist of variations on the Faithless Looting seat, the Ancient Stirrings seat, and the Cavern of Souls seat.
We've seen this setup countless times now, and quite frankly, I think it has grown a little stale. Team tournaments garnered tremendous excitement when they first re-entered the competitive scene in part because they offered something new. Now team tournaments are just another part of the Magic landscape, and I don't think anyone would deny that team events have lost a bit of their luster in the few years since they returned. With the advent of non-unified Team Modern, maybe the format can regain some of its shine.
This tournament presents teams with an opportunity to go for the gusto, and teams that are looking to maximize equity or meme value will garner equal respect from me this weekend. Here are the teams I'm hoping to see this weekend.
The Karn Devotees
When I first heard about SCG Columbus, I began thinking about who I could team up with to spread the gospel of the greatest seven-drop of them all. I even thought about calling up Karn and seeing if they would be willing to stand over our matches and offer some support. After all, my friend Gerry Thompson appears to be on pretty good terms with the big golem.
Cosplay made by @AtlasCrafts
Unfortunately, I never found my squad, but I'm hoping some team is willing to take up the call and subject all its opponents to a set of games against the most hated deck in Magic. As a bonus, Tron is absurdly well positioned right now, presenting an outstanding matchup against the format's new darling, Izzet Phoenix. In case your team needs one more push to pull the trigger, here's the list I've been crushing Magic Online with lately.
Creatures (8)
Planeswalkers (6)
Lands (19)
Spells (27) Nothing flashy, no splashes, just good old-fashioned Turn 3 Karns. A return to World Breaker and a third copy of Ulamog, the Ceaseless Hunger reflect the diminished effectiveness of Walking Ballista in the current metagame. I've also admitted defeat and given up my Warping Wails. There are simply too many high-toughness creatures on our radar at this moment and Dismember is the efficient catch-all we need.
While Tron might be the most hated deck presently, perhaps this tournament could serve as a coming-out party for a new challenger for the crown.
The Fun Police
Creatures (4)
Lands (20)
Spells (36) Few tears have been shed over Lantern Control's exodus from the metagame. While this successor of the Lantern lineage has picked up a powerful time management tool in the form of the Thopter Foundry / Sword of the Meek combo, it still is all too happy to lock its opponents behind a seemingly endless stash of Spellskite- and Pithing Needle-protected Ensnaring Bridges and bide its time. I've heard from some folks who believe this deck to be a future format staple, and it is hard for me to think of a better way to prove the point than a trio taking down SCG Columbus using this as their sole weapon.
While I may not agree with all his card choices (can we please start playing the fourth Thought Scour now, Ross?), it's undeniable that Ross Merriam has had an incredible impact on the Modern metagame over the past couple of months. His Izzet Phoenix deck has come out of nowhere to be the most played deck at several major tournaments. Despite clearly wearing the target, Izzet Phoenix shows no signs of slowing down, and a team featuring Ross along with two friends packing the most recent version of his list might just be the odds-on favorites to take home the trophy. At this point, it feels like tuning for the mirror should be a top priority. Who better to discover the secret sauce then the person who brought the deck into the limelight?
If I had to posit a guess about the future of Izzet Phoenix, I'd put my money on a large number of Rending Volleys.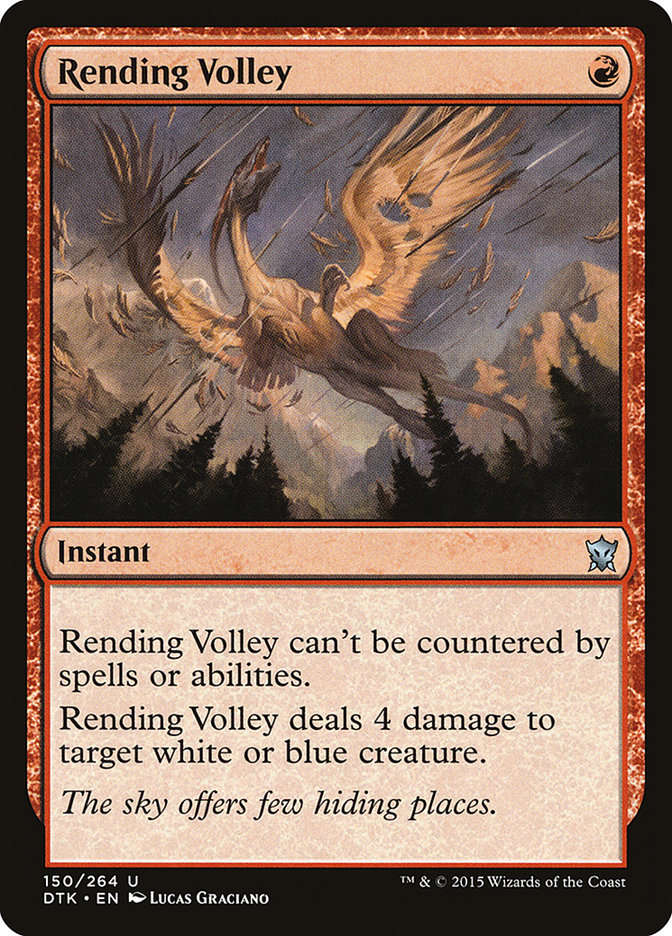 Rending Volley is the type of card that I usually advocate against including in Modern sideboards. It's often better to employ a card with a broader and more game-altering effect than a single removal spell. However, so often the mirror comes down to a transformed Thing in the Ice, and proactively managing that threat can put you squarely in the driver's seat.
However, the real reason I've come to embrace Rending Volley is due to how much of the metagame it's now effective against. It is reasonable to estimate the combined metagame percentage for Humans, Bant Spirits, and Izzet Phoenix at greater than 25%. Rending Volley is often the best possible spot removal spell against all these decks. Volley also kills Baral, Chief of Compliance; Goblin Electromancer; Sai, Master Thopterist; Laboratory Maniac; and a host of other weirdos that make occasional Modern appearances packing counterspell backup. It's hard to find specialized tools that have an effect against more than a quarter of the Modern field. Izzet Phoenix shouldn't sleep on the opportunity.
My current list:
Creatures (12)
Lands (18)
Spells (30) Team "I'm Making the Players' Championship Come Hell or High Water"
This team has zero interest in memeing, proving a deck's merit, or really doing anything besides accumulating the points that will eventually bring them to the Star City Games® Players' Championship. In my opinion, this squad is best served by registering one to three copies of Ironworks, Izzet Phoenix, or Amulet Titan, depending on their comfort level with these decks. These are the three best decks in Modern presently, and this team should have zero interest in doing anything besides playing the best deck. My current Amulet Titan list is picking up some tricks from Izzet Phoenix and utilizing Rending Volley.
Creatures (17)
Lands (29)
Spells (14) Rending Volley is far more mana-efficient than Abrade, and this efficiency is key in allowing Amulet Titan to simultaneously advance a game plan and answer problematic threats. Obviously, running fewer Abrades creates a weakness to artifacts, which can be patched to some degree with Pithing Needle. Now that Trinket Mage is squarely in the mix, the versatile and proactive answer that Pithing Needle provides shouldn't be overlooked.
As far as an Ironworks list, I see no reason to stray from the Champ's take on the archetype.
Creatures (6)
Lands (18) As a closing point, I often find that, in the team tournament context, players are prone to seeking edges in the structure of the tournament itself. We've fielded countless questions on The GAM Podcast from players wanting to know which player belongs in which seat, how they should expect players to choose decks given these new format constraints (or lack thereof), and other such out-of-game concerns. All these things are a trap. Don't waste your mental energy worrying about anything but having the best deck and playing your best Magic.
Any "solution" you may present to these conundrums requires that 1) your opponents perceive things in the same fashion as you do, and 2) are making their decisions in a wholly rational manner. These things are unlikely to be true. Opinions on Modern decks are unsettled, and this tournament more than any other is giving players a chance to use their deck selection as a form of self-expression.
As Twitter controversy over the last week has shown, players have incredibly strong emotional attachments to their Modern decks. I expect teams to form amongst groups of players who share the same such attachments and want to put their darlings on top, if only for a weekend. This tournament is a chance for the Merfolk crowd to flourish their gills, the Burn players to set their opponents ablaze, and the Elves to Lead the Stampede into battle. I expect them to take full advantage.