My first foray into tournament Magic was during Invasion block. Back then, Block Constructed was a supported format, and IBC was all about the different three-color archetypes.
The first PTQ I ever did well in, I played something like this:
Creatures (18)
Lands (25)
Spells (17) Decks like these were what taught me about tempo and velocity. At the time, I gravitated toward control decks in Standard (like Nether Go), so this sort of beatdown deck with controlling elements was new to me.
I fell in love.
These decks played a proactive game, which meant they were attempting to put pressure on their opponents and force them to react. Cards like Exclude and Mystic Snake were incredibly punishing. To top it off, you could grind with most of the control decks in the format. A beatdown deck that had card advantage, a plethora of reach, and some of the most powerful options in the format? It was incredible.
Invasion Block Constructed lead to me having a strong love for all things aggro-control, which lead to my first individual PTQ win in Odyssey Block Constructed the next season with an aggro-control Dimir deck. That trend continued much later with Caw-Blade, Delver, and Jeskai Flash. You could attribute much of the success in my career to those early days casting Mystic Snake.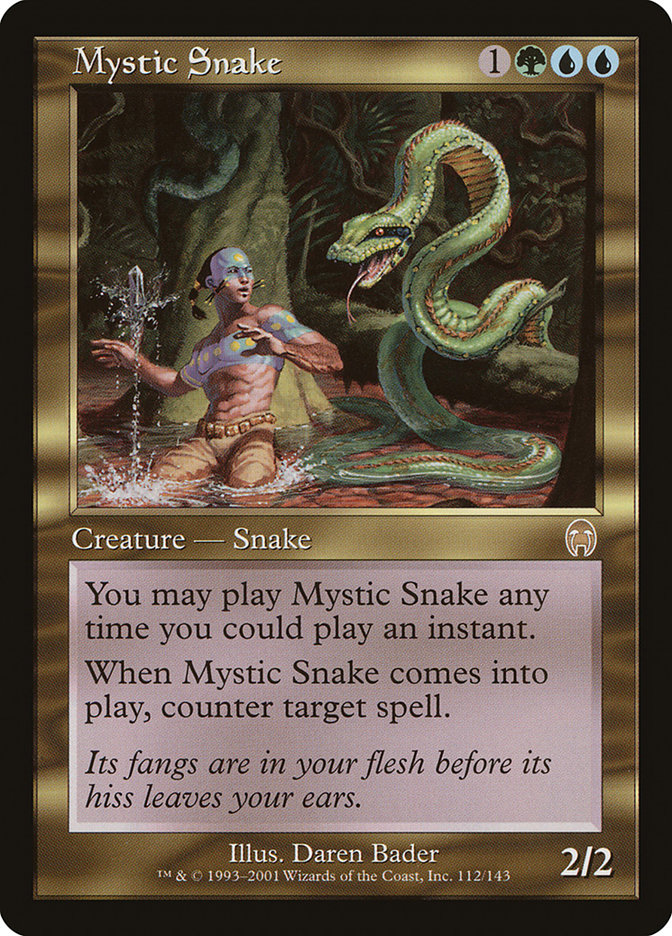 When facing this sort of deck, your opponent would often be put into tight spots. Do you run your spell into open mana, knowing full well it would just get countered by an Exclude or Mystic Snake, or do you pass the turn, hoping they didn't have the Fact or Fiction or Prophetic Bolt to pull even further ahead?