Guilds of Ravnica Standard was defined by three decks: Jeskai Control, Golgari Midrange, and Boros Aggro. When Ravnica Allegiance entered the format, the public consensus was that the metagame had radically changed. Decks based around Nexus of Fate and Judith, the Scourge Diva seemed poised for success and Light Up the Stage made Mono-Red Aggro seem like a far more legitimate threat. Slowly but surely, people realized that while the one-mana Divination is excellent, Mono-Red's average card power level was still far too low to make it a Tier 1 deck. The hivemind also concluded that the various Wilderness Reclamation decks have virtually no favorable matchups after sideboarding, even though their Game 1 plan is relatively difficult to attack. With the aforementioned Judith decks almost completely failing to materialize, Standard landed in this state.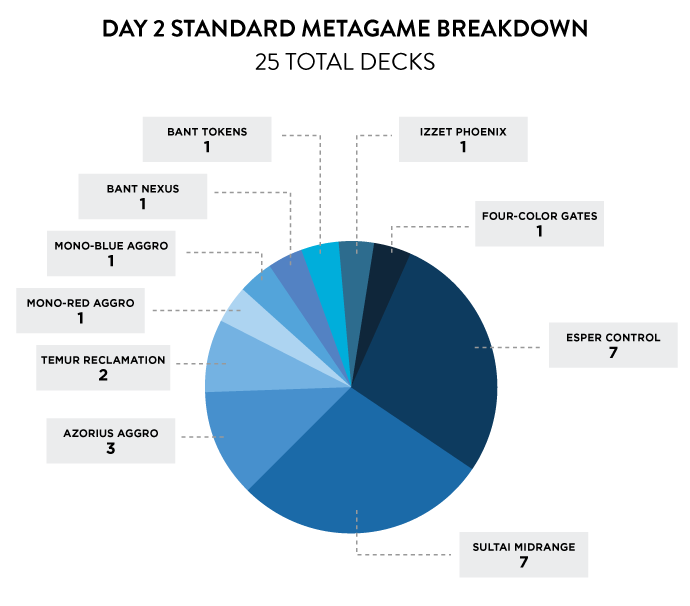 As you can see, the metagame is again defined by three decks: a Teferi, Hero of Dominaria control deck; a Wildgrowth Walker midrange deck; and a Benalish Marshal aggro deck. While the control deck swapped out red for black and the white aggro deck changed its splash color, Standard bears a remarkable resemblance to its pre-Ravnica Allegiance state and I don't think it would be crazy to take any of these three decks to your next Standard tournament. The results of the tournament, however, also make a clear claim about which of these decks performed the best. The three teams running Azorius Aggro in their Standard seat finished in first, ninth, and eleventh place. While we do not know their individual records and these three teams are all composed of strong players, that's still an incredibly impressive result.
When examining this metagame breakdown, you'll notice that these three teams also played incredibly similar lists in the Standard seat. This isn't a coincidence, as all three of them reached out to me prior to the event to discuss the deck. This article contains all the information I discussed with them and more as I explain how I'd build Azorius Aggro for today's Standard format.