If you tuned in to SCG Baltimore, you had the pleasure of seeing three formats in a state of uncertainty. In Standard, players were still grappling with the far-reaching impact of Ravnica Allegiance. Over in Modern, the recent ban of Krark-Clan Ironworks had left a subtle power-vacuum at the top of the format, with a horde of decks anxious to stake a claim to the throne as the de facto "best deck." And while Legacy has remained mostly unchanged, one potent Bird was squawking for its opportunity to warp yet another format with its fiery explosiveness.
---
---
As I noted last week, doing coverage at an event opens a whole new perspective. Over the course of carefully watching eighteen rounds of Standard, Modern, and Legacy, I left Baltimore with a very clear sense of what individual cards shone brightest, and which cards should be sent to the sidelines. As will now be tradition after each of my coverage gigs on the SCG Tour®, let's look at the overperforming and underperforming individual cards from SCG Baltimore.
Overperformers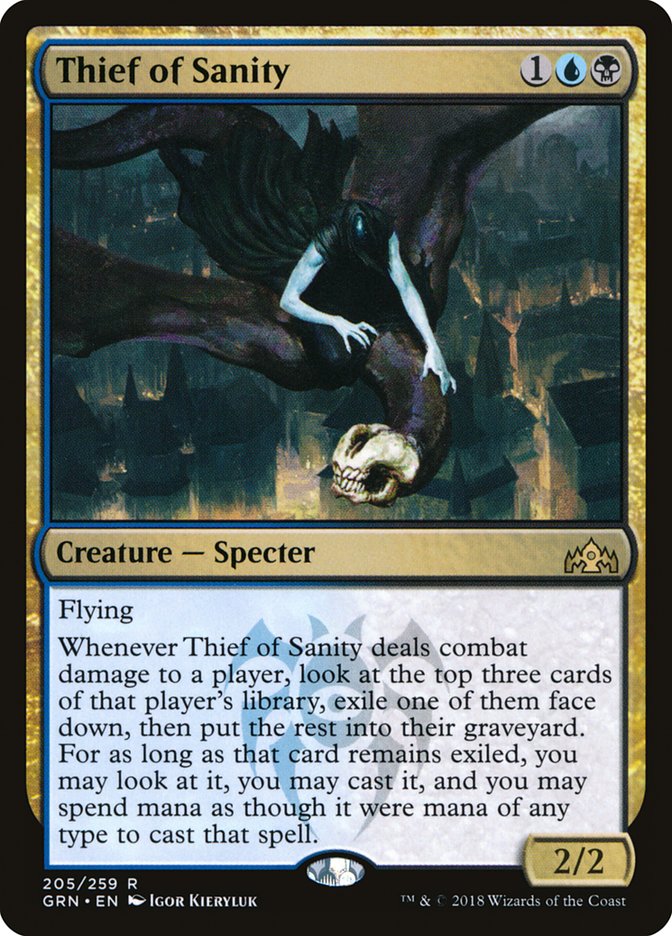 Thief of Sanity has my vote as the most appropriately named Magic card of all-time. When Thief of Sanity hits the battlefield, the most meticulous, thoughtful, careful, and well-reasoned lines of play completely go out the window as an opponent's focus shifts to obsessively murdering the Thief. And the messed-up thing is that the obsession is completely justified.
Thief of Sanity instantly changes the terms of engagement of the game. If allowed to live, Thief will snowball resources in its controller's favor so dramatically that it's almost impossible to defeat. One of the big reasons Esper Control was able to establish itself as the current top dog in the Standard format is the sideboard switcheroo Thief of Sanity brought to the table.
Planeswalkers (4)
Lands (26) Creatures (1)
Planeswalkers (4)
Lands (26) Planeswalkers (6)
Lands (26) Planeswalkers (5)
Lands (26)
Spells (29) Sideboarding out your removal spells against control! In this economy!? All four Esper Control players from the Team Constructed Open Top 8 played the full four copies of Thief of Sanity in their sideboard, and rightfully so. Even some Sultai Midrange players got in on the action!
Creatures (25)
Planeswalkers (4)
Lands (24) If your opponent has access to Dimir mana in their deck, be prepared to answer Thief of Sanity in sideboard games, or you will lose. Period.