My projected #1 card in Ravnica Allegiance has had a rough go of it lately.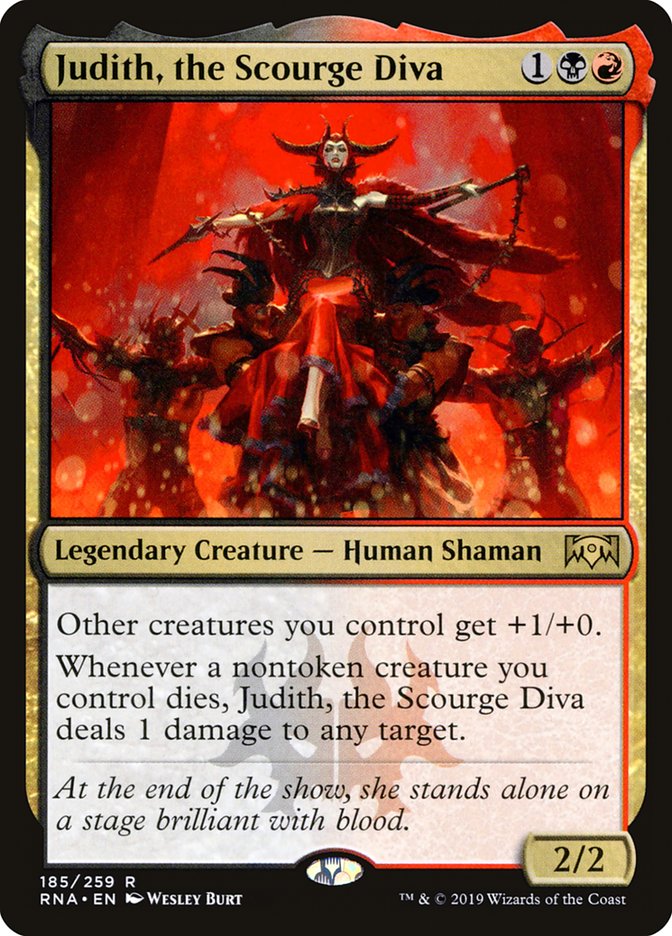 Did we misevaluate Judith's strength? Honestly, I don't think so. There are still plenty of different versions of decks with Judith doing well online. However, some very specific issues within the metagame have kept Judith from truly succeeding in real life.
Here are the decks in the metagame:
Esper Control
Sultai Midrange
Esper Midrange
Izzet Drakes
Mono-Blue Aggro
Mono-Red Aggro
Azorius Aggro
Against aggro decks, you can attempt to control their aggression and win with bigger threats and card advantage or you can try to race them. Given that your creatures are weaker on average – since they're built for value, not necessarily dominating combat – racing is difficult. Note that difficult doesn't mean impossible. There are ways to make that truer, but it might not be the most effective solution.
Against control decks, you need a way to beat their sweepers and incidental lifegain before they do something powerful. Protecting Teferi for a few turns against a bunch of Grizzly Bears isn't difficult and will often be game over.
As far as the Nexus decks are concerned, it's a pure race. They're set up to beat you with Root Snares given your overall lack of disruption or reach. That changes after sideboard, but you're fighting an uphill battle.
The issue with the Sultai matchup is that they refuse to die and eventually reset the game with Finality. Judith decks have the staying power but struggle against a Finality that also makes a large threat. A good solution to that problem is to play more spot removal, although Angrath, the Flame-Chained typically punishes such a play.
Overall, it seems like the macro archetypes in Standard don't lend themselves well to the midrange-slanting aggressive decks. Is it worth it to try to solve those problems? Can Judith decks actually find a way to thrive in this metagame?