This content is available exclusively to Star City Games Premium members.
Login
Join Today!

Welcome back to my financial set review for War of the Spark! If you missed Part 1, which includes my thoughts on cards like Liliana, Dreadhorde General and Teferi, Time Raveler, you can find it here.
While I don't know every card that's in War of the Spark yet, I do know enough to safely say that this set looks pushed for Constructed play. I'll be honest: I was only expecting four or five of the set's 36 planeswalkers to make the cut for Standard. Now that we've seen the vast majority of them, I wouldn't be shocked if half the set's planeswalkers show up in one deck or another. Beyond that, cards like Feather, the Redeemed and Dreadhorde Butcher could end up being cornerstones for new and powerful archetypes.
It should come as no shock to anyone when I say that the spring and summer sets usually have the lowest impact on Standard. The bigger the overall card pool, the less chance that any given card will change the game. I wonder if Wizards of the Coast knows this, and War of the Spark is deliberately designed to make an outsized impact. Or perhaps this is just the usual new set optimism.
Regardless, it's worth being aware that powerful sets tend to enjoy higher-than-average spikes upon release as well as larger crashes once the market hits equilibrium. The expected value of the cards inside a pack can't sustain a price that's higher than the retail cost of that pack for very long, remember, regardless of how good each individual card may or may not be. This is part of why Standard cards were so cheap back during the Masterpiece era, and it's also why cards tend to be less expensive in sets that have one or two massively expensive mythics. If Teferi, Hero of Dominaria weren't in Dominaria, for example, many of the other cards in that set would be worth more than they are right now.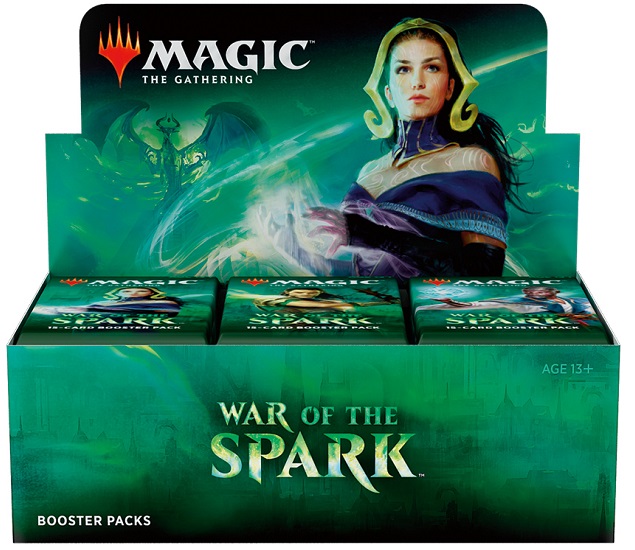 In the case of War of the Spark, however, we've got a situation where the set will have a higher than average number of expensive rares and uncommons. This is due to all the planeswalkers running around; even the lesser planeswalkers at lower rarities will cost more than non-planeswalkers would, which is going to eat up a decent chunk of the set's value. You can already see this happening on eBay, where complete common and uncommon sets of War of the Spark are selling for about twice as much as usual. Add that to the fact that the set has a high number of promising rares and mythics, and you get the recipe for good cards in War of the Spark being slightly cheaper than they would be had they been released in other sets.
I'm certainly not saying that there won't be any expensive cards in War of the Spark, nor am I saying that there won't be any money to be made by being smart with your pre-orders. I just want to make sure that our expectations are calibrated going in.
To the cards!
Mythic Rares
Tezzeret, Master of the Bridge - $20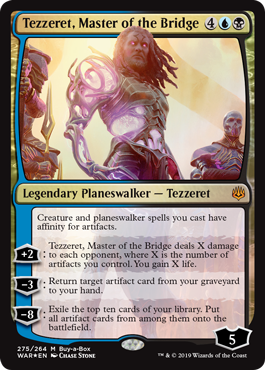 First off, let me just state the all the stuff I said about the EV of the singles in a given pack of War of the Spark having to add up to the cost of that pack doesn't really apply to Tezzeret, Master of the Bridge. Since Tezzeret is the Buy-a-Box promo, its value can be more or less disconnected from the rest of the set. If Tezzeret is worth $20, it'll maintain that $20 price tag.