This content is available exclusively to Star City Games Premium members.
Login
Join Today!

My first impression when I read Ashiok, Dream Render was that it can mill twenty cards for the mill deck in Modern, but that it would take a long time. Ashiok would need to stay alive, and, even more importantly, the mill deck doesn't really want to exile the opponent's graveyard in this way because they rely on Surgical Extraction and Crypt Incursion, which this disables.
The point of Surgical Extraction here is less often to exile a card from the graveyard and more frequently to remove the remaining copies from the opponent's hand and library, so it's weak and doesn't fit in the place that would want it. But then I realized I was being distracted by the least important text on the card.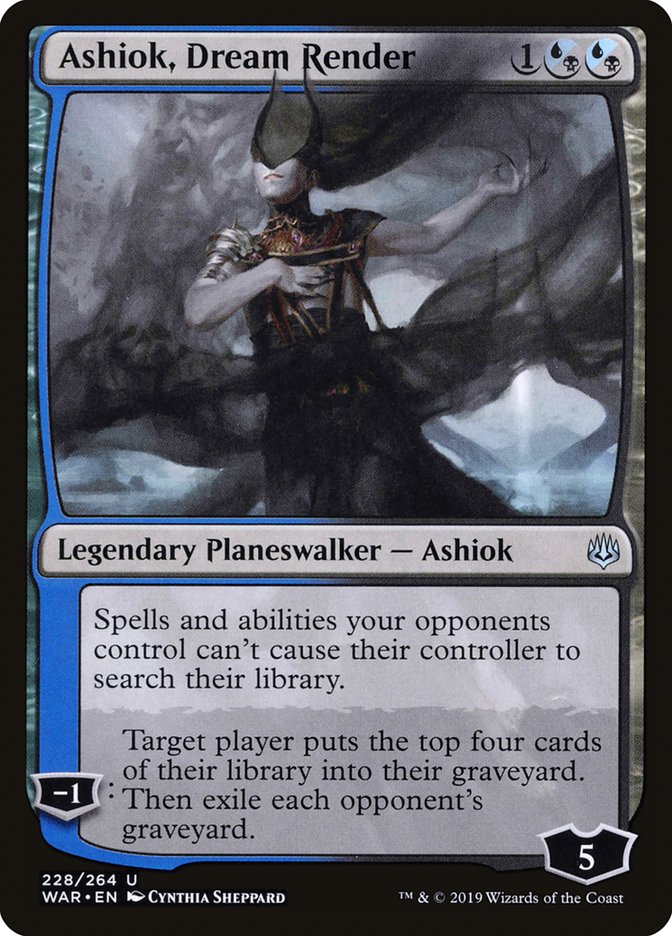 Ashiok, Dream Render does four things: stop your opponent from searching their library, mill them, mill you, and repeatedly exile their graveyard. I feel like the option to mill yourself is easily overlooked here, because you might expect that the player who is the target exiles their graveyard, but careful reading shows that you mill any target player and then exile each opponent's graveyard, regardless of who you milled, so this is actually a powerful graveyard enabler that incidentally attacks your opponent's graveyard while doing so, making it awesome in potential graveyard mirrors.
Preventing your opponents from searching and exiling their graveyard are powerful countermeasures to a variety of strategies, but also completely irrelevant in many matchups, which is a good start toward relegating Ashiok to the sideboard if it's going to see play.
In order for Ashiok to make it to a maindeck, you need to be either targeting a very specific metagame or looking to take advantage of the targeted effect of the -1 ability, meaning you're either playing this in a mill deck – not recommended if your goal is to win competitive matches in any format at this point – or using it as a self-mill enabler, which might actually be a realistic consideration in Standard in a Teshar, Ancestor's Apostle combo deck, some kind of Reanimator deck with Bond of Revival or Yawgmoth's Vile Offering (why not both?), or any other deck with enough graveyard payoffs to want a card that will reliably mill eight to twelve cards fairly quickly.
I suppose the other proactive use for the card could be in combination with Kaya, Orzhov Usurper to set up a large -5 for Kaya, but that doesn't seem like the kind of combo that's powerful enough to build around so much as a nice synergy that might come up in spots where you want both of these cards for other reasons.
Let's start by checking out some possible Standard decks that want to use Ashiok's self-mill potential before moving on to further exploring Ashiok's application as a sideboard card.