This content is available exclusively to Star City Games Premium members.
Login
Join Today!

Welcome back, faithful readers, to another article from Mox Insights. We're breaking down SCG Richmond today. A large tournament on Week 1 of a new Standard format is always a treat to tear into. We had been tracking social media like @arenadecklists and player streams leading up to the event to get a lay of the land before the tournament and the results. Looking back on all of it, here's what we found.
Before Richmond
As players dug into the War for the Spark release, Simic Nexus was the first major deck that boasted significant improvements to the archetype. Tamiyo, Collector of Tales had been somewhat overlooked in preview season but proved to be a potent addition to the deck, functioning as another method to dig for Nexus of Fate but also accelerating the deck towards its non-fail state, where it could take infinite turns. The biggest dispute seemed to be: three copies or four? Commence the Endgame as a new finisher instead of Hydroid Krasis was quickly replaced as Bryan Gottlieb's suggestion of Callous Dismissal percolated through the Simic Nexus hive mind.
Parallel to Simic Nexus's revitalization, Esper Midrange was another deck that was emerging as a popular choice among players. Teferi, Time Raveler was the key addition to this deck, as well as players seeking to try a newer variant of Esper decks as Grixis builds began to falter behind the emerging metagame – Grixis, as always, struggling against enchantments like Wilderness Reclamation. Mono-Red Aggro, the best deck at end of Ravnica Allegiance Standard, also was performing well. White aggressive strategies, usually splashing blue, were also faring well. Going into this weekend, we anticipated the top three decks would be Simic Nexus, Azorius Aggro, and Mono-Red Aggro. Esper Control had traditionally fared poorly against Simic Nexus, but an emerging consensus that Esper Midrange did well against Nexus style decks led us to think that Esper decks could be a solid player – just not as popular as those top three.
With the stage set, let us draw back the curtain on SCG Richmond Day 2.
Not Too Hot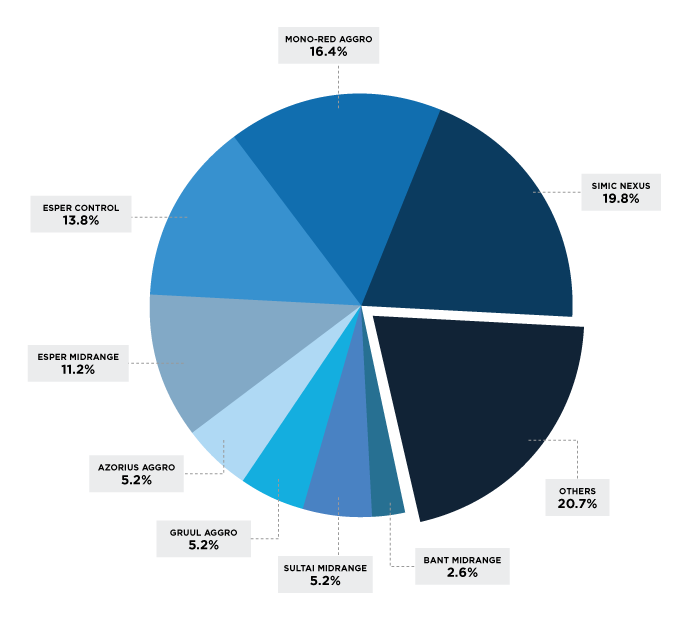 Simic Nexus was the largest chunk of the field. It was the talk of the tournament leading up to it. How did it actually do?