This content is available exclusively to Star City Games Premium members.
Login
Join Today!

The first thing that happens nowadays when a new set is previewed is that I get tagged in a bunch of Tweets asking me if a previewed card will see play in Mono-Blue Aggro. Then come a bunch of questions about when my article talking about updates to Mono-Blue will be coming out.
For War of the Spark, my Mono-Blue update article came somewhat late in to the season, as I was initially doubtful in preview season itself that the deck would be good enough anymore. Blast Zone and Teferi, Time Raveler both seemed incredibly threatening, and the only cards that Mono-Blue really gained from the set were a couple of fine but unexciting sideboard cards in Kasmina's Transmutation and God-Eternal Kefnet.
As it happened, Mono-Blue was still good against decks like Simic Nexus and the myriad Esper decks despite Blast Zone and Teferi seeing play, and the real thing holding the deck back was the rise of Gruul and Izzet Phoenix – both incredibly tough matchups – and the shift in Mono-Red away from Risk Factor and towards Experimental Frenzy, as the jump-start on Risk Factor telegraphs when you need to have countermagic open, whereas Frenzy is always ready to punish you the moment you tap out for a Tempest Djinn. Even despite the metagame still being far from ideal for the deck, it still won one of the two Red Bull Untapped Magic Arena qualifiers, and I think it was at least a bit underrated throughout War of the Spark Standard.
So what's different this time around? Why am I so excited to write about Mono-Blue with the release of Core Set 2020? The new tools introduced for Mono-Blue in this set are pretty amazing. Core Set 2020 features new staples of the archetype, as well as incredibly impactful sideboard cards that go some way towards helping solve problem matchups. Whilst I can't promise Mono-Blue will become Tier 1 again like it was for much of Ravnica Allegiance Standard, the deck is certainly being given a fighting chance and I'm very excited to work on it.
Mono-Blue's New Toys
Like with my previous update to the deck, I'm going to start this article by going over every single card people have been asking me about, from worst to best.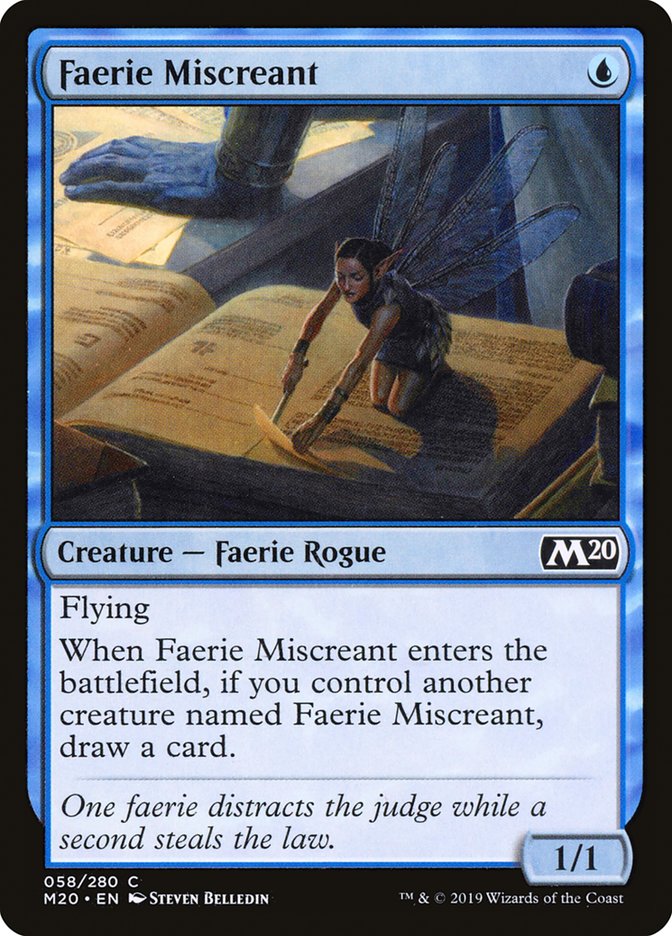 Mono-Blue is in the market for 1/1 flyers with upside, so it's easy see why people like the idea of playing Faerie Miscreant. It's just so much worse than the other options, though. Siren Stormtamer is a pseudo-counterspell that enables Wizard's Retort and allows you to fight removal even when there's a Teferi, Time Raveler on the battlefield; Pteramander adapts into an actual Dragon in the late-game; and Spectral Sailor is also quite wonderful for reasons I'll go over soon. The dream on Faerie Miscreant is that you draw a pair of them, that the first one doesn't die despite you playing a deck where people are highly incentivised to kill everything on sight, and then your reward is that you get to draw a card.