This content is available exclusively to Star City Games Premium members.
Login
Join Today!

With the introduction of Core Set 2020 to Standard, all eyes are on SCG Worcester this weekend. I'll admit that the last few months of Standard have felt a little watered-down thanks to some really powerful planeswalkers making their presence known, but that looks like it might change. Or, at the very least, we might have some reasons to play some other decks!
Whenever a new set is released, one of my favorite things is trying to find older cards that work well with new ones. And one year ago, this little gem was reprinted to help alleviate some availability issues for Modern.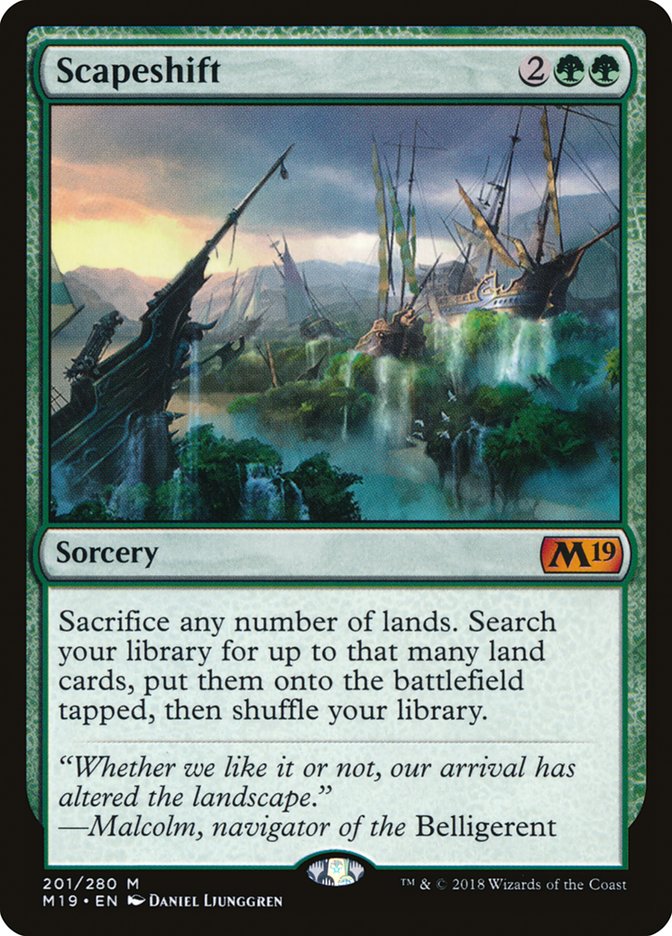 If you've played Modern before, you should know that Scapeshift is a combo-oriented card that works with Valakut, the Molten Pinnacle to send your opponent from twenty to zero in one fell swoop. In some ways, Scapeshift acts like a one-card combo. All you really need to do is play Magic and hit your land drops, and eventually Scapeshift should just end the game.
But we never really had that in Standard. Instead, anyone who wanted to use Scapeshift effectively needed to pair it with Guild Summit to draw a bunch of cards. It was never really a one-card combo unless your "one card" was just making a bunch of Plaza of Harmony and gaining some life.
But with now we've gotten two absolute heaters to go with Scapeshift, and I'm starting to be pretty thankful this is only going to be legal for a few months.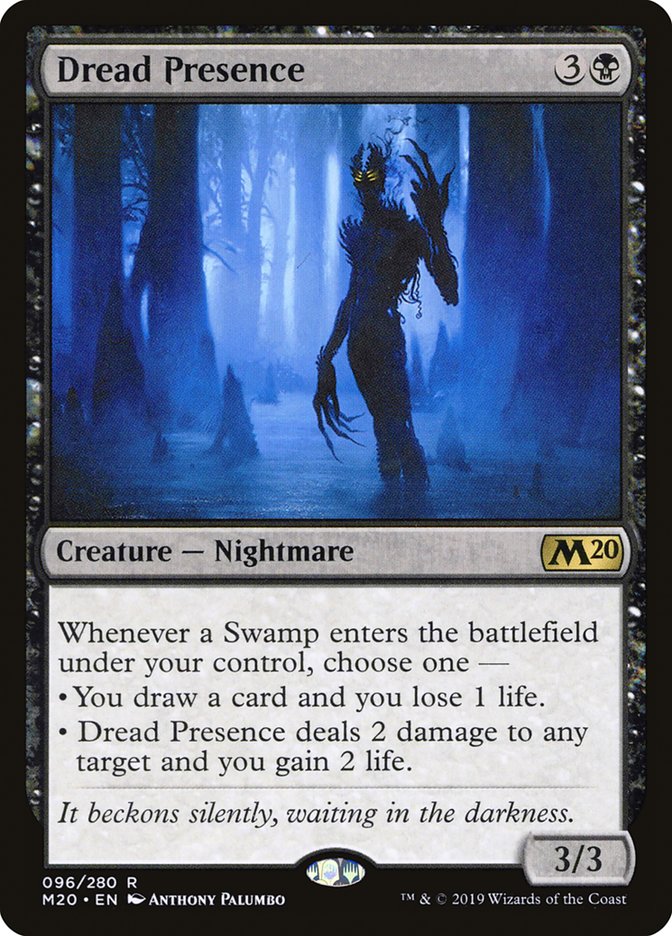 Let's start with Dread Presence, a card that looks like it might fit into a variety of black-based strategies. Dread Presence rewards you for playing Swamps. The ability to kill a creature or draw cards makes it versatile in regular usage, but it can gain you precious life points against aggro decks when you fall behind. On its own, Dread Presence might be a real role-player in Standard in the coming months.
If you pair Dread Presence with Scapeshift, everything changes. Dread Presence becomes a fair card in the early turns but ultimately starts to look more and more like a combo card. If you cast Scapeshift with Dread Presence on the battlefield, it takes ten Swamps to kill the opponent. But more realistically, Dread Presence will usually sweep your opponent's side of the battlefield while drawing you a bunch of cards. If that isn't #value, I don't know what is.
It might not be the same as the one-shot kill with Valakut, needing more raw resources on the battlefield to get the job done, but I do like that it plays well even without needing that raw combo to function. But what about the one-card combo aspect?