This content is available exclusively to Star City Games Premium members.
Login
Join Today!

I've had my eye on Neoform for the last week or so, and for good reason. In War of the Spark Standard, Neoform was lackluster because we just didn't have an early creature worth grabbing, ultimately making the sacrifice part of Neoform too high a cost. At what point does the benefit of finding the right creature outweigh the cost of sacrificing a creature?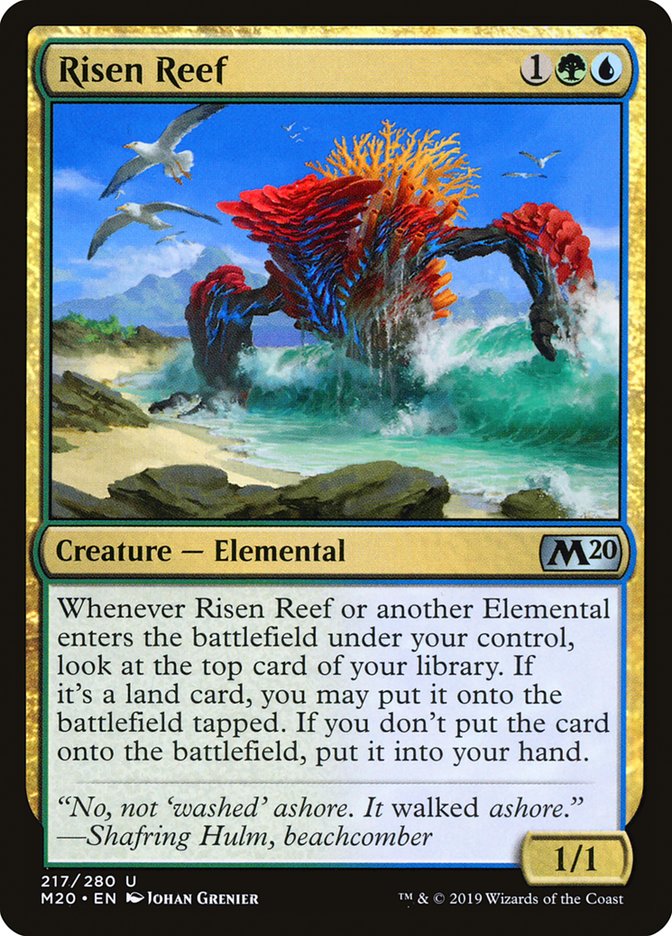 A lot of words have already been written about this beefed-up Coiling Oracle. For three mana, you get a 1/1 that either draws you a card or ramps you. Then, every Elemental you get afterward will draw you a card or ramp you. It might seem "just fine" on paper, but Risen Reef can really get out of control if your opponent doesn't kill it immediately, which is pretty insane for a cheap creature that more or less says "draw a card."
Normally a creature that requires a removal spell gets little to no value if your opponent hits it with removal. Risen Reef completely turns that on its head, and only for one more mana than we're used to paying for such an effect. But what if we get to untap with it? How crazy can we actually go? I know Emma Handy was working on a variation featuring Runaway Steam-Kin, which looked pretty cool on paper, but what if we just went a super-fair route and tried to value our opponents out of the game?
Risen Reef is also bonkers in multiples, as every Elemental nets you two draws or extra land drops, which ultimately allows you to cast more Elementals, draw more cards, and ramp even more. Things can get out of hand rather quickly, and the cost is simply playing slightly less efficient threats at roughly the same casting costs. For example: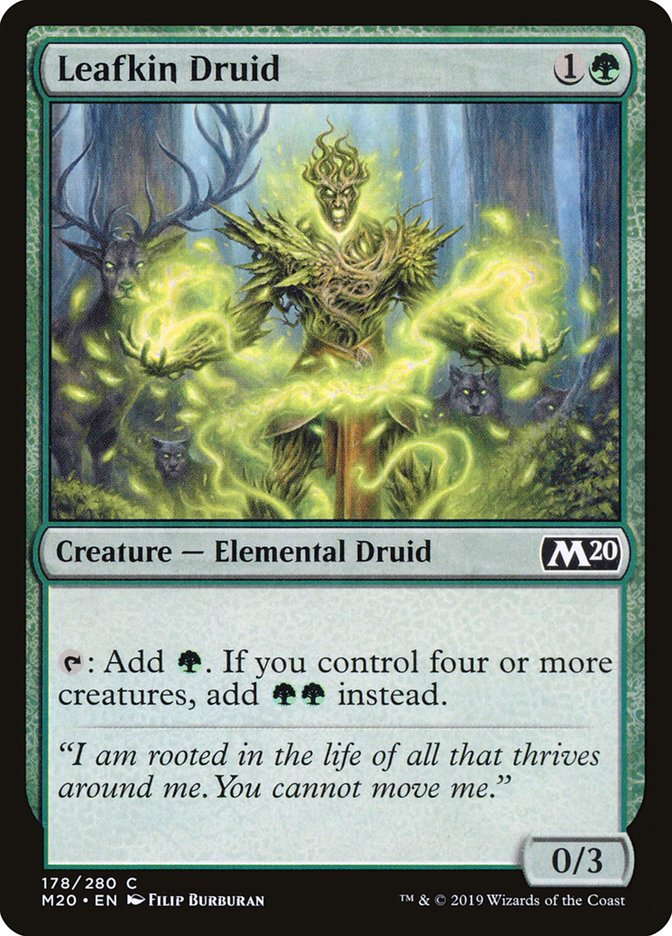 Leafkin Druid might not even be a worse version of the other two-mana ramp creatures. As you progress in the game, it generates two mana, and with three toughness, it acts as a decent blocker while also dodging both Shock and Cry of the Carnarium. Overall, the only downside between it and something like Paradise Druid is that it dies to most two-mana removal spells and doesn't attack Narset in a pinch.
But it's an Elemental, and we're trying our best to push Risen Reef as much as we can. Of all the sacrifices we have to make on our curve to make Risen Reef good, you can do a lot worse than playing some number of Leafkin Druids. Luckily, it's also a two-drop, which means we can flood our deck with them and not feel too bad about letting it go to Neoform.