This content is available exclusively to Star City Games Premium members.
Login
Join Today!

Two weeks off from tournaments always feels like an eternity for someone who's been on the grind as long as I have, and after a much-needed week off, I've been getting back into the swing of things in preparation for the Team Constructed Open in Richmond this weekend.
Normally, that would mean brushing up on Modern, aka figuring out which flavor of Hogaak to play, but in a break from normalcy, my team has me in the Standard seat for Richmond, and that makes my decision much more interesting.
That said, Core Set 2020 Standard has converged around a top tier of Bant Scapeshift and Orzhov Vampires, with a broader selection of decks that, while viable, are a notch or two below these powerful options. As an aggressive player, I naturally favored the bloodthirsty tribe, especially given how powerful Sorin, Imperious Bloodlord is.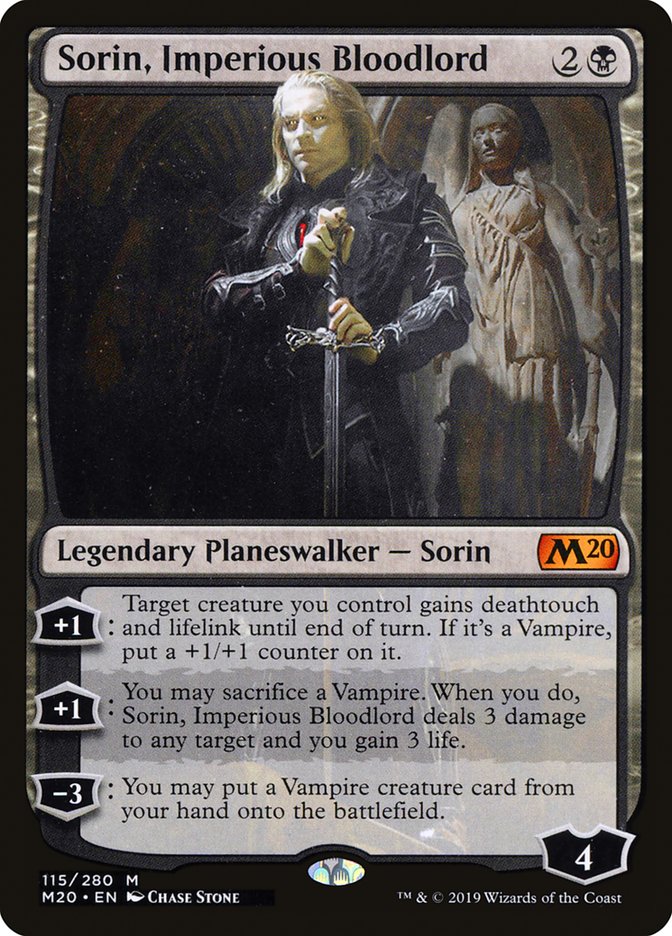 Seriously, why isn't the Lightning Helix ability a -1? Was there a typo in the final file? Even with how powerful the -3 ability is, I'm often praying that my opponents use it just so I have a chance of removing the planeswalker in combat.
This late in a format's evolution, the edges to be gained are small. They often come with proper tuning, and when it comes to tuning, even in aggressive decks, the most dynamic portion of an archetype is the removal suite.
One of the most significant shifts in how Magic sets are designed is the more concerted effort on the part of the designers to craft removal spells with specific holes, making them ineffective against a certain subset of the threats in the environment, thereby giving other players recourse against those answers.
But coupled with this seeming powering-down of the answers in Magic comes with the printing of a more diverse set of answers, so once one removal spell becomes ineffective, another becomes well-positioned. This shift has contributed to the dynamism that is typical in Standard over most of the last decade, and even in a well-explored and understood metagame, there's room to maneuver one's answers to gain an edge on the rest of the field.
In a deck like Orzhov Vampires, the room for removal is slim, since you need a high density of threats, but there are plenty of options to choose from and it's important to select the right mix, lest your aggressive creatures be stonewalled by a single blocker on Turn 3 or 4.
Having a well-rounded removal suite means mixing and matching the various options so that you have outs to as many threats as possible, weighing just how many outs based on how common each threat is. That's a trickier proposition than jamming four copies of Lightning Bolt or Swords to Plowshares and calling it a day, and requires digging through the various options and weighing their strengths and weaknesses against the common threats in the metagame.
Let's start by looking at the commonly played options and a few other removal spells I'm interested in at a glance.