This content is available exclusively to Star City Games Premium members.
Login
Join Today!

Of all the cards previewed so far, the one that seems most appealing to me is Rankle, Master of Pranks.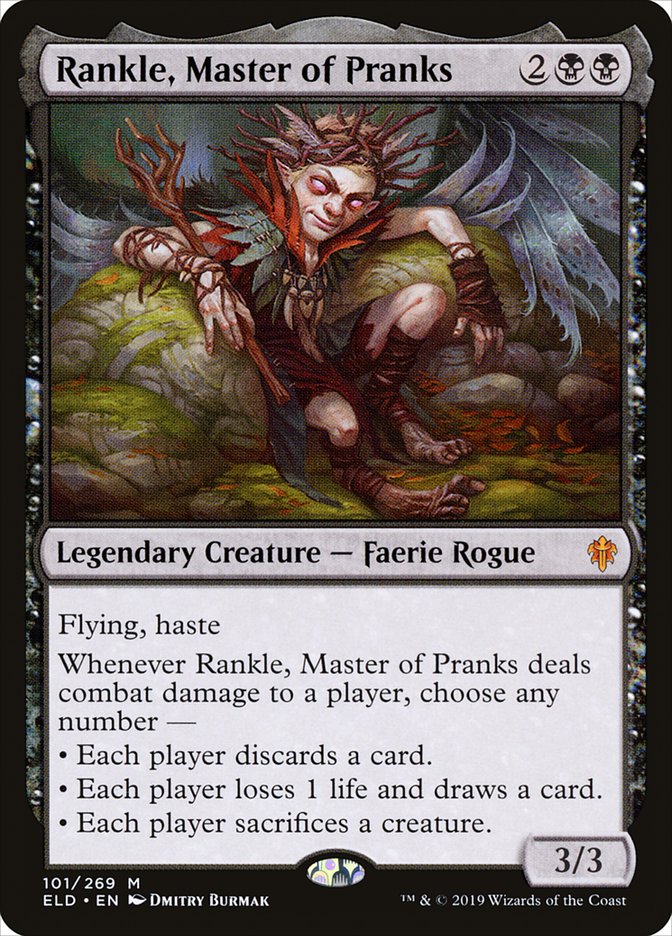 There seems to be some confusion on how Rankle, Master of Pranks actually works, so before we start talking about it, let's get that out of the way. Once Rankle hits your opponent, you choose to do zero, one, two, or all three of its effects. The effects always happen in the order stated on the card, so the discard always happens before the draw, which means if you have zero cards in hand you can choose to discard and draw and you'll end up with one card, and the sacrifice is always last.
The reason I like Rankle so much is that it looks like a creature, but it's actually a planeswalker in disguise. Rankle has three abilities and you get to use them every turn, starting from the turn it enters the battlefield; if it stays alive, you'll gradually acquire enough incremental advantage to win the game. The abilities are symmetrical, but you get to choose which ones you use and in theory you built your deck to abuse them, so each time you connect with Rankle, you'll be gaining an advantage. Unlike other planeswalkers, it does die to creature removal, but in return it gets to attack and block (plus you get to use all the abilities in one turn), which to me is a fair trade-off.
As a 3/3 flyer with haste, Rankle is already an interesting card. I wouldn't just play a card with this statline, but it's certainly intriguing enough that I'm willing to look at what else it does, especially since as a haste creature it passes the Teferi, Time Raveler test that's sure to be even more important post-rotation. Once we realize we get what could be worth one or two planeswalker activations with every attack, you have my full attention.
Let's take a look at Rankle's abilities:
Each player discards a card.
The first ability is very straightforward: each player discards a card. This is a strong ability in an aggressive deck that doesn't need its excess lands, or a deck that's looking to empty its hand anyway, or perhaps a deck with removal spells that might be dead against an opponent that plays control. I'd estimate that, if you're playing Rankle in your deck, you're going to want to use the discard ability over half the time it connects. It's also important to note that Rankle is legendary, but, much like Liliana of the Veil, it doesn't punish you as much for drawing multiple copies since you can discard excess ones to its own ability.