This content is available exclusively to Star City Games Premium members.
Login
Join Today!
I'm done trying to get fancy. To paraphrase the words of the great philosopher Murtaugh: I'm too old for this stuff. I just want to play decks that win, and when it comes to early season Standard, that means starting with Mountains.
Preview season for Throne of Eldraine has just started, but there's already a red card that has caught my eye: Embercleave.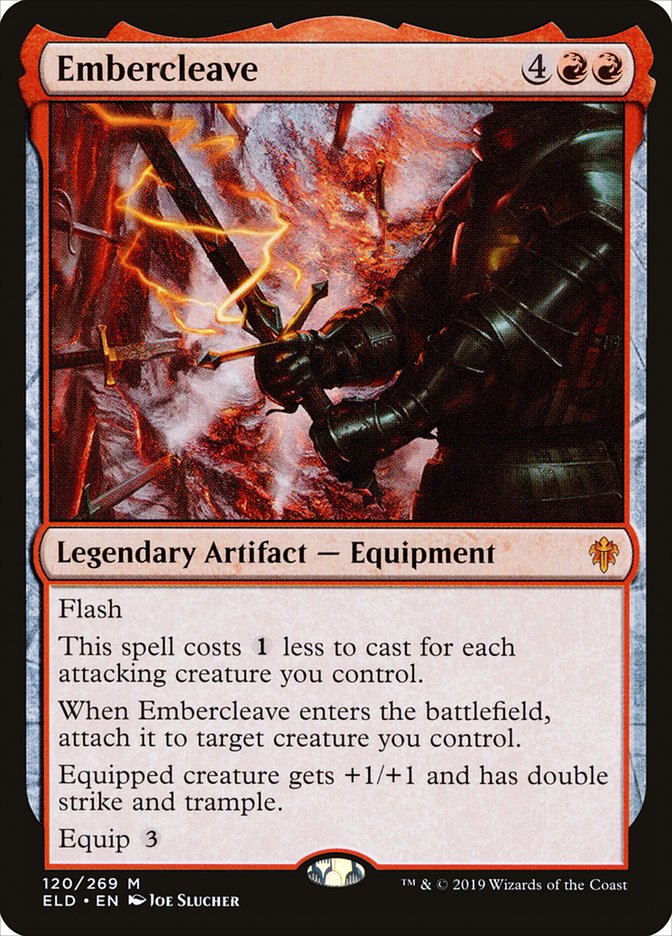 Cards like this, meaning splashy combat tricks, are often win more, but this one is costed in a range that curves nicely. You can play three one-drops on the opening two turns and then have this available as early as Turn 3, or simply curve two-drop, three-drop and cast Embercleave on Turn 4. If you start your curve right away, the Turn 4 Embercleave happens through a removal spell.
Second, unlike cards like Temur Battle Rage or Pride of the Conquerors, Embercleave leaves behind a piece of powerful equipment. It can be used to take out a blocker in combat while also turning one of your early creatures into a powerful threat, drawing a removal spell and still sticking around for your next creature to pick up. So, it's a dual threat in that it can function as a game-ending combat trick and late-game mana sink.
In the first mode, you're getting a burst of damage that's proportionate to the power of the creature it's attached to, but I can't resist doing the math to know exactly what we're getting.
If the targeted creature starts at N power, the Embercleave will add one to that, then double the result because of double strike. That yields a damage output of 2N+2. Then we deduct the initial N, leaving a damage increase of N+2. If we're casting the card for two or three mana, attaching it to a one- or two-power creature is enough immediate value, but anything more than that and we'll want a larger creature to make the mana investment worthwhile.