This content is available exclusively to Star City Games Premium members.
Login
Join Today!
I don't often see a card that I'm this surprised saw print.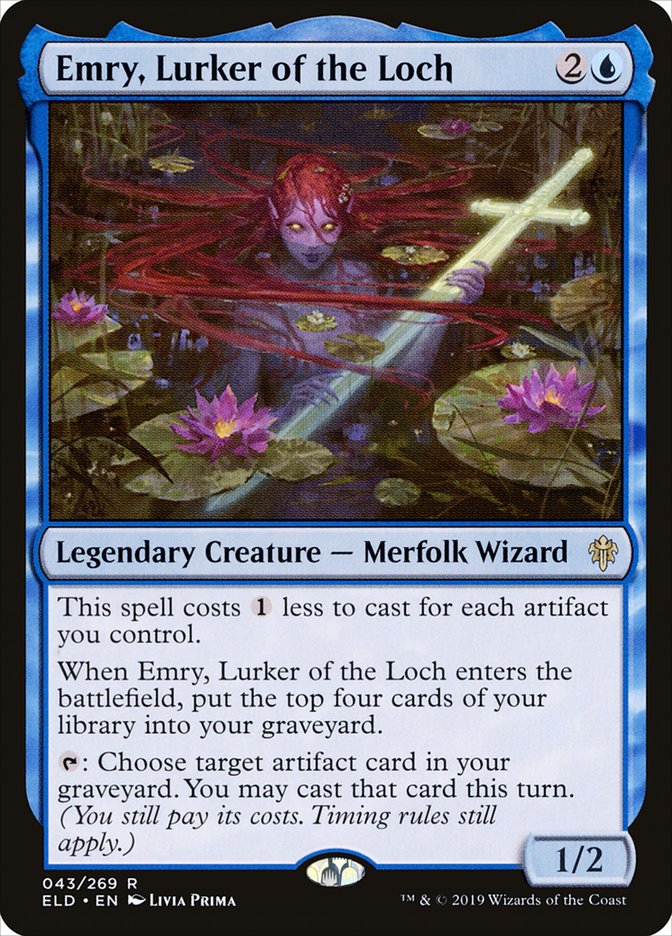 Emry, Lurker of the Loch is among the best grindy creatures we've ever seen, with two abilities that enable different kinds of combo decks in addition to being one of the best fair cards in Modern. Beyond its application in Modern, it's probably one of the most powerful commanders in the game for Commander and could break Historic. I assume this sounds like something worth your attention.
We'll start with Modern, where Emry has the most options, and is the easiest to find uses for. To get an understanding of the baseline of this card, imagine playing it in traditional Affinity. Here, it will essentially always cost U on the first or second turn, and it will almost always put one or more artifacts in your graveyard when it enters the battlefield. If your opponent doesn't kill it, it will essentially tap to draw any artifact that was in the top four cards of your library or anything that's died this game. That means it both gives you value out of the gate and protects all your other cards, so it's like a Mother of Runes except that every turn they don't answer it, you draw a spell.
That's pretty good, but honestly, it's a little off plan for Affinity and Affinity really wants to maximize its artifacts and kill as fast as possible, so I'm not sure how good it actually is as a maindeck card in that deck. It's clearly powerful, but a bad strategic fit. So where can we keep the power, but make it fit better strategically?
Creatures (7)
Lands (20)
Spells (33) The most obvious answer is Whirza. When Emry enters the battlefield, you mill four cards, which digs for Sword of the Meek or any other artifacts, which Emry will let you cast. If Emry is killed, any artifacts you milled are still available for future Emrys or Goblin Engineers. If Emry isn't killed, it starts drawing a card every turn. You don't have the artifact density that Affinity has, but if you have a Mishra's Bauble, at worst you can draw an extra card every turn without spending any mana. If you have Nihil Spellbomb, Pyrite Spellbomb, or Chromatic Star, you can spend mana to draw cards or reuse your spellbomb effects. This means Emry plus Nihil Spellbomb is a great way to lock out Dredge, for example, and Pyrite Spellbomb functions similarly against something like Infect.
I played Whirza in Grand Prix Indianapolis this past weekend. I was really impressed with the deck, and my conclusion about how it plays is that you have a lot of creatures that generate value every turn they're unanswered, and that the value is always digging toward an infinite combo, so your opponent has to try to answer each of them. Removal is necessary against the deck, but the deck generates enough free card advantage that removal spells are ultimately a losing proposition, which means your opponent can't really afford to play enough removal, and because the way you pressure your opponent with your creatures generally doesn't require overextending in any real way, it's hard for them to catch up with sweepers. This means each extra creature taxes the finite amount of removal they have. Basically, I realized that I really wanted four Goblin Engineers because they were so strong when they lived, and that wasn't particularly rare, and when they didn't, it usually cleared the way for Urza, Lord High Artificer.