Understanding Paradoxical Urza, The Next Great Modern Combo Deck


When Piotr Glogowski both praises and has success with an underexplored Modern archetype, the correct response is to sit up and take notice. If Lantern Control didn't teach you this, and neither did Krark-Clan Ironworks nor Hogaak Summer, maybe the breakout performance of Paradoxical Urza is the time to finally learn this lesson.
Creatures (6)
Planeswalkers (3)
Lands (18)
Spells (33) This is the list that Piotr lost the finals of the Modern Challenge with this last weekend. Paradoxical Urza is a very new addition to Modern's ever-growing roster of decks. Whilst theUrza decks that are built around Whir of Invention and Thopter Foundry tend to have their combo elements over-emphasised in conversations surrounding them, this style of Urza deck has such a combo plan firmly as its Plan A.
The core gameplan is to find and resolve an Urza, Lord High Artificer, and then use Urza's first ability to make all your assorted zero-mana artifacts do their best Mox Sapphire impressions. These will hopefully allow you draw several cards off a Paradoxical Outcome as you return these artifacts to your hand, and they can be recast and re-used as Mox Sapphires to continue churning out spells.
Where things get out of hand is if you have a token generator on the battlefield like Saheeli, Sublime Artificer or Sai, Master Thopterist. With one of these on the battlefield, recasting each of your Mox Sapphires will make a Servo or Thopter token that also gets to tap for mana and act as a Mox for you. Suddenly a resolved Paradoxical Outcome isn't just netting you an extra mana or two but putting up six or seven mana instead, because every nontoken artifact you recast will bring yet another token alongside it. Each following Outcome gets bigger as the previous one draws you into even more trinkets you can bounce, and it's entirely possible that, as a result of this cascading growth, you draw the majority of your deck the turn that your Urza hits the battlefield, at which point there are any number of possible ways to win the game.
If this sounds absurd, that is because it is. When the deck is ticking along unimpeded, it can sometimes feel like you're playing a much more powerful format than Modern, with echoes of the Vintage Paradoxical Outcome decks that have been a mainstay of that format ever since the card's printing. The real strength of the deck, however, is that it has a lot of counterplay against hate. You have four copies of Engineered Explosives in your maindeck that function as combo pieces because you need zero-mana artifacts, yet also incidentally answer a lot of the hate cards you might fear or ways your opponent is pressuring you. Meanwhile the deck has enough cantrips and filtering to dig you to whatever interaction you're needing to find to push through hate. This resiliency isn't on Krark-Clan Ironworks levels, but again has echoes of it.
With the archetype still feeling so new, though, there is a lot variety in the decklists coming out for it, with a consensus yet to form on the best possible card choices. Also, as new decks go, Paradoxical Urza can be quite intimidating to pick up, with a bunch of strange unintuitive decision points. Let's dive into the lists out there, figure out the arguments for and against different card choices, and get a grasp on some basic strategy for the deck in the process.
Sublime Artifice
If you're going to be an artificer, you need to be bringing some artifacts into the world with you. The above artifacts have all largely been settled on as the must-have artifacts for the deck. Perhaps the only one that isn't a self-explanatory inclusion is Everflowing Chalice, which is in the deck mostly as a textless zero-mana artifact that can also occasionally be cast with its kicker mode to help ramp out an Urza one turn earlier. If that doesn't sound exciting to you, that's because it largely isn't, and I don't think it's a given that you have to play the full four Everflowing Chalices if you would prefer to trim one copy for something else.
Creatures (6)
Planeswalkers (2)
Lands (18)
Spells (34) This list by Urchin Colley is the one example of the archetype I've seen where someone has consciously decided to play less than the full playset of Everflowing Chalice. Urchin has been working on the achetype longer than almost anyone else, even back in Hogaak era, and the reasoning behind this particular decision is sound: all zero-mana artifacts do the same thing once there is an Urza on the battlefield, turning them all in to Mox Sapphires, so the redundancy on the effect of Everflowing Chalice may well be worse than the additional gameplay options a card like Tormod's Crypt opens up. On that note:
These are all the additional cards I've seen played somewhere or other in the trinket role in the deck. These are rarely played as more than singletons due to sharply diminishing returns, apart from Ichor Wellspring, which is slightly more popular since it has a fairly low floor due to always drawing a card whilst leaving itself on the table for later use. It's worth remembering that all the trinkets that cost more than zero mana to replay are markedly worse on your combo turns than the ones that don't.
Of note:
Whilst the mana that Urza generates from you bouncing and replaying your artifacts is certainly enough to draw a large chunk of your deck and get a lot more trinkets on the battlefield, it is not necessarily enough to reliably end the game on the spot. This is where additional mana generation comes in.
Sai, Saheeli, and Mirrodin Besieged all have different benefits. I think Sai very clearly the best of the three with the 1/4 body being a decent blocker against aggressive decks, flying tokens being much better for pressuring planeswalkers than ground-based Servo or Myr tokens are, and the activated ability opening up the option of grinding against decks that are looking to interact. Sai is also legendary, though, so having too many copies of the card has diminishing returns. You would much rather have a Sai and a Saheeli in hand than two Sais.
Saheeli's activated ability is very strange and takes some playing with to get used to. Common lines include turning artifacts into Darksteel Citadels so that you can generate an extra mana, turning Servo tokens into Mishra's Baubles to generate some card advantage, and copying Urza's Construct tokens to kill people out of nowhere. The coolest trick is when there is a Chalice of the Void on the battlefield with zero counters on it; you can cast an Engineered Explosives with coloured mana so that its converted mana cost is not zero and then make another artifact into a copy of Explosives, the copy of course having zero counters on it and thus being able to kill Chalice of the Void. None of this makes Saheeli better than Sai, but there are very relevant benefits you can get out of her activated ability if you're creative.
Mirrodin Besieged is clearly the worst at doing the token generation job, as it doesn't offer you benefits in addition to these tokens whilst it is sat on the battlefield. The flipside is that it acts as a win condition if needed, as on the turn you combo off you can return this card to your hand, recast it on the Phyrexian mode, blow up a heap of artifacts with your Engineered Explosives, and then win on your end step. Think of it as a mediocre token producer and a mediocre win condition collected together in a single card.
Creatures (7)
Planeswalkers (1)
Lands (18)
Spells (34) Then we get to Paradox Engine. This one is more complicated. The upside to this card is actually absurd, as if you ever have Urza and Paradox Engine on the battlefield at the same time together it is very hard for the game not to just instantly end; every spell you cast from that point on will untap all your artifacts for Urza to re-tap so that Urza can go look for more spells for you, and so the wheels never stop spinning. Having a single copy of Paradox Engine in your deck, alongside an Inventors' Fair to go find it, makes your deck much better at reliably ending the game the very same turn you start comboing off. The ninth-place finish that tangrams had in a Modern PTQ on Magic Online a little under three weeks ago was the first decklist of this archetype to see success and featured this very duo of cards.
The flipside to this is that Paradox Engine is awful against Shatter effects, so it looks a lot worse in post-sideboard games. Part of the appeal of Paradoxical Urza is that Shatters are at best mediocre against you, often trading down in mana for the artifacts they are killing, but this is very much not the case when they're targeting a clunky five-mana artifact like Paradox Engine.
Once you've drawn your whole deck, you need a way to win the game. This way can be as simple as just attacking your opponent with a bunch of Thopters, Servos and Constructs on your next turn, but this lets your opponent untap and have another turn beforehand, which is hardly ideal. Mirrodin Besieged is one way to win the game, but a couple of more appealing options to me are Grinding Station and Nexus of Fate.
Grinding Station offers you a lot more utility than Nexus of Fate does because of how well Station combines with Urza; tap my Grinding Station for a blue mana, cast my Mishra's Bauble triggering my Saheeli, my Thopter token enters the battlefield untapping my Station and I'll float a second blue mana, my Bauble enters the battlefield and untaps my Station and I'll float a third blue mana…
A single copy of Grinding Station on the battlefield doubles Urza's mana production up until the point where you want to start feeding artifacts to it to mill your opponent. Whilst it is no Paradox Engine at mana generation, it is still quite powerful at this role, and it can end the game in a reasonable timeframe. The downsides are that your opponent at least gets an untap step, which is particularly relevant against a deck like Burn that can kill you in its upkeep. You have to be able to safely mill your opponent, which you can't necessarily do if their deck contains Creeping Chill for example, and the card can't mill your opponent out if there is a Stony Silence or Collector Ouphe on the battlefield.
Nexus of Fate doesn't give you this mana generation ability but is a much more insistent win condition. Discard spells and counterspells don't limit your eventual access to the card, and unlike Grinding Station, if you get to go off then you'll never give your opponent a window to interact with you again. In addition Nexus of Fate has applications as a fair card allowing you to do the same trick we've seen in Standard this past year of casting the Nexus in your opponent's end step to heavily pressure their mana, giving you a window in which to do your thing.
Creatures (6)
Lands (18)
Spells (36) The last big issue to deal with in the composition of maindecks is that of whether to play Thoughtcast or not. Former teammate of mine Joao Choca won an MCQ this last weekend with the above decklist, wielding four copies of Thoughtcast in the process. The card is clearly much more powerful to resolve than Serum Visions, although they do serve slightly different purposes. Serum Visions is better at digging you towards your Urzas and Outcomes, whereas Thoughtcast is better at giving you a critical mass of trinkets so that you can go off even more explosively. This slightly lessened ability to dig towards Urza or Outcome might be a part of what motivates Joao to play a single copy of Clutch of the Undercity in his maindeck, which conveniently transmutes into these payoff cards whilst also acting as a way to remove nearly any hate card from the battlefield, though the card is certainly not cheap to resolve for these purposes.
The costs are also real, however…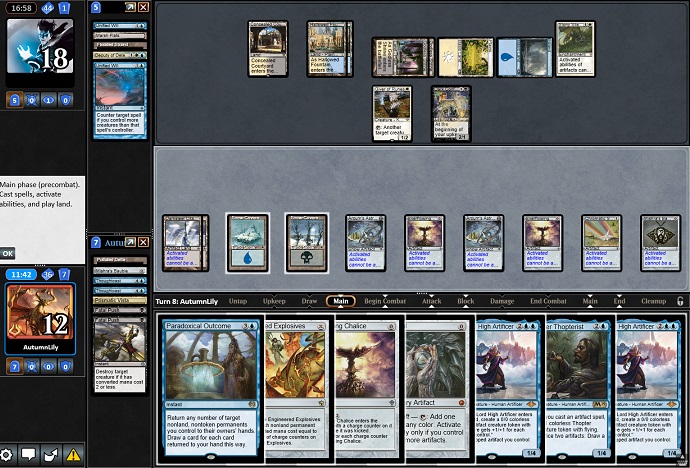 I ended up winning this game a few turns later after some fortunate draws, but it feels almost inexcusable for it to be so close, considering that if these Darksteel Citadels were basic lands the game would have been over this turn. Urza naturally offers you a lot of play against Stony Silence and Collector Ouphe, but considering the deck's primary gameplan against Stony Silence especially is to brute force your way through it (or, sometimes, bounce it with Teferi, Time Raveler), having your lands be artifacts can feel incredibly punishing. It is very hard to make Thoughtcast feel good enough without these artifact lands, however, so whilst I'm certainly going to continue experimenting with the card, my suspicion is that this problem alone makes it worse than Serum Visions.
I'm a bit hesitant to lock in any particular Paradoxical Urza list as my favourite way to approach things because everything is about to be shaken up with the release of Throne of Eldraine. Oko, Thief of Crownsand Emry, Lurker of the Loch are both prime candidates for seeing play in the archetype, whilst Witching Well could potentially end up being good enough too. All of this is going to result in even more experimentation with card slots and indecision on what colour combination is the best. This is why a lot of my intent with this article is focused on teaching you an understanding of the reasoning behind why lists are built like they are, rather than outright calling one approach better than the rest. That all said, this is the list I'm planning on starting with when I fire up my first League of post-Eldraine Modern:
Creatures (8)
Planeswalkers (2)
Lands (18)
Spells (32) Paradoxical Urza 101
To finish of this article, a few small play tips for those looking to pick up this deck and take it for a spin. I've already covered a lot of stuff incidentally throughout the article, but the learning curve can feel steep with Paradoxical Urza, so any little boosts you can get towards learning the deck will help.
Don't be afraid to run out cards like Everflowing Chalice and Engineered Explosives as seemingly textless artifacts. You should still have a reason for casting them, but if you're only going to be bouncing that Chalice back to hand in two turns' time anyway and playing it out as a textless zero-mana artifact this turn will turn on metalcraft on your Mox Opal, often that makes it well worth doing, even if it feels strange not having your cards function in the way you'd typically expect them to.
Be aware of what axes your opponent will try to interact with you on and play accordingly. Do you expect Trinisphere; Chalice of the Void; Thalia, Guardian of Thraben; or Damping Sphere? Run out artifacts as soon as possible. Do you expect Abrade and Ancient Grudge? Hold your more delicate artifacts until you can use them to accomplish something on the turn you cast them. Inquisition of Kozilek? Aggressively playing out your trinkets can often make this card fail to take a card from your hand.
Especially when you have Saheeli or Sai in hand, there can be some amount of motivation to hold artifacts to get triggers from them. I don't really like stifling my development too much to accomplish this unless the matchup is slow and attrition-based in nature, so it's a tough balancing act on exactly how much to commit to this.
Mishra's Bauble is trickier to play in this deck than almost any other deck in Modern. Sometimes you want to do the Bauble plus fetchland trick to help filter your draw, sometimes you want to aggressively sacrifice it to dig for land drops, and sometimes you keep it on the battlefield to help enable Mox Opal. If you're going to hit your land drops, and you have Urza and Outcome in hand, you'll often end up not sacrificing it at all, preferring to keep it on the battlefield to pair up with Urza as a Mox Sapphire in a couple of turns' time. Again, this is a tough balancing act.
If your opponent is representing removal and you have both Urza and Outcome in hand, then try to have enough artifacts on the battlefield such that when you cast the Urza you can, if needed, tap those artifacts to make blue mana and cast your Outcome in response to the removal spell to save your Urza, returning it to hand. If you think your opponent has removal but isn't using it, then just passing the turn instead of casting Outcome can often be a fine line, at least if they aren't meaningfully pressuring you, since this makes it incredibly hard for your opponent to remove your Urza permanently.
Much like you can cast Nexus of Fate on your opponent's end step to pressure countermagic, you can also do this with Outcome to a similar effect.
Arcum's Astrolabe has a bunch of play patterns associated with it. Using your Turn 1 Astrolabe to help cast a Serum Visions off the mana that your kicked Everflowing Chalice makes on Turn 2 is a common line. If you're casting Outcome and expect to be casting an Astrolabe post-Outcome, then make sure you have access to snow mana, which will sometimes involve turning your Urza mana into snow mana via the Astrolabe you're about to bounce. Once you have no Astrolabes on the battlefield, no untapped Snow-Covered lands, and no land drop left for the turn, you have cut yourself off from casting any Arcum's Astrolabes for the rest of your combo turn, potentially weakening future Outcomes in the process.
When you're comboing and about to cast an Outcome, figure out whether you're more restricted by how much mana you have or how many cards you have. If you will almost certainly have enough mana to go off, then it can be a good idea to bounce Sai and/or Saheeli to your hand to draw those extra cards, but if your mana is stretched thin, then leaving these permanents on the battlefield will give you a lot more breathing room with that particular resource.
When sacrificing artifacts to Sai, be conscious that your tokens may be important for attacking planeswalkers or blocking creatures whilst your nontokens are needed for any Outcomes you draw later in the game. Again, another balancing act that you will get better at the more you practice.
In addition to the Saheeli tricks mentioned earlier, you can also turn your Everflowing Chalices into copies of Engineered Explosives. Since they both use the same type of counter, this can allow you to get the Explosives copies onto weird numbers you might not otherwise be able to easily access.
Mox Amber can make red mana with a Saheeli on the battlefield, which has applications with the sunburst on Explosives.
If you're comboing off and there is a Stony Silence on the battlefield, try to leave your Snow-Covered Plains untapped for as long as possible so that you can cast a Teferi, Time Raveler, should you draw one, to remove the Stony Silence.
Even if it doesn't look like you can quite sacrifice Inventors' Fair during the combo, you may want to leave it untapped anyway. Urza's ability to generate so much mana during comboing could allow you to sacrifice the Fair later in the turn and thus potentially gain you access to Grinding Station or (less likely) Paradox Engine, if you play either of these, mid-combo, which can make all the difference in regards to having enough mana to go off more fully.
Questions to ask yourself when deciding what cards to remove from your deck during sideboarding include:
Do I need an explicit win condition in this matchup or will make a dominating battlefield position (lots of Thopters, Servos and Constructs) be good enough to reliably pass the turn to my opponent, survive, and then kill them?
Do I want to sideboard out cards that are weak against Shatters (most notably Grinding Station and Paradox Engine) or do I not expect my opponent to fight me on this axis?
Which of my flex-slot trinkets line up worst in the matchup? Pyrite Spellbomb is bad if it doesn't have targets to kill, Mox Amber gets worse if your legends will be killed by opposing removal, etc.
Does Engineered Explosives have text in the matchup? If not, it's fine to trim one or two of them to keep in more flex-slot artifacts instead. If you're maindecking sideboard cards like Teferi, Time Raveler, make sure to ask whether you want them post-sideboard, and it is generally fine to trim some small number of your blue cantrips if you wish.
Enjoy playing this wonderful Modern-legal Vintage deck! It is truly a delight, and I'm excited to see how it evolves.