This content is available exclusively to Star City Games Premium members.
Login
Join Today!

Coming out of the most recent Banned List Changes, Modern was in the most uncertain state since its first year of existence. Faithless Looting had largely governed the format over the previous year, with Hogaak being its most recent and most egregious partner in crime, and Stoneforge Mystic entered Modern for the first time, one of the most powerful and celebrated creatures in Magic's history.
In such a state of uncertainty, it's no surprise that the first major Modern tournament after the Banned List update, an Open in Dallas, was overrun by Burn, a quality linear deck that found its week to sneak in under the radar. But it wasn't Goblin Guide and company that took the tournament down; it was the unstoppable force known as Harlan Firer and his trusty Whirza deck.
For many years, Harlan has been a quality player who hamstrung himself with some rather poor deck choices, often some strange Izzet or Temur concoction that only Todd Anderson could love. This year he made deck selection a clear target for improvement and the results speak for themselves – eight Open Top 8s and the pole position for the Player of the Year Race on the SCG Tour®.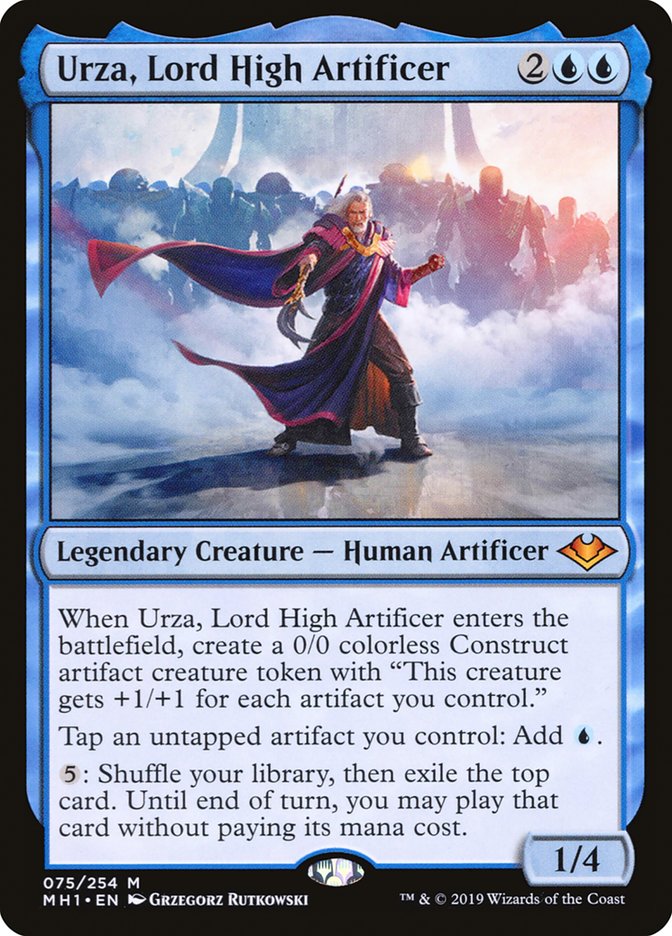 Harlan has been singing the praises of Urza, Lord High Artificer since the days of Hogaak Summer, and after witnessing his valiant attempt at carrying Tannon Grace and me through the Team Open in Richmond, I was a believer. Four mana is a steep cost in Modern, but Urza has the immediate impact and ability to run away with a game that you need in return for the hefty investment. There are plenty of situations where Urza ends the game immediately with its mana production, games where continuously activating it buries your opponent in card advantage, and games where the Construct token dominates the battlefield. The card does it all.
After last weekend, it looks like Harlan has plenty of other converts to the church of Urza, as the card was featured in half of the Top 8 decklists at the Team Constructed Open in Philadelphia and two of the Top 8 decklists from the Modern Challenge on MTGO. In fact, Urza is so powerful that we're now seeing different variants of decks built around it. In addition to Whirza, we now have Urza Outcome decks and a spinoff on those that include Jeskai Ascendancy.
Moving forward in Modern, it's crucial to understand the similarities and differences between these decks so you can attack them appropriately, and that is what I intend to do today. Let's look at each Urza variant and see exactly what makes it tick and what makes it fall apart, starting with the original.