This content is available exclusively to Star City Games Premium members.
Login
Join Today!
My article from last week outlined my preparation and testing in my favorite Pioneer archetype: Green Devotion. And while the eventual winner did not exactly copy/paste my list, the person who got second place seemed to be paying attention…
Oh, right. It was me!
Creatures (22)
Planeswalkers (6)
Lands (20)
Spells (12) I won twelve matches in a row to make it into the finals. I was the only undefeated person after the swiss. Every single card choice I made seemed to be perfect, and my deck felt unbelievable. There was just one problem: I've never beaten Simic Nexus in my life.
But how did I get to the above list? Why did I choose the cards I played? And what the heck is that sideboard? Today's article will reflect on my tournament preparation and go over why I chose the cards I did. I had so many questions from folks during the tournament stream asking why I wasn't splashing for Hydroid Krasis or what Whisperwood Elemental was good against. To find out the answers to those questions and a whole lot more, look no further.
Splash Damage
My article from last week , which I recommend reading before continuing, breaks down the red and blue splashes. Blue is mainly for Hydroid Krasis, as I found Oko, Thief of Crowns to be surprisingly bad in the archetype. That leads me to believe that Oko, Thief of Crowns is stellar when you're trying to interact with the opponent, but relatively tame in a deck designed to go way over the top. Hydroid Krasis is a different animal entirely, so let's get down to why I'm not splashing for it, even though I find it to be the best payoff among the cards we have available.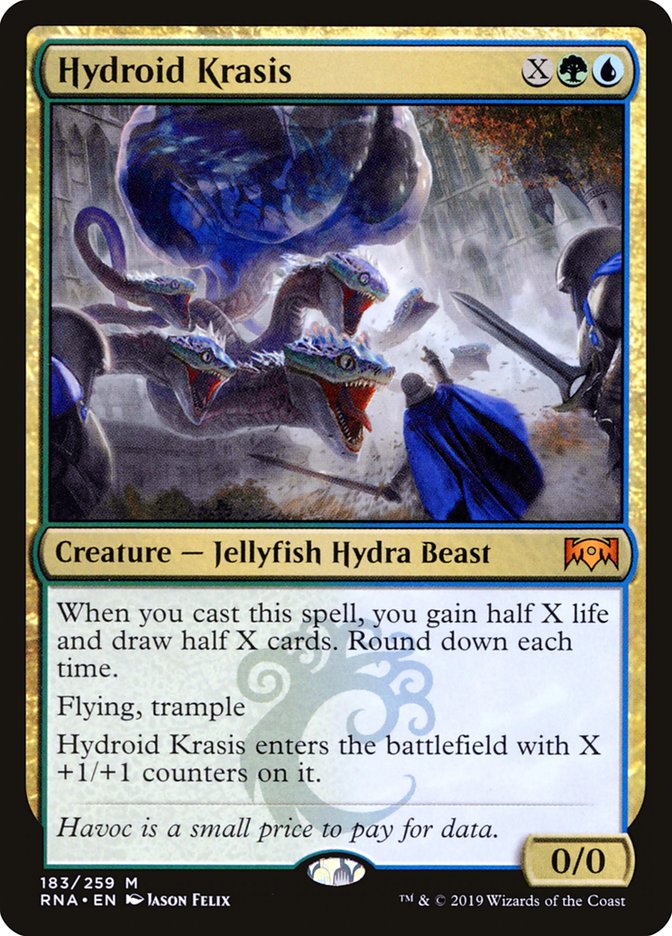 Of all the payoff cards you can play in this archetype, Hydroid Krasis is the one that feels the best when all things are going great. If you have a ton of mana, there are fewer better feelings than drawing a bunch of cards and gaining life while creating a giant, flying Jellyfish Hydra Beast. And it's a card that doesn't really care much if you get hit with Supreme Verdict afterwards, because you've already refreshed all those lost resources.