This content is available exclusively to Star City Games Premium members.
Login
Join Today!
The first Pioneer Players Tour Qualifier was held on Magic Online this last weekend. Six unique archetypes made Top 8, with a total left field deck taking it down. Here's the breakdown of the first high stakes peek into the format that makes up half the Season Two Invitational at SCG CON Winter.
Eighth Place and Third Place – Four-Color Copy Cat
Creatures (18)
Planeswalkers (12)
Lands (21)
Spells (9) Creatures (12)
Planeswalkers (11)
Lands (21)
Spells (16) ---
---
Read Gerry Thompson's article from last Friday and realize this is all fairly stock Copy Cat stuff. This was the most represented archetype in the Top 32 decklists, and if it remains legal through the posting of this article it's a clear deck to beat.
A part of me wonders if this prevalence is actually a function of the power of the Copy Cat combo, or just the fact that it's the best vehicle for the Turn 2 broken planeswalker package. This also links to Oath of Nissa, which kinda feels like a Faithless Looting both fixing draws and enabling more synergies. In this case, it's the card that lets you convert Llanowar Elves mana into Teferi, Time Raveler or Saheeli Rai when you don't draw the right shocklands.
The key addition we see that wasn't present in Gerry's list is Rogue Refiner. He mentioned the three-drop glut as the reason it was excluded, but at the same time your entire deck is built to cast three-drops and the only thing holding you back is perfect mana. I would never underestimate that last part, and Aether Hub is probably reason enough to get some Rogue Refiners in your deck.
I don't love four Attune with Aether or only playing 21 lands, but there's probably some medium where you hit your land drops, don't flood, and where Aether Hub isn't Tendo Ice Bridge. Maybe the answer involves Traverse the Ulvenwald as a split threat-land, because in Standard the end game for Felidar Guardian definitely included that card.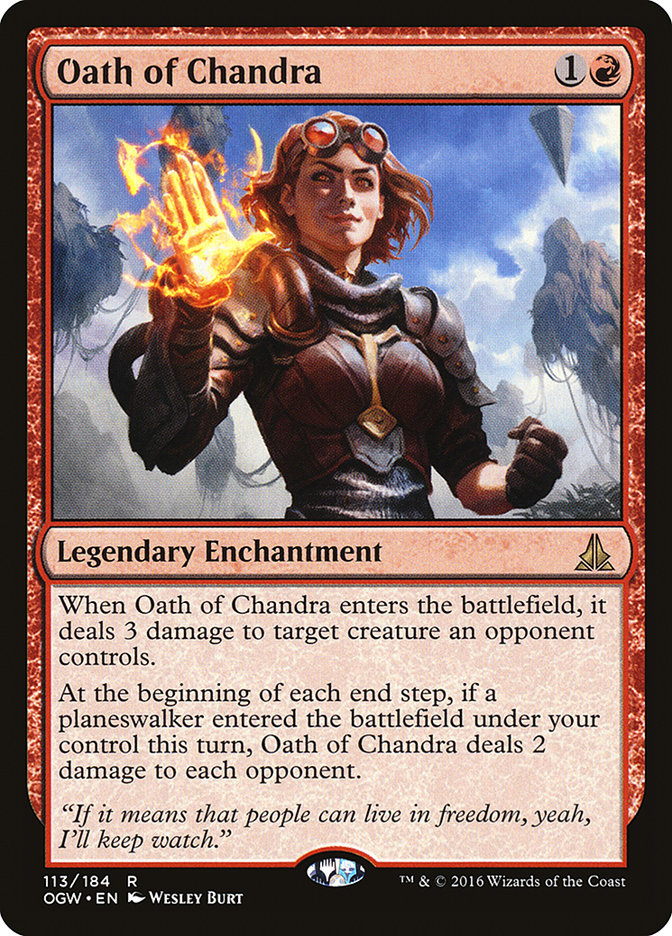 One note on the removal front: Oath of Chandra is significantly worse than it was during the Standard Copy Cat era due to the Dominaria planeswalker damage redirection change. It no longer actually applies pressure to their permanents, just help for your Elk beatdown plan. There has to be something better.