This content is available exclusively to Star City Games Premium members.
Login
Join Today!
When Pioneer was announced, I was disappointed at the realization that I would likely not play a tournament of the format before the metagame coalesced behind the most powerful and successful strategies. I would have to be focused on Standard and Modern for the Season Two Invitational, all the while watching my contemporaries explore the fetchland-less space that I had been longing for for years.
But Pioneer's entrance and fanfare coinciding with Standard being a heinous pile of Oko, Thief of Crowns and maindeck Noxious Grasps has led to an earlier stage for Magic's newest format than expected. The Season Two Invitational has been changed to Modern and Pioneer and last weekend's Nerd Rage Gaming event in Madison, Wisconsin was changed to Pioneer as well.
It seems I'm not the only one who was excited by the format.
With that added attention, we're starting to see the initial metagame forming, and the prevalence of Green Devotion and Copy Cat decks led to the ban of Leyline of Abundance, Felidar Guardian, and Oath of Nissa yesterday. In spite of their removal, Pioneer still has some.
We're in a similar spot to a new Standard format after the first week or two, where brewers now have some decks to target, and everyone is looking to find what under the radar decks can compete with the established archetypes with a little tuning or a key piece of tech. This is my favorite time in a format's evolution, since I find brewing with a target much easier, and testing data is more reliable since the failed ideas and untuned decklists don't appear nearly as often as they do around release.
Thus, the first step in my testing process for the Invitational is to see if the potential I saw in some of the fringe decks of the format was real. One of the decks I tried that I also had some success with was Izzet Ensoul. Ensoul Artifact is a very powerful card and with the expanded card pool of Pioneer, there are plenty of good creatures to target that it difficult to interact with, either through removal or a stream of chump blockers.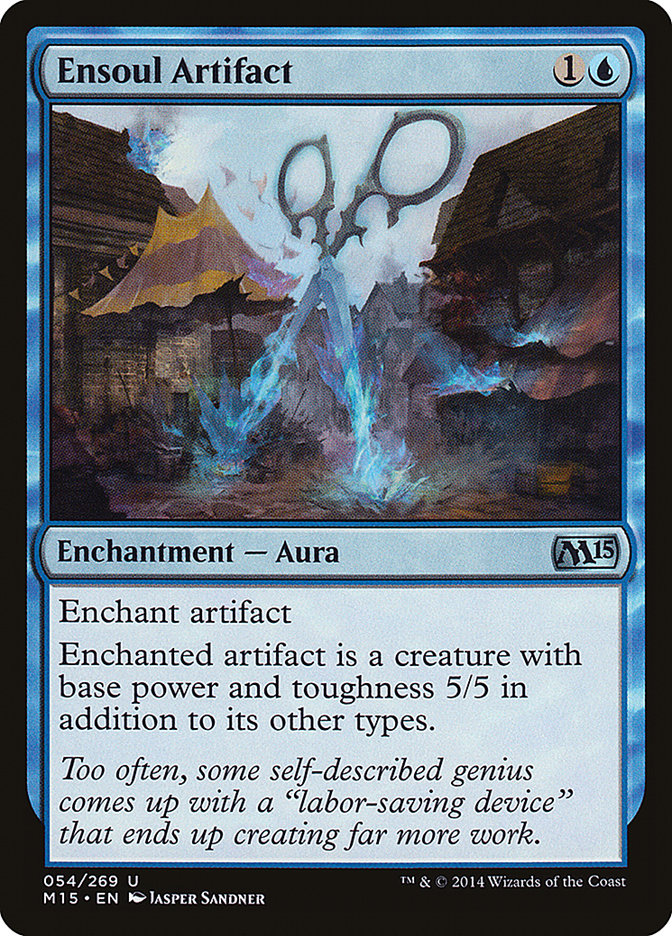 In fact, Ensoul is the exact kind of card to look out for in Pioneer because it doesn't have nearly the same pedigree from its time in Standard as Atarka's Command, Siege Rhino, or Collected Company, but it benefits a lot from the larger card pool, making it an easy card to underrate.
After a handful of leagues and a couple trophies, here's my current list:
Creatures (20)
Lands (21)