This content is available exclusively to Star City Games Premium members.
Login
Join Today!
A lot can change in 72 hours.
Late last week, we were still talking about Pioneer in mostly theoretical terms. There had been a handful of small events on Magic Online, and a few high-profile streamers had begun showing off their first innovations, but that was about it.
Things are quite a bit different now. Not only did we have our first Pioneer PTQ, but we've also had our first Pioneer B&R announcement. Over the course of three days, we first learned a little about what decks might actually be good in Magic's newest eternal format… and then we learned what happens when Wizards of the Coast goes to lunch with (I can only assume) a printed-out copy of the tournament results and a hunger for aggressive B&R decisions.
Yeah. Lots to talk about today. Let's get started.
What Does Yesterday's Announcement Say About The Future of Pioneer Bannings?
Before the announcement , I had assumed that WotC was likely working off a shortlist of cards they had deemed problematic back when we didn't even know what Pioneer was. While this might still be true, it's clear that they're shooting from the hip as well. Felidar Guardian was on everybody's "most likely to get the axe" list from the beginning, but I'm not even sure I could have told you what Leyline of Abundance actually did at the start of last week. Heck, I'd still need to pull up the card in order to tell you how much its second ability costs.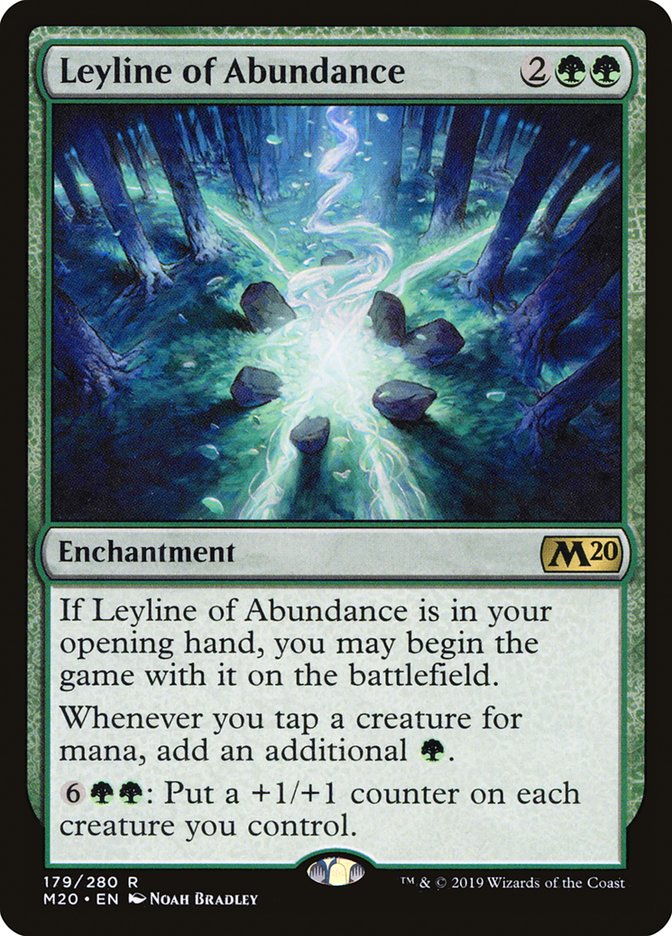 That doesn't mean that banning Leyline of Abundance was wrong – we'll get to that a little later on – but it does mean that WotC is reacting to the format in real time. They're looking at the same data we are, and they're making decisions based off the same handful of MTGO results.
I'm not here to judge whether that's the best way to handle Pioneer bannings going forward, but I am here to tell you that we have to recalibrate how we think about bannings in order to adjust to this style of decision-making. At this point, key cards in any deck that performs too well on MTGO are likely going to get the axe on the following Monday. Keep this in mind as you invest in this format going forward.
That said, we can't just sit back and wait for things to shake out before buying in to Pioneer. By the time WotC finally wipes their hands and declares Pioneer ready for prime time, the metagame will be pretty well established and all the key cards in the best archetypes will be at peak value. You can wait until this point if you're super risk-adverse, but I'd still prefer to buy in early if I can. We just have to be aware that this format is very much in open beta, and yesterday's announcement was probably just the tip of the B&R iceberg.