Peacekeeper (Weatherlight)
Card Type:
Creature
Creature Type:
Human
Power/Toughness:
1/1
Casting Cost:
Card Text:
During your upkeep, pay 1W or bury Peacekeeper.
Creatures cannot attack.
Oracle Text:
At the beginning of your upkeep, sacrifice Peacekeeper unless you pay 1W.
Creatures can't attack.
Flavor Text:
"I have always imagined my mother as such a woman, strong and wise."
—Sisay, journal
Artist:
Donato Giancola
Rarity:
Rare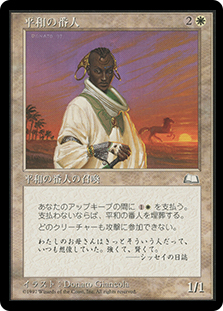 Condition: PL



Price: $4.39


1 in stock