Circle of Protection: Red (Not Tournament Legal)
Description:
Collector's Edition cards have square corners and the backs have gold borders. They are not legal for tournament play.
Card Type:
Enchantment
Casting Cost:
Card Text:
1: Prevents all damage against you from one red source.
If a source does damage to you more than once in a turn, you must pay 1 mana each time you want to prevent the damage.
Oracle Text:
1: The next time a red source of your choice would deal damage to you this turn, prevent that damage.
Artist:
Mark Tedin
Rarity:
Common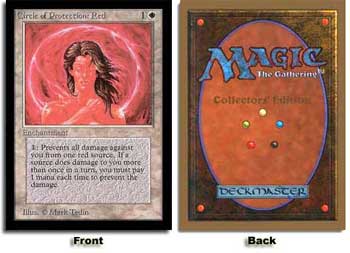 Condition: NM/M



Price: $5.99




Out of Stock.