Holy Strength
Description:
Alternate Fourth Edition is a parallel print run of the standard Fourth Edition set. They were printed in 1995 by the Cincinnatti, Ohio-based United States Playing Card Corporation and marked Wizards of the Coast's first attempt to print Magic: the Gathering within the United States. Due to a dispute between the two companies, the cards were never officially released and were supposed to have been destroyed. However, a limited quantity of Alternate Fourth Edition starter displays are believed to have survived.

Alternate Fourth Edition cards look very similar to standard Magic cards, but a closer inspection reveals obvious differences. Their card stock is thicker, their backs feature a glossy finish, and their colors do not show the usual pattern of dots characteristic of Magic: the Gathering cards. Furthermore, they have a special coating which causes the cards to stay dark under ultraviolet light (also known as "black" light), in contrast to standard Magic cards which start to glow when held under similar lighting.
Card Type:
Enchantment
Subtype:
Aura
Casting Cost:
Card Text:
Target creature gets +1/+2.
Oracle Text:
Enchant creature
Enchanted creature gets +1/+2.
Artist:
Anson Maddocks
Rarity:
Common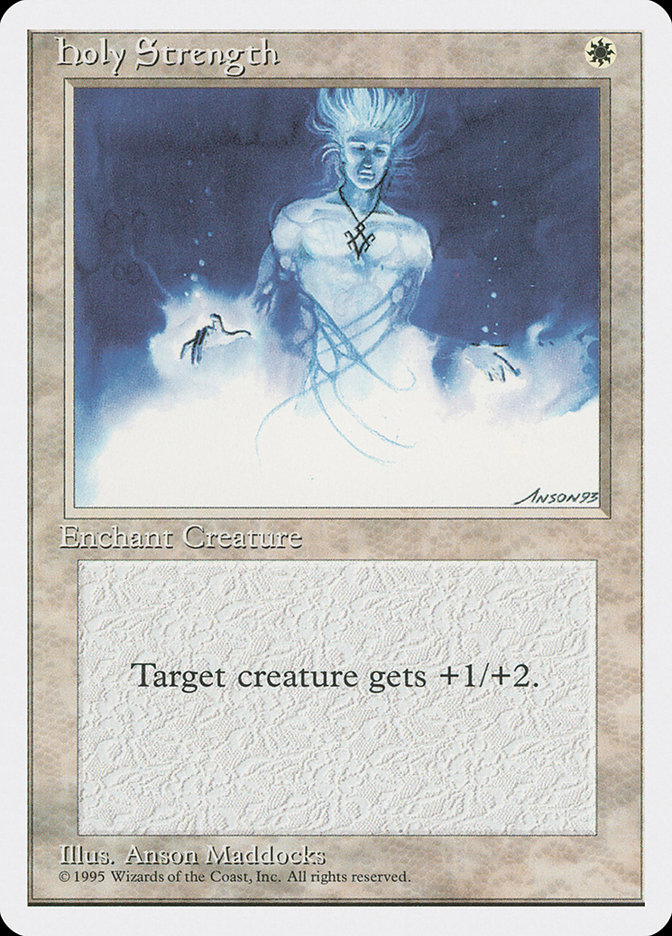 Condition: NM/M



Price: $0.25


8 in stock