Archenemy 2010 Game Pack - Scorch the World with Dragonfire
Description:
Second only to the majesty of... well, you... is the majesty of dragons. As terrifying as they are timeless, deragons will be your brushes as you paint your masterpiece: a world aflame.
Your deck's approach is fairly straightforward: keep the most serious threats in check and cast your large, powerful Dragon cards as quickly as possible. Accelerators like Seething Song, Thran Dynamo, and even Dragonspeaker Shaman give you the fuel to start your fiery assault on the fragile. You also get to toy with your opponents' minds thanks to the morph mechanic. Is your attacking face-down creature a lowly Skirk Marauder or a mighty Imperial Hellkite? If only panic were flammable.
As the annihilation progresses, behold your enemies and their mightiest creations, futilely trying to stop you, and simply set them on fire. Cackle with glee as Fireball, Savage Twister, and the impressive Chandra's Outrage litter the battlefield with ashen remains of that which would overthrow you.
In additiion to your inferno-inducing arsenal of spells, you have access to hellish schemes ready to obliterate your enemies at a moment's notice. Approach My Molten Realm doubles all damage dealt, shifting your opponents from crispy to extra crispy. Although you may be outnumbered, you can take control of the situation, and most everything else, with My Crushing Masterstroke. Burn them all, and show them the true power of the archenemy.
Main Deck:
Scheme Deck: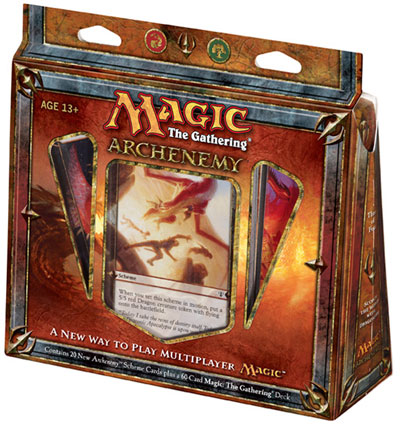 Condition: NM/M



Price: $99.99




Out of Stock.