Archenemy 2010 Game Pack - Trample Civilization Underfoot
Description:
Brutality. It defines your every action as you ascend to complete domination. It also epitomizes the forces that serve as the pillars to that ascendancy. Your victory is as inevitable as evolution, and the time to rid yourself of the unevolved is now.
You are a champion of the natural order, and as such, you bask in the bounty of nature's resources. Use cards like Fertilid, Leaf Gilder, and Sakura-Tribe Elder to increase the mana you have available. This extra mana will come in handy as you power out savage creatures like Feral Hydra and Kamahl, Fist of Krosa. You will often be able to overwhelm one or two opponents before they can muster a defense.
Although your deck excels at supplying powerful creatures to the battlefield, your other spells are formidable as well. And, like nature, many of them can adapt to changing conditions. Oblivion Ring ably eliminates a variety of troublesome permanents. Cards like Primal Command and Wax / Wane perform many functions, depending on the situation.
Your schemes support your overall strategy mostly by putting more creatures onto the battlefield and making the ones already there even deadlier. Both Evil Comes to Fruition and Roots of All Evil crowd the battlefield in your favor, and The Very Soil Shall Shake ensures your creatures are hitting harder. Stomp them all, and show them the true power of the archenemy.
Main Deck:
Scheme Deck: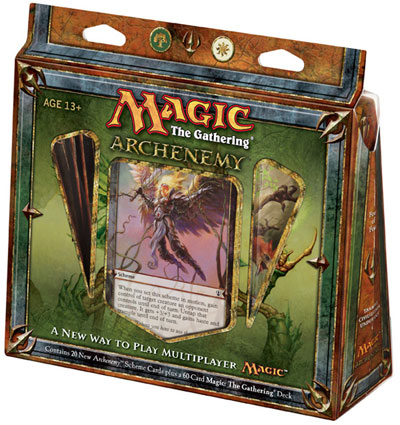 Condition: NM/M



Price: $74.99




Out of Stock.