6th Edition Tournament Pack
Description:
This tournament pack contains 75 Classic cards that are ideally suited for Sealed-Deck play. You can enhance your decks with more Classic cards, sold in 15-card booster packs. Each player needs a deck to play.
Contents:
75 randomly sorted cards
Classic rules sheet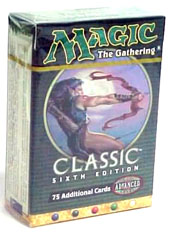 Condition: NM/M



Price: $14.99




Out of Stock.