Anthologies Box Set
Description:
Factory sealed box set featuring 2 preconstructed decks consisting of cards reprinted from earlier sets (60 cards per deck) plus 5 token cards in each deck, a 64 page booklet covering Magic history and strategy and a storage box able to hold 350 cards in standard sized sleeves! The cards are white border with copyright 1993-1998.
Defenders of the Cause is a control-oriented deck. If you're able to establish a stalemate on the ground, you'll be able to win combat in the air. Even if you need to hold your flying creatures back in defense, you have a stalemate breaker in Overrun.
Dark Alliance is an aggressive deck. When in doubt, attack. This deck is designed to win the "damage race".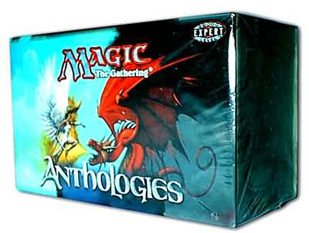 Condition: NM/M



Price: $79.99




Out of Stock.