Beatdown Box Set
Description:
The Beatdown Box Set features two preconstructed 61-card decks (each containing five rare cards!), 2 premium creature cards with never before seen artwork, two life counters, one poster, and a booklet with playing tips and creature histories! It was released in December 2000.
Ground Pounder: Green baddies and Red aggression combine in a deck that can lay down huge creatures in record time. With the help of mana aids, it cranks out Giants and Wurms before your opponent can say "chump-block".
Aerodoom flies out of the gate with a barrage of control and disruption cards, then finds time to make sure you draw the cards you need. Once your own library is under control, in come the Djinns and Elementals to work over your opponent while you relax and take in the breeze.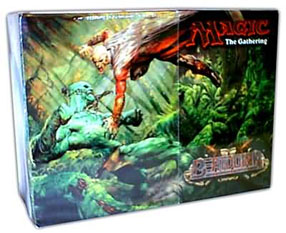 Condition: NM/M



Price: $99.99




Out of Stock.