Ice Age Starter Deck Display (10 Starter Decks)
Description:
Factory-sealed display box contains 10 starter decks.
Ice Age was released in early June 1995 and went out of print in February 1996, although it did not really dwindle in availability until the end of 1996. This 383 card set was the first stand alone expansion and introduced both snow-covered lands and cumulative upkeep!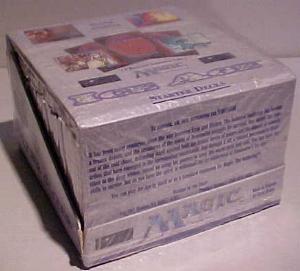 Condition: NM/M



Price: $399.99




Out of Stock.