Onslaught Tournament Pack Display (12 Tournament Packs)
Description:
Factory-sealed display containing twelve (12) tournament decks.
About Onslaught: With 350 new cards, featuring an abundance of new concepts, the Onslaught expansion is the perfect entry into the Magic: The Gathering game. And the new Morph mechanic allows you to keep a poker face as your opponents lose their heads. That's because you play Morph cards face down. So they won't know what's lurking underneath, except that it's going to be one nasty shock.
Onslaught was released in early October 2002.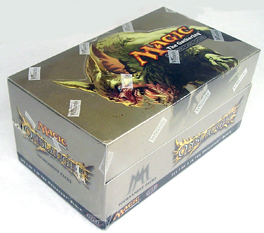 Condition: NM/M



Price: $399.99




Out of Stock.