8th Edition Core Set Booster Box
Description:
The Core Set - Eighth Edition marks the 10th Anniversary of Magic and to celebrate the event, this set was created with a very special concept in mind: it contains at least one new card never before printed in a Core Set from every Magic expansion ever produced by Wizards (34 sets in all!).
So welcome back your old favorites and see why the Core Set - Eighth Edition is what Magic is all about.
Each factory-sealed display box contains 36 booster packs.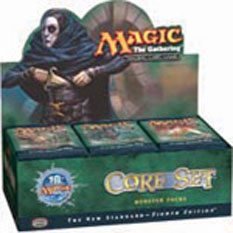 Condition: NM/M



Price: $399.99




Out of Stock.