Champions of Kamigawa Booster Box
Description:
Long before Mirrodin existed, on the other side of the multiverse, there was Kamigawa -- a plane in the midst of a terrible war. Spirits are launching attacks against humans as, in the shadows, a terror lurks just beyond sight.
A gang of akki goblins try to flee from an angry ice spirit that appears from out of nowhere. A cloud of bizarre creatures emerge from a samurai's heirloom lanter, attacking him while he sleeps. At the Minamo School, students of wizardry fight nonstop to stem a flow of strange beings that materialize from within the Great Waterfall.
Each factory-sealed display box contains 36 booster packs.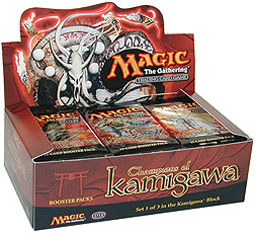 Condition: NM/M



Price: $549.99




Out of Stock.