Avacyn Restored Fat Pack
Description:
The archangel Avacyn has returned! A bright, fiery dawn banishes Innistrad's shadows. Humanity takes up arms and drives back the creatures of the night. With flights of angels overhead, the righteous band together and wield holy light and miraculous magic to restore the balance of their world.
Nine 15-card Avacyn Restored booster packs
A pack of 80 Avacyn Restored basic land
A sleeve that unfolds to reveal an Avacyn Restored mural
A card box with art from Avacyn, Angel of Hope
Two deck boxes
The Avacyn Restored Player's Guide, which contains a visual encyclopedia of every card in the set, plus play tips and story background information
A learn-to-play insert
An exclusive Avacyn Restored Spindown Life Counter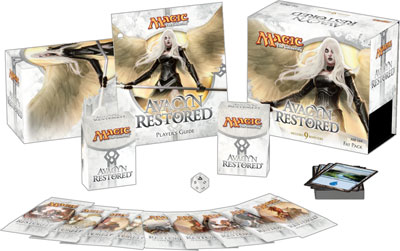 Condition: NM/M



Price: $99.99




Out of Stock.