Drudge Skeletons (3rd Edition - Swamp Picture - Misprint - German)
Description:
This is a German 4th Edition Drudge Skeletons that has the picture of a Swamp.
Card Type:
Creature
Creature Type:
Skeleton
Power/Toughness:
1/1
Casting Cost:
Card Text:
B: Regenerate
Oracle Text:
B: Regenerate Drudge Skeletons.
(The next time this creature would be destroyed this turn, it isn't. Instead tap it, remove all damage from it, and remove it from combat.)
Flavor Text:
Bones scattered around us joined to form misshapen bodies. We struck at them repeatedly—they fell, but soon formed again, with the same mocking look on their faceless skulls.
Artist:
Dan Frazier
Rarity:
Common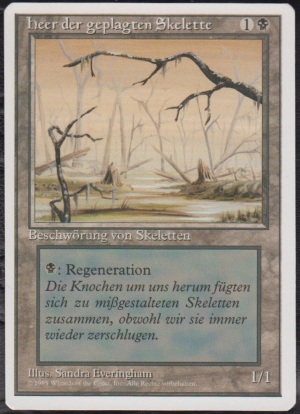 Condition: PL



Price: $7.99


12 in stock